Tayrona National Park is a protected national park located on the northern coast of Colombia about 35 km from the city of Santa Marta. The park covers an area of 150 km² and is often described as a tropical paradise. Not only you'll find white sandy beaches surrounded by huge palm trees and intense blue water, the park is also rich in culture and wildlife. Are you planning to explore Tayrona National Park, note that there are several ways to do this. In this article you will find information about and useful tips for Tayrona National Park!
How to get to Tayrona National Park?
You can easily reach Tayrona National Park from Santa Marta. Depending on the city from which you want to travel to Santa Marta, there are several options.
From Medellín to Santa Marta
We ourselves traveled from Medellín to Santa Marta. There are several options for this trip. For example, you can travel by bus or by plane.
By bus from Medellín to Santa Marta and Tayrona
The busses of Expreso Brassilia departs daily, every four hours, from Medellín to Santa Marta. The trip takes about sixteen hours and, depending on which bus and time of day you choose, costs between 20 and 45 euros per person for a one-way ticket.
Note that the Expreso Brasilia website does not always work properly. Are you unable to book online? Itt is also possible to buy tickets at the bus station. Do this at least one day in advance.
Once you're at the train station in Santa Marta you can take a bus or cab to Tayrona. The bus takes about one hour and costs a few euros. The cab takes about 50 minutes and costs about 25 euros.
By plane from Medellín to Santa Marta and Tayrona
Another option, the one we chose for, is to fly from Medellín to Santa Marta. This flight takes about 1 hour and 15 minutes and costs between 25 and 80 euros per person for a one-way trip on average. We flew with Viva Air and paid 45 euros per person. You then travel further by cab or bus. A cab goes directly. This ride takes about one hour and cost us 35 euros. If you prefer to travel by bus, you should first take the bus to the center of Santa Marta (Mercado Publico (Market) | Calle 11 con Carrera 11) and then transfer to another bus that will take you to Tayrona. Traveling by bus is a lot cheaper and costs only a few euros per person, but it does take more time, namely about 2 hours and 15 minutes.
Tip: You read a lot online about the (in)safety of traveling by bus through Colombia. On certain routes, for example around Santa Marta, it sometimes happens that a bus is mugged. Fortunately, in most cases nothing happens and all goes well. However, since we were traveling with a lot of expensive gear (cameras, laptops, drone, etc.), we opted to travel by plane and cab for a few extra euros. Just do what makes you feel comfortable and safe!
From Cartagena to Tayrona
From Cartagena there are no direct flights to Santa Marta, so the best and cheapest option is to take the bus. A good option are the minivans from Marsol. These are small busses that pick you up and drop you off at your accommodation. The price of such a bus ride is about 15 euros per person and the ride takes about 4.5 hours.

Visiting Tayrona National Park
Tayrona National Park has two different entrances, namely El Zaino and Calabazo. El Zaino is the main entrance and is best to use if, like most people, you want to walk to Cabo San Juan. Are you planning to go to Playa Brava? Then it's best to choose the Calabazo entrance.
Tayrona park is open from 08:00 am to 05:00 pm. The entrance fee to the park is about 30 euros per person at both entrances. You can pay this amount either in cash or by credit card. They say it is mandatory to purchase health insurance on site for each day you stay in the park (this is separate from your personal health insurance). This costs about 1.20 euros per person per day. However, once in the park, this was not checked.
Note: The park is closed for several weeks each year to allow the ecosystem to recover. So check carefully in advance if that is not in the period you want to visit the park.


Day visit to Tayrona National Park.
You can choose to spend just one day in the park, which is what most people do. Walk to Cabo San Juan, relax on the beautiful beach here and walk back to the entrance at the end of the day.
The start of the hiking trail is about a one-hour walk from the park entrance. It is also possible to take a minivan from the entrance to the start of the hiking trail, then you will be there within ten minutes. To take this minivan you pay a about 1 euro per person for a round trip.
Hiking to Cabo San Juan takes about two hours. Along the way you will pass several beaches, such as Playa Cañaveral, Playa Arrecife and Playa La Piscina. Of course, you can stop at these places to enjoy the beautiful views or to cool off in the water. While hiking through the jungle, pay attention because you can encounter wildlife everywhere! We ourselves saw monkeys, capybaras and a toucan, but spotting wildlife is certainly not guaranteed.
Note: The currents at Arrecife can be very strong. Several people have unfortunately drowned here in the past, which is why it is now forbidden to swim there.
Multi-day visit to the Tayrona National Park
Would you rather take it a bit more easy? Then we recommend staying at least one night in the park. This way you can linger a little longer at certain spots along the way and enjoy the beautiful surroundings. We ourselves also spent one night in the park at Cabo San Juan. In the late afternoon, the day-trippers leave the park and you can enjoy a fantastic sunset with just a few people. The next day, after a beautiful sunrise, walk the same route back to the park entrance.
Should you wish to stay even longer than one night in the park, then you could choose to walk from Cabo San Juan to Playa Brava. This is a hike of about three hours, during which you have to climb quite a bit here and there. Therefore, it's a lot quieter on this beach. From Playa Brava you walk in about 2.5 hours to the other exit of the park, namely Calabazo.
Tip: You can also walk the other way around! Start at the Calabazo entrance and walk via Playa Brava and Cabo San Juan to El Zaino.
Where to stay in Tayrona
Staying outside the National Park
Want to spend just one day in Tayrona National Park? Then you can choose to book an accommodation close to the entrance of the park, so you can be one of the first ones there in the morning. We too chose to stay one night in an accommodation just outside the park, because you spend quite a bit of time traveling to Tayrona. If you can spend the rest of that day at an accommodation near the park, you can rest a bit and be at the El Zaino entrance early the next morning.
We stayed one night at Recuerdos del Tayrona, a basic accommodation within a 5-minute walk from main entrance El Zaino. The accommodation has a swimming pool, in which you can cool off for a while. Also, if you're planning to spend a night in the park as well, you can leave your luggage here. This way you don't have to take everything with you into the park.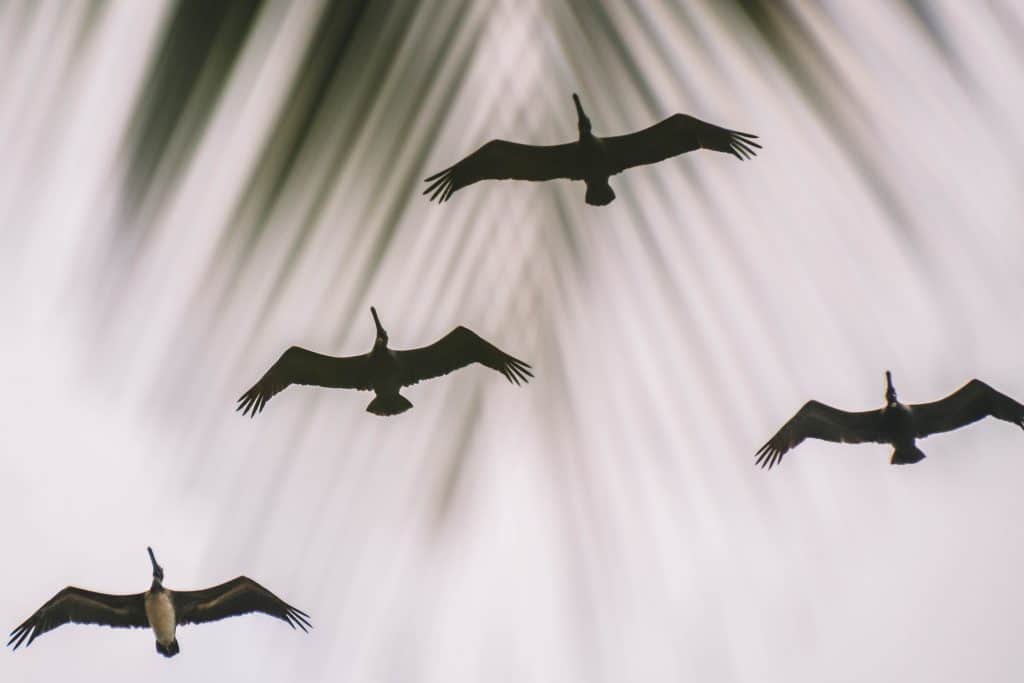 Staying inside Tayrona National Park
Tayrona National Park features beautiful nature and white sandy beaches, from where you can enjoy the most fantastic sunrise and sunset. We can definitely recommend an overnight stay in Tayrona National Park! Most campsites cannot be booked in advance. The best way to reserve a spot is early in the morning, before the park opens, at the El Zaino entrance.
In the park you will find a number of campsites where you can stay, namely:
Castilletes
Canaveral
Arrecifes
Cabo San Juan
Playa Brava (you can book this accommodation online, but be fast)
Cabo San Juan
The most popular place to stay is Cabo San Juan and we totally get why! Cabo San Juan is about a 2-hour walk from the start of the trail. The camp and beach are located in a bay, so the water is very calm and you can have a nice swim here. Should you also want to stay in Cabo San Juan, you have the choice of a basic tent or a hammock. These are located along the beach, so you wake up with a beautiful view.
The camp has a restaurant – reasonably affordable – and a small store where you can buy some snacks and drinks. Other facilities Cabo San Juan has are shared showers, lockers and electricity (between 6:00pm – 10:00pm).
Lodging at Cabo San Juan
You cannot book your accommodation in advance online. If you want to stay here, you need to reserve a tent or hammock early in the morning at entrance El Zaino. Here you will find a number of stands where you can reserve your spot. Of course, you can take your chance and walk directly to the camp to book a spot here, but keep in mind that Cabo San Juan is the most popular place to spend the night. If you want to be assured of a place to sleep, it is best to book it in the morning. A tent costs about 20 euros and a hammock about 10 euros.
Note: It can be quite busy at both the park entrance and the stands to reserve a tent or hammock. Make sure you get there by 8:00am at the latest.
We ourselves opted for a tent. We read some bad stories about them, but we thought they were quite okay. The tent was clean and the mattresses were fine. The zippers of the tents are not all in good cinditions. So when assigned a tent, make sure your zipper is okay, so you can close your tent with your own lock.
Should you want to sleep in a hammock, keep in mind that you will not get a blanket. As for the location of the hammocks, you have two choices: on the beach or in the gazebo at the top of the hill. How unique is that location!
Tayrona National Park packing list: what to bring?
Wondering what to bring to the park and what not to forget? Below you will find a packing list.
Sunscreen
Insect repellent
Water and snacks for during the hike
Toiletries
Medicine, paracetemols and (blister) plasters
External battery/power bank (due to limited availability of electricity)
Swimwear
Hiking boots
Bathing slippers and/or sandals
Hat or cap to cover your head
Passport (to show at the park entrance)
Cash (you cannot pay by credit card in the park and you will not find an ATM in the immediate area near Tayrona)
Padlock (for your tent or the lockers)
Toilet paper
Raincoat/poncho (in the rainy season)