Seychelles is a paradisiacal archipelago in Africa located in the Indian Ocean. The archipelago consists of over 115 islands, with less than a third being inhabited. With perfect blue waters, white sand beaches and tropical flora, each island is postcard-perfect. Seychelles is renowned for its beaches, notably Anse Source d'Argent, often topping the lists of the world's most beautiful beaches. Not many people know, that if you seek an active holiday, Seychelles is actually an excellent destination with hiking trails and various water activities. The different islands are perfect for island hopping due to their diverse offerings.
In this article you will find the ultimate 10-day travel itinerary for Seychelles.
We visited the following islands: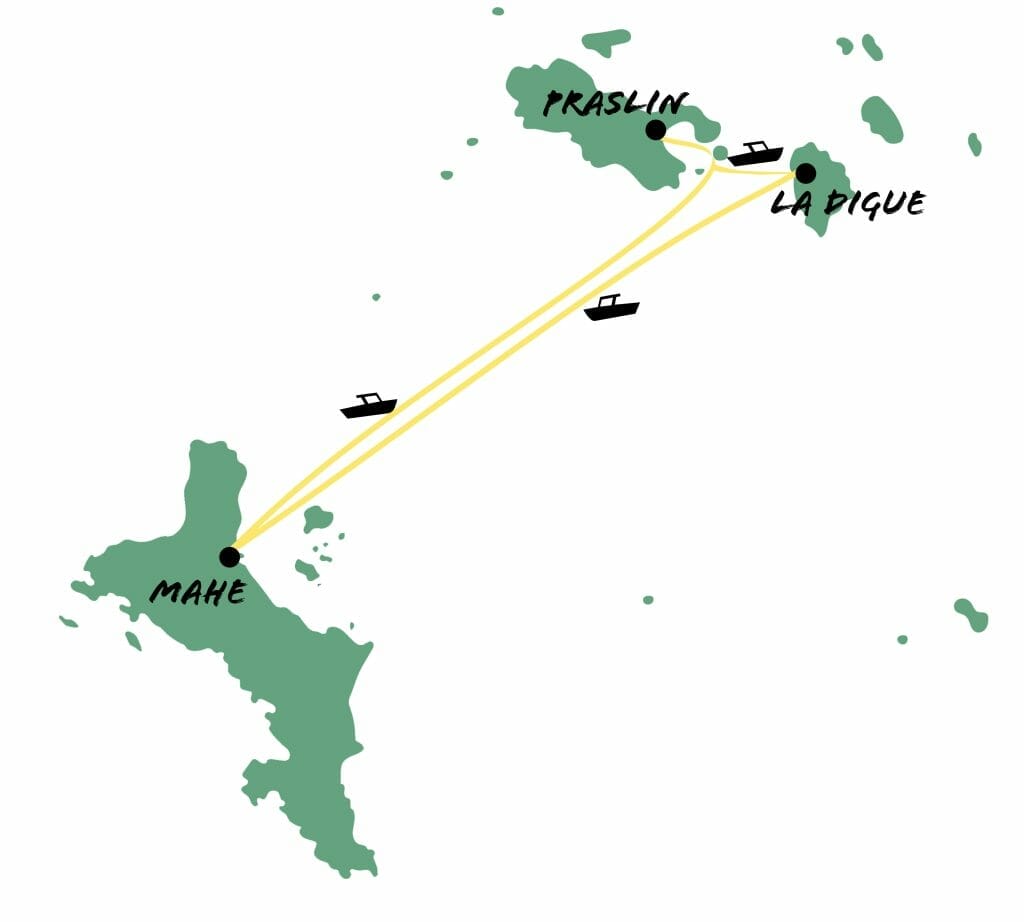 Flying to Mahé
We flew to Mahé for approximately 650 euros per person. We flew with Ethiopian Airlines, with a layover in Addis Ababa, Ethiopia, for about 3 hours. In total, the journey took approximately 14 hours.
Tip: did you know you can easily compare and book flights through Skyscanner?
Mahé (4 days)
Mahé is the largest and most populous island of Seychelles. It's a beautiful, green island with enchanting beaches. The capital of Seychelles, the vibrant Victoria, is also located on this island, offering a glimpse into Seychellois culture!
Things to do on Mahé
Mahé is not only the gateway to the other enchanting islands of Seychelles; there are a lot of things to do. The best way to explore is with a rental car. We rented a Kia Picanto from Kreol Cars. The significant advantage of this rental service is that you can pick up your car at the airport and drop it off at the ferry terminal without incurring extra charges.
On Mahé, there are various activities to enjoy. Go diving just off the coast of Mahé at one of Seychelles' best dive spots or spend a day beach hopping. Our favorite beaches on Mahé include Anse Major, Anse Royale and Beau Vallon Beach. If you're curious about Seychellois culture, a visit to the capital Victoria, is a must. Explore the vibrant local market, learn about the colonial era at the National Museum of History or discover Seychelles biodiversity at the Natural History Museum. Are you a rum enthusiast? Don't miss the Takamaka Rum Distillery for authentic Seychellois rum and a join their free tour. Catch a breathtaking sunset at Sunset Beach or Beau Vallon Beach.
We stayed four nights at La Maison Hibiscus Self Catering Accommodation, a spacious apartment in Beau Vallon. The location is superb, just minutes from the beach, with several takeaways and restaurants nearby for evening meals. For our last night, we chose Castaway Lodge, a comfortable accommodation with a pool closer to the airport.
Praslin (3 days)
From Mahé, we took the Cat Cocos ferry to Praslin, the second-largest island of Seychelles. Praslin is a true paradise for beach and nature enthusiasts, home to the rare coco de mer and a gateway to Seychelles' giant tortoise.
Tip: prone to seasickness? Ensure you have the right medication. The sea can get quite rough, causing discomfort for many on board. Fortunately, we fared well! If you prefer not to travel by boat, you can also take a plane.
Things to do in Praslin
Praslin is smaller than Mahé, but exploring the island requires covering some distances. That's why we again opted to rent a car from Kreol Cars. Visit beautiful beaches like Anse Lazio, Petite Anse Lazio, Anse Georgette and Cote D'Or Beach. Seek out the coco de mer in Fond Ferdinand (our favorite) or Vallée de Mai and pay a visit to the giant tortoises on Curieuse Island.
We stayed three nights at Tourterelle Holiday Home, a basic but spacious accommodation with its own kitchen. Visiting Seychelles in the low season meant many places were a bit quiet. If choosing again, we'd opt to stay around Cote D'Or Beach (in Anse Volbert Village) for a livelier atmosphere with more takeaways and restaurants.
La Digue (3 days)
From Praslin, you can take the ferry to La Digue, a quick 15-minute journey that could also be done as a day trip. La Digue is renowned for having the 'most beautiful beach in the world', Anse Source d'Argent, a stunning sandy stretch surrounded by massive granite formations.
Things to do in La Digue
La Digue is even smaller than Praslin, with only a few cars and golf carts, which can't be rent by tourists. However, you can rent a bike, an ideal way for us Dutch folks to explore the island. We rented two bikes for thee days via DADA's Bike.
Visit L'Union Estate, a former coconut and vanilla plantation, to access Anse Source d'Argent. Other beaches worth a visit include Anse Cocos, Anse Pate and Caiman Beach, the latter reachable by hiking. Here, you'll find a cool rock pool and a charming beach bar with a super-friendly owner. If you're up for a challenging hike, climb to La Digue's highest point, Nid D'Aigles (Eagle's Nest).
We stayed three nights at Zerof Guesthouse, a basic but comfortable apartment in a prime location in the middle of the island. The owner is incredibly friendly and helpful.