Maafushi is one of the inhabited islands of the Maldives and is easily accessible from Malé, the capital and the city with the archipelago's international airport. Maafushi is particularly popular among backpackers. On the island, you'll find affordable hotels and restaurants. They also organize various activities and day trips. We stayed at Kuredhi Beach Inn, a great hotel near bikini beach.
Below you will find an overview of the attractions and activities you shouldn't miss during your trip to the Maldives!
Diving from Maafushi
The Maldives are known as one of the most beautiful diving spots in the world. There is a fair chance of encountering large fish such as sharks and manta rays. We made two dives with Maafushi Dive & Watersports. This is a diving school on the island. The dive spots we visited are Kandooma Thila and Kandooma Back. Both spots are known for its beautiful soft coral and different species of sharks and manta rays. We got pretty lucky during our dive! We saw fifteen whitetip sharks, grey reef sharks and eagle rays. It was great to finally spot big fish again! Diving in the Maldives is highly recommended!
Day trip to a resort
If you see the Maldives in travel guides, you'll mainly see photos of luxury resorts. If you can't afford a stay in one of the resorts, or if you don't want to spend so much money, you also have the option to visit a resort for one day. This allows you to experience the luxury that the Maldives have to offer. A trip to the resorts can be booked at any excursion companies and hotels. You can choose from about 10 different resorts. You do need other people to go as well, as they usually require a minimum number of people. The prices for visiting a resort vary from about $ 85,- to $ 150,- per person. This includes transportation, lunch and unlimited drinks.
Centara Ras Fushi Resort & Spa
We went to the Centara Ras Fushi Resort & Spa for a day. A beautiful resort, where you can find overwater villas. The staff is very friendly, and the lunch buffet is very extensive. During a day trip you can use all the amenities the resort has to offer, like the swimming pool, sunbeds and towels. The pool has a nice bar where you can order delicious cocktails and in the restaurant you can enjoy lunch. A lovely and relaxing day!
Snorkel tour
You can book many snorkel tours from Maafushi. A half day tour ($ 25 per person) and a full day tour ($ 50 per person) are offered. Almost every organization will go to the same places. We did both, the half day and full day tour, via Shadow Palm and our hotel respectively. With the full day tour we visited Dolphin Reef, Fulidhoo (a local and inhabited island, where you can snorkel with stingrays and where we had lunch), a long sandbank and a place where you can snorkel with Nurse Sharks and Giant Trevallies. The boys from Shadow Palm made (underwater) pictures for free and could also take drone pictures for an additional fee. During the half day tour, we visited Dolphin Reef and a sandbank. The sandbank was different from the sandbank we visited during our full day tour. We also went snorkeling to a place where many turtles can be found.
Despite the fact that you go snorkeling twice, I really enjoyed doing both tours. The reason for this, is that you still get to see new places. I love to snorkel and I can't get enough of the Maldives underwater world!
Night fishing
Our hotel organized a night fishing tour every night. The staff seemed pretty stoked about it, and that made us decide to join them for an evening. We sailed in a big, old boat and everyone got rope to catch the fish. You need your feeling to determine if you caught a fish. Incredibly difficult, but incredibly fun! All the fish we caught was prepared in the hotel after the tour and we were allowed to eat it. How awesome is that? Self-caught fish for dinner.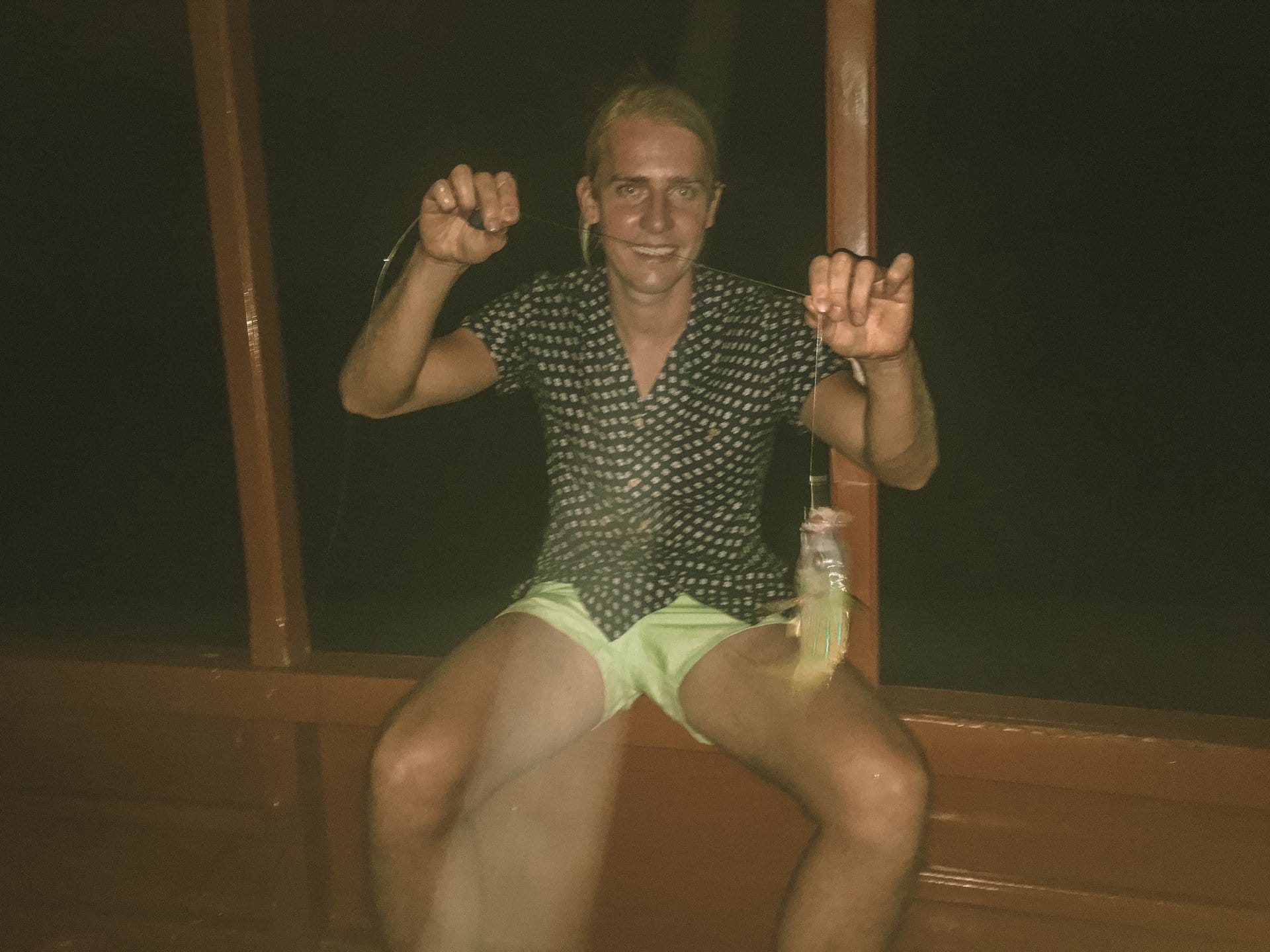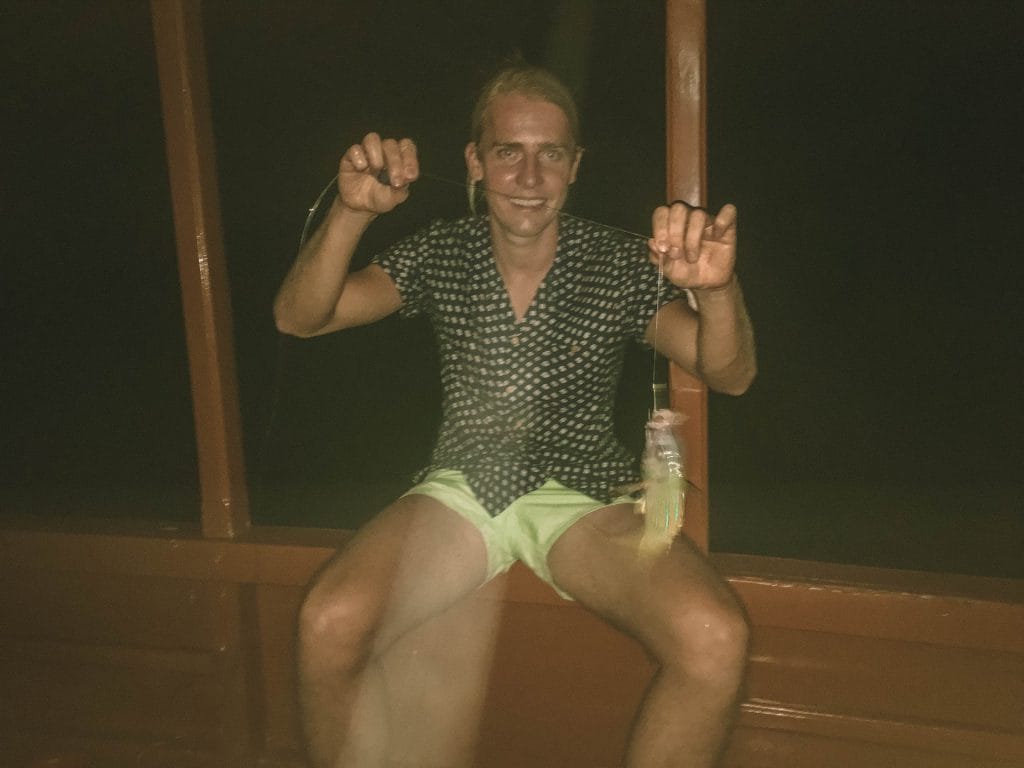 Walk through Maafushi center
Maafushi isn't the most beautiful island of the Maldives, but a walk on the island is still worth it. The center is very colorful. You will find several souvenir shops and restaurants. Don't forget the Maafushi sign! This is opposite the harbor of the island and is not to be missed!
Bikini Beach
Bikini Beach is the beach where women are allowed to walk around in a bikini. Because Maafushi, just like the rest of the Maldives, is an Islamic archipelago, it is forbidden to walk on the island in revealing clothing. This applies to both men and women. Bikini Beach is an exception! You will find the beach next to the Kaani Grand Seaview hotel. Please note that this beach is not as beautiful as other beaches in the Maldives. However, it's still a great place to spend a few hours. The water is clear blue!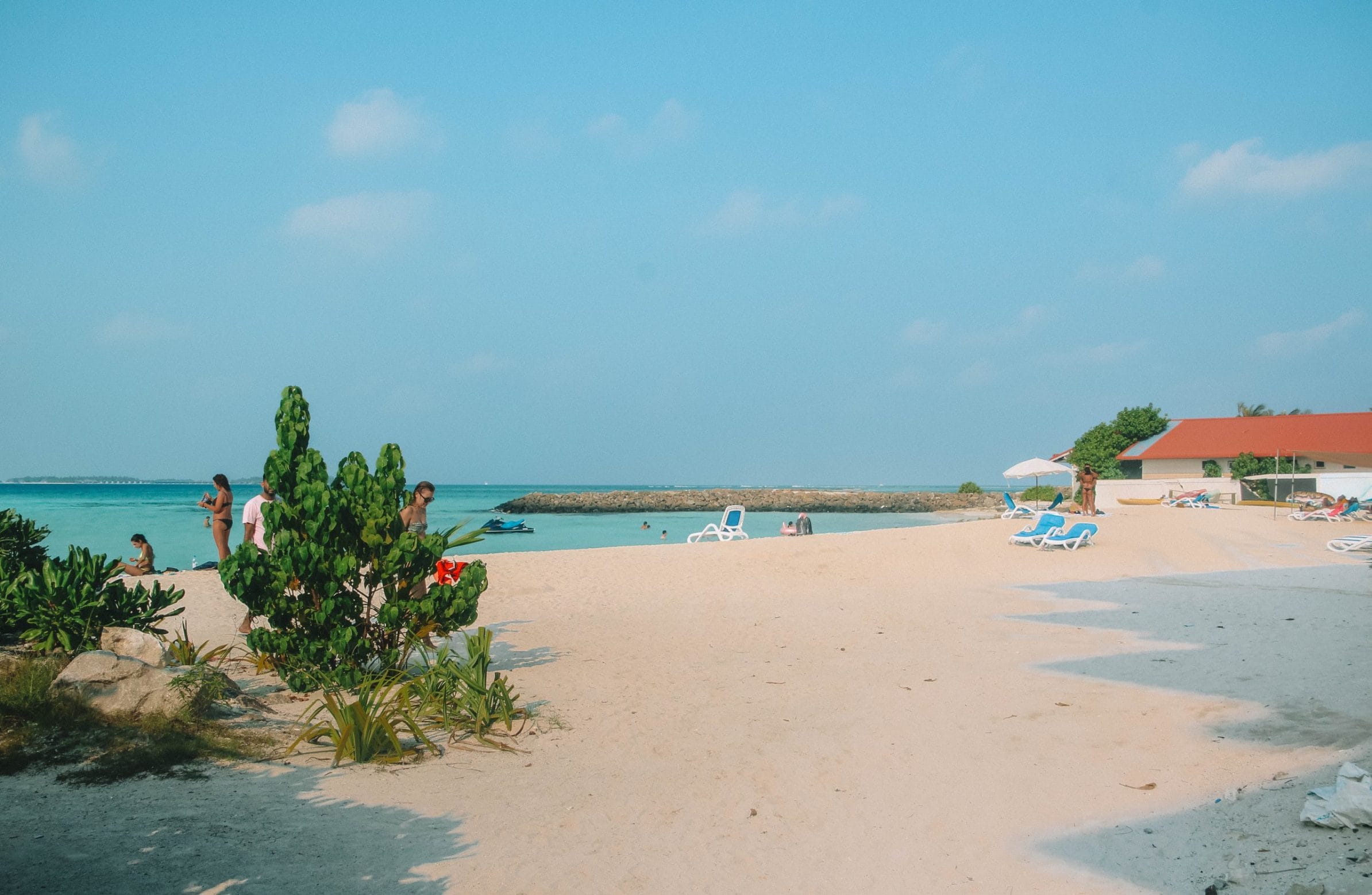 Whaleshark or Manta tour
Besides the possibility to do a half day or full day tour, you can also do a manta rays and whale sharks tour. Unfortunately, the season was not in our favor to spot them and that's why we decided not to do this tour. Would you like to do this tour? Make sure to ask what the chances are at the moment you are there. A whale shark or manta ray tour costs about 100$.