Sri Lanka is an island in the Indian Ocean in South Asia, and is known for its rich cultural heritage, natural parks and beautiful scenery and beaches. We visited Sri Lanka in November and combined our trip with a visit to the Maldives. We stayed 11 days on Sri Lanka and 4 days on the Maldives. That may seem like a short time, but as we'd spend our relaxing days on the Maldives, there was just about enough time to see a large part of Sri Lanka. Below you will find our travel itinerary for Sri Lanka and the Maldives. The northern and eastern part of Sri Lanka were experiencing the rainy season, so we decided to only visit the western and southern part of the island.
Tip: Check out our aftermovie!
Directly to the cities:
Round trip Sri Lanka & Maldives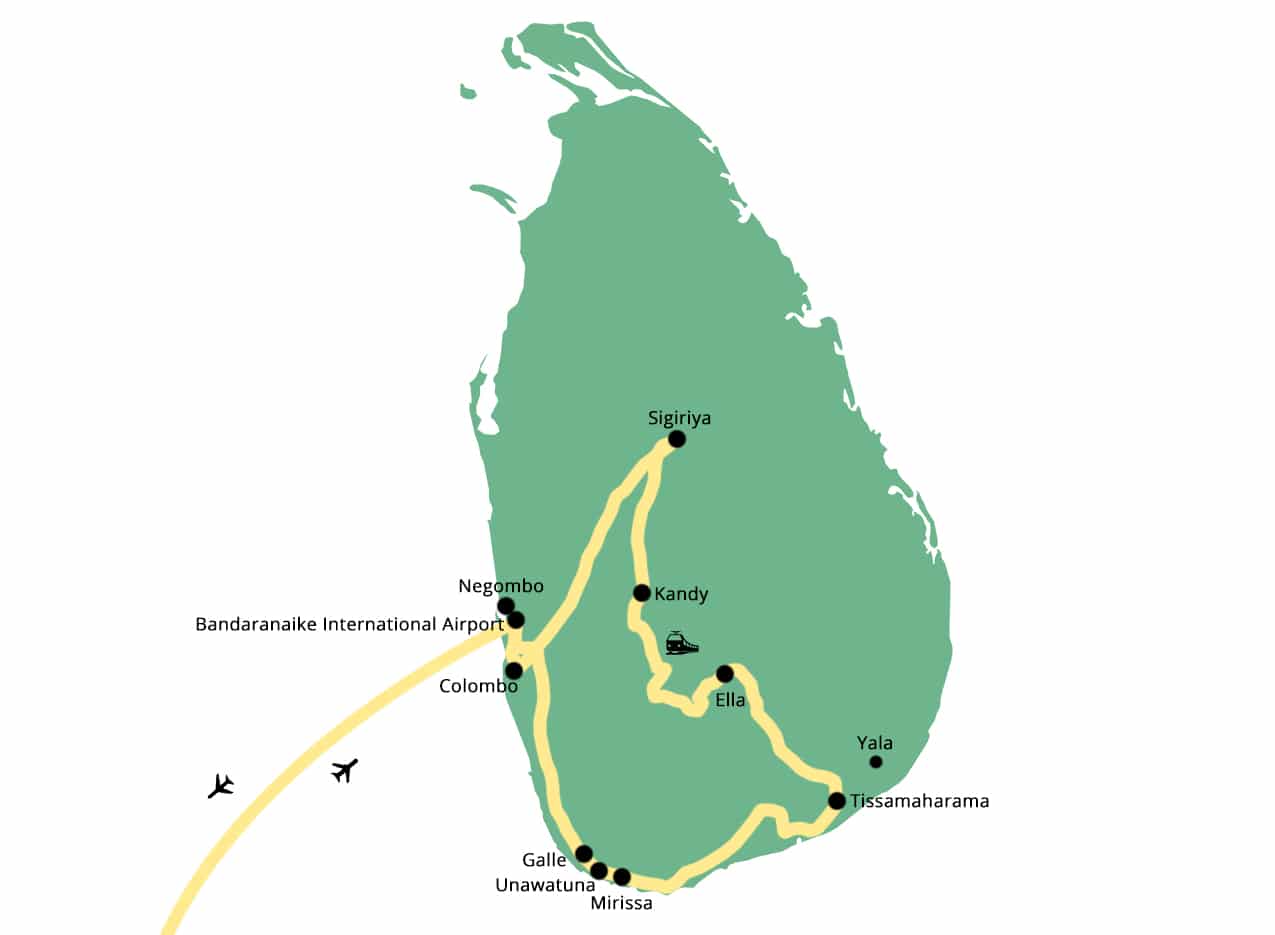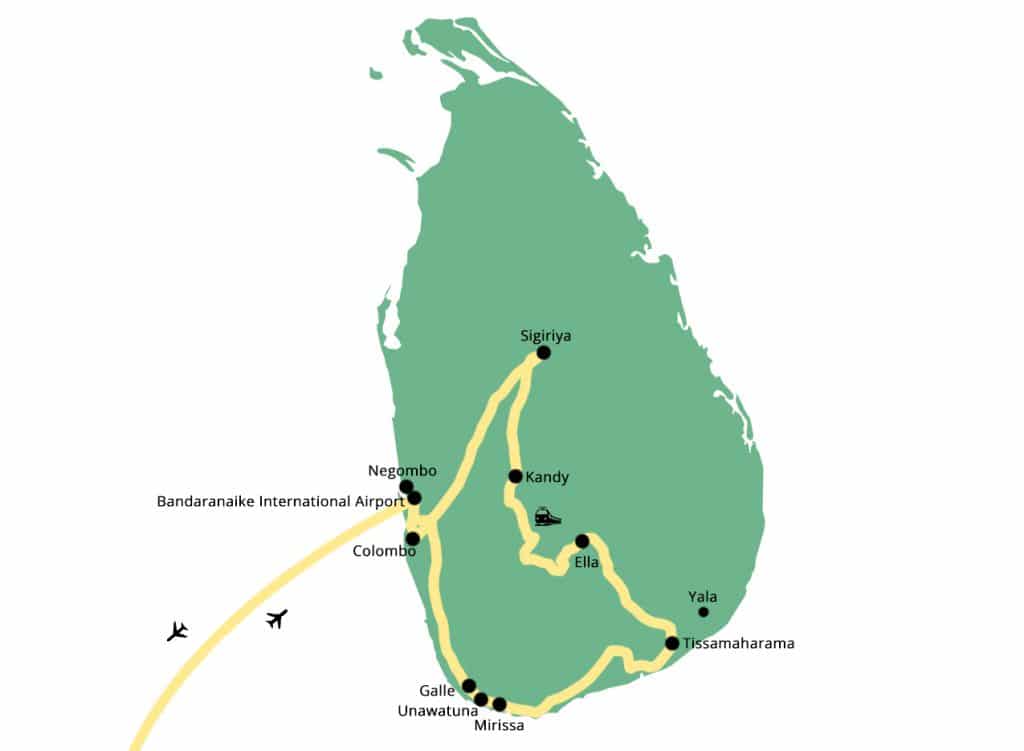 Start Sri Lanka itinerary: Flying from Düsseldorf to Colombo
As we do before every trip, we searched for the cheapest and most affordable flight tickets. Soon we decided to fly from Düsseldorf. Tickets to Sri Lanka were a few hundred euros cheaper from Düsseldorf compared to those from Amsterdam. We booked the tickets about four months in advance and paid $ 520 per person. We parked our car near the airport via parksflughafendus.de. That cost us € 70, – ($ 80) for 17 days.
Because we flew with Etihad and had a stopover in Abu Dhabi, we searched for a plane ticket with a six-hour stopover. It could have been shorter, but we wanted to explore Abu Dhabi a little. The stopover also gave us the opportunity to see some sights of Abu Dhabi, like Sheikh Zayed mosque and Emirates Palace. Both flights took about five or six hours, so 11 hours in total. After about 18 hours we finally landed at Colombo Bandaranaike International Airport.
From Colombo to Galle
Colombo Bandaranaike International Airport is closer to Negombo than to Colombo. That's why most people choose to stay one night in Negombo. Because we only had 11 days and didn't want to waste any time, we decided to travel straight to the first destination on our Sri Lanka itinerary: Galle. As we landed late in the evening, we had booked a taxi in advance, with the help of our first accommodation. The price for the taxi was about 11.000 LKR. This was the only ride we made by taxi and also the only ride we planned in advance. Transportation by tuktuk, by bus or by train is much cheaper and also well organized.
Galle
Galle (Fort) is the capital of the southern province and district of Galle. You will find remnants of Dutch presence in this city, like the Groote Kerk, Dutch Hospital and Dutch Fortress. The Dutch Fortress is a UNESCO World Heritage Site. Inside the fort you will find all kinds of nice restaurants and souvenir shops. It makes for a lovely stroll. We stayed at the Casa de Kalu guesthouse, which was inside the fort. We stayed one night in Galle.
From Galle to Unawatuna
From Galle we took a tuktuk for 370 LKR to Unawatuna, a village about 6 kilometers from Galle. Unawatuna is a small village on the southern coast of the province and is its main attraction are its beautiful beaches. We visited Unawatuna in the low season, meaning it was nice and quiet on the beaches. Unawatuna is perfect to relax after a long flight or just after a long tour through Sri Lanka. We stayed one night at Hotel Epic and visited Unawatuna Beach, Dalawella Beach and Wijaya Beach. You will find the Insta-famous wing on Dalawella Beach, and you can snorkel with huge turtles on Wijaya Beach. There are plenty of restaurants to enjoy a delicious meal at Unawatuna Beach in the evening.
Tip: From Unawatuna you can visit Koggala, where you can find the famous pole fishermen!
From Unawatuna to Mirissa
Our Sri Lanka itinerary continues to Mirissa. Mirissa, like Unawatuna, is a destination where you go for beaches, to surf and to relax. We found Mirissa a little less touristy than Unawatuna. We stayed here for two days in Banana Garden. Both Unawatuna and Mirissa have a nice atmosphere to them. Most tourists visit Mirissa, because it is one of the best locations in the world to spot whales in the wild.
Note: If you want to spot whales, please choose a company that does whale watching responsibly. We read a lot of reviews beforehand and after some doubt we decided to do it anyway. We chose Raja & The Whales. Another company that has good reviews is the Whale Watching Club. Many companies offer whale watching cheaper than these companies, but they hunt the animals and share their location with a lot of other boats. If you are considering a tour, we recommend Raja & The Whales. We paid 6,000 LKR for the tour and this included breakfast, fruit and snacks.
From Mirissa to Tissamahara and Yala
From the beach to the jungle! Next stop on the itinerary for Sri Lanka was Tissamaharama (Tissa) to visit Yala National Park. We took a tuktuk to Matara for 600 LKR and from here we took a bus to Tissamahara, also known as Tissa. The bus (only) costs 175 LKR per person and the trip is an experience in and of itself! You travel with the locals, without air conditioning and the bus is crowded at times. A fun experience! The trip took about 3.5 hours and we're lucky we could sit the whole ride.
We booked the Yala safari at our guesthouse Lakeside Cabana Tissamaharama, for 6,000 LKR per person. We found Yala very nice, because there are many different animal species to be found in this park, like elephants, water buffalos, crocodiles and leopards. After visiting Yala, you can also do some activities and visit sights in Tissamahara, like visiting the Stupa Raja Maha Vihara and Tissa Wewa (Tissa Lake). We stayed one night in Tissamahara and travelled to Ella.
From Tissamahara to Ella
We continued to Ella, a small village in the mountains of Sri Lanka! Initially we wanted to take the bus from Tissamahara to Ella, but this was a bit of a hassle because we had to change buses and the bus was overcrowded. We talked to a Sri Lankan boy who told us that he had to go to Ella for work. He suggested that we would drive with him for 2,000 LKR. We agreed and we got to Ella in just 2.5 hours! We made a stop at a local restaurant where we ate delicious kottu.
Ella offers beautiful nature and beautiful hiking trails. Some highlights of Ella are Ella Rock, Little Adam's Peek, The Nine Arch Bridge and the Ravana Waterfall. The village itself has a cozy feel to it, with plenty of nice and busy restaurants. From Ella, we took the train to Kandy, one of the most beautiful train rides in the world.
We stayed two nights in Ella at Sunray Homestay.
From Ella to Kandy – One of the most beautiful train rides in the world
From Ella we took the train to the next destination on our itinerary: Kandy. This train ride is known as one of the most beautiful train rides in the world. The train consists of compartments for the first, second and third class. Instagram has a lot of pictures of people hanging out of the train. An incredibly beautiful picture! Hanging out of the train is usually only possible if you travel in second or third class. The doors in the first class often stay closed, because of the air conditioning. We bought tickets with reserved seats for the third class one day in advance.
Tip: Buy tickets for the TCR (Third Class Reserved) compartment. You can do this as long as they are available, from thirty days in advance up to one day in advance. This ensures that you have your own seat.
Did you miss a reserved seat? In that case, you can buy tickets on the day itself. Make sure you are there on time or depart from a station earlier to secure a seat. During the high season it can be very busy, and you have to stand (for a long time). The train ride is beautiful! You pass numerous tea plantations and rice fields. It is best to sit at the right side until Nuwara Eliya and then to Kandy on the left side.
Kandy
Before, we mostly heard negative stories about Kandy and had decided to travel directly to Sigiriya after an overnight stay. As we had some time left, we decided to spend a morning in Kandy and visit the most important highlights, like the Temple of the Tooth and the local market. We were kind of impressed. Kandy is very different from the other places in Sri Lanka we'd been, and you can experience the real life in the big city here. Curious? Make sure to not skip this city. One night in Kandy will do. We did the same and stayed in PGC Residence.
From Kandy to Sigiriya
In Kandy we took an A/C bus (a slightly more luxurious bus with air conditioning) to Sigiriya via Dambulla. You can find these buses at the back on the right side of the station (if you look towards the station). The bus has number 43 and heads in the direction of Anuradhapura. It costs 225 LKR per person and the places in the bus are much better than you'd get in the normal buses. The trip to Dambulla took about two hours and from there we took the tuktuk to Sigiriya. You can also take a bus, but it rained very heavily when we got out. Besides, the tuktuk 'only' costs 800 LKR.
Sigiriya and Dambulla
Sigiriya is home to the famous Lion Rock, also known as Sigiriya Rock, and the Pidurangala Rock. Both can be climbed, to enjoy a great view! We chose to climb the Pidurangala Rock because you can see the Lion Rock from here. It is possible to visit Dambulla and Polonnaruwa from Sigiriya, like we did. There are plenty of beautiful temples in these towns like the Golden Temple and the Cave Temple. At Sigiriya you will also find two National Parks, Kaudulla and Minneriya. These parks are home to large groups of elephants. Sometimes you see more than 200 elephants at once.
We stayed two nights in Sigiriya in The Courtyard Villa.
From Sigiriya to Colombo
Time to travel to the last stop on our itineraty before we left for the Maldives. As we'd stay another day in Negombo after the Maladives, we opted for Colombo. Colombo, like Kandy, is often not recommended by other tourists. Nevertheless, we decided to pay a visit to this city of millions. We flew from Colombo Bandaranaike International Airport to the Maldives, had a few hours left and wanted to see for ourselves why this city is often gets such a bad rep. We took a tuktuk to Dambulla in Sigiriya for 800 LKR and hopped on a bus to Colombo. The bus trip took four hours and cost 390 LKR per person.
Colombo turned out to be much more fun than we'd imagined. It is impressive to see how people live (and drive) in this hectic city. And just like in Galle, you will find a number of Dutch treasures like The Wolvendaal Church, the Dutch Period Museum and Dutch Hospital. Other great sights are the Jami Ul-Alfar Mosque (Red Mosque) and the Pettah district. You feel on a completely different world in Pettah.
For now, it is time to leave Sri Lanka behind and travel on to our next destination on the itinerary, the Maldives!
From Colombo via Malé to Maafushi (Maldives)
Right away we knew that we wanted to combine our trip to Sri Lanka with a visit to The Maldives. We bought a ticket to Malé in advance for about $ 190 per person. A lot cheaper than flying from the Netherlands! It's only a one-hour flight. We took a speedboat from Malé to Maafushi, a relatively cheap island. We stayed for four days at the Kuredhi Beach Inn. We booked the speedboat to the island via iCom. The return trip booked via our accommodation was $ 25 per person. You can also take the local ferry, but it only departs during the day. We touched down at 21:00 hours.
Maafuushi is one of the inhabited islands of the Maldives and also one of the most affordable. You can book various tours, like snorkeling, manta rays tours, whale shark tours and a visit to an all-inclusive resort. The diving turned out to be excellent. During one dive, we saw more than 15 sharks! We are very happy we travelled to the Maldives. Pearly white beaches and clear blue water. It's a fabulous way to end your trip like this.
From Maafushi via Malé (Maldives) back to Negombo
Unfortunately, our trip was about to come to an end! From Maafushi, we took the iCom speedboat to Malé and from there we flew back to Colombo Bandaranaike International Airport. We decided to end our Sri Lanka itinerary in the Serendib Village Guest House in Negombo.
Negombo is a small town on the west coast of Sri Lanka but is easily accessible from the airport. The city center is nice and the beach is big and long. Fun fact: In Negombo you will find canals that were built by the Dutch. This was the first time we saw a lot of Catholic and Hindu influences during our trip. Until now we had mainly seen Buddhist influences. Are you looking for a special and unique experience? Make sure to visit the daily fish market on the beach of Negombo. It will blow your mind!
End of Sri Lanka itinerary: Flying from Colombo to Düsseldorf
That concludes our journey through Sri Lanka! We ordered a tuktuk in Negombo, with the PickMe app, and we only paid 495 LKR for it. This 13 km ride took about thirty minutes. We personally thought Sri Lanka was amazing! The country has a lot to offer, from beautiful culture to beautiful landscapes, beaches and nature parks. The combination with the Maldives was definitely worth it. The beaches on Sri Lanka are beautiful, but they can't match those on the Maldives. And besides, it's great to relax a little on a sandy white beach on the Maldives after travelling Sri Lanka!
Are you curious about the sights per destination? I wrote multiple articles about the attractions and sights per city.