Kandy is the capital of the central province of Kandy and is one of the largest cities in Sri Lanka. The city has more than 100,000 inhabitants and is especially popular among tourists, because the train to Ella leaves from here. This train ride is known as one of the most beautiful train rides in the world. We took the train from Ella to Kandy and despite the fact that we've read some negative stories about this big, bustling city, we decided to stay here for a day. We were positively surprised! Below you will find a number of sights that you shouldn't miss!
Tip: We slept in PGC Residence, a fairly luxurious accommodation with infinity pool!

Kandy Municipal Central Market
The central market in Kandy was the highlight for us. This market sells literally everything. From clothing, fruit, vegetables and spices to fish, meat, intestines and other guts. Whatever you can think of, they sell here. We just couldn't stop looking around, because you won't find anything like this in the western world. It's definitely not the cleanest of places and in some places, you need a strong stomach. It's very hot there and it doesn't cool well, which means there's a pungent smell, and flies and crows all over the place. A very unique experience indeed! What struck me is that there were no other tourists at all, only locals.
Temple of the tooth
The most important temple of Sri Lanka is the Temple of the Tooth. Supposedly, one of Buddha's remaining teeth is kept here. For this reason, the temple is a very popular place among tourists as well as locals. Three times a day a ceremony is held in the temple, at 05:30, 09:30 and 18:30. We didn't know this, but we discovered this during our visit.
We were at the temple around 09:00 when it was very busy. Everyone stood in line with beautiful lotus flowers to make a sacrifice and I also got a lotus flower to put down. The row went all the way up from the bottom, where the tooth of Buddha is stored. As soon as it is your turn to make your sacrifice, there are a number of women who accept your sacrifice to put it down in the room where the tooth is stored. Unfortunately, you cannot see the tooth yourself. However, it was a very special experience that I wouldn't have wanted to miss!
The temple complex is very beautiful and dates back to the 17th century. There are a number of smaller temples and museums next to the main building. Time constraints prevented us from visiting these museums ourselves.
The temple is open daily from 05:30 – 20:00 and the entrance fee is 1.500 rupees per person.
Note: Make sure you wear clothing that covers you, otherwise you are not allowed to enter the complex. This applies to both men and women. Shoulders and knees must be completely covered.
Kandy Lake
You'll find Kandy Lake next to the Temple of the Tooth, in downtown Kandy. Kandy Lake was built in the 17th century by King Sri Wickrama Rajasinghe. The lake has become a lot smaller over the years but is still about 19 hectares and 18 meters deep. Kandy Lake is protected, and you are not allowed to fish in it. But you can take a beautiful walk around it. Escape from the busy Kandy city center!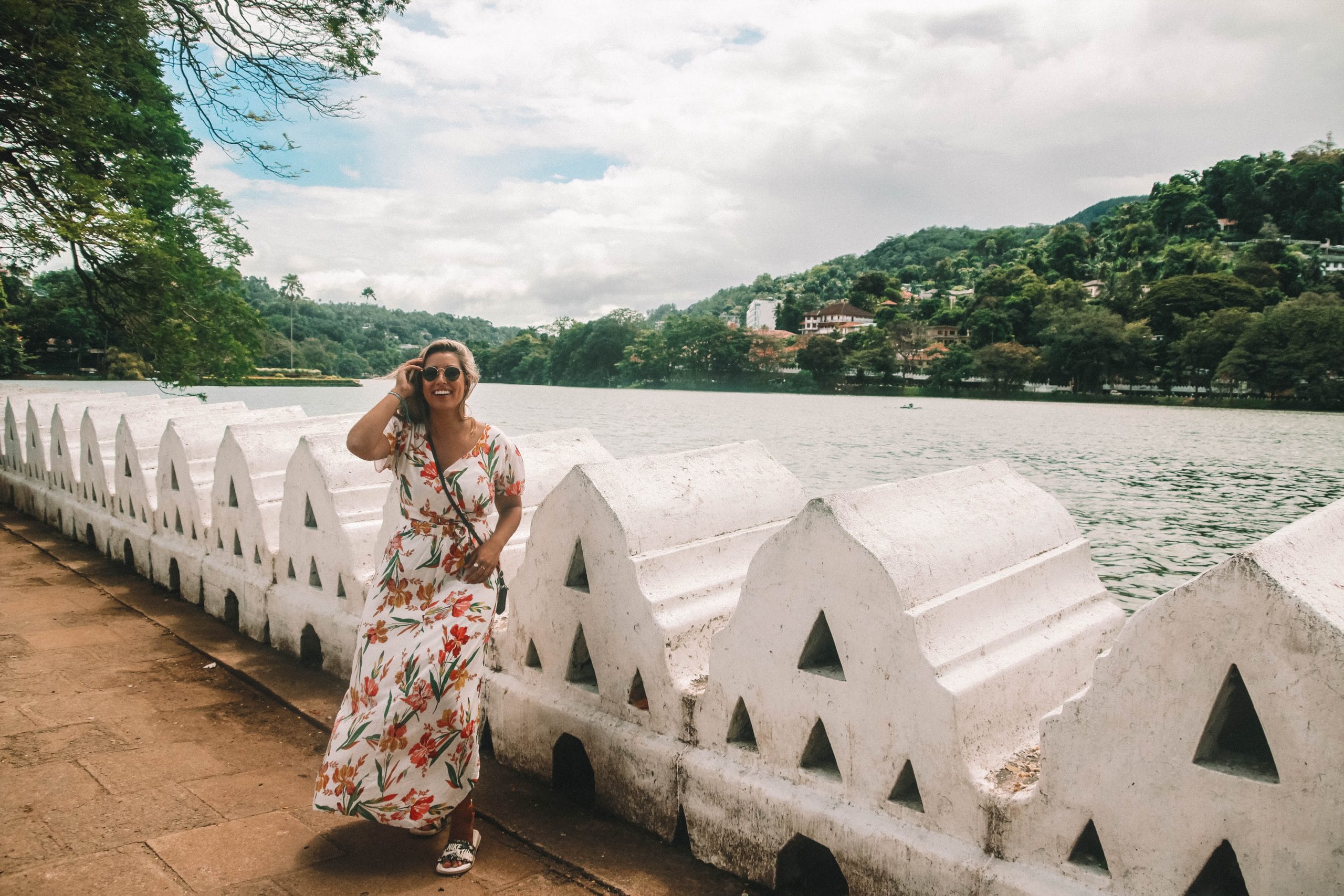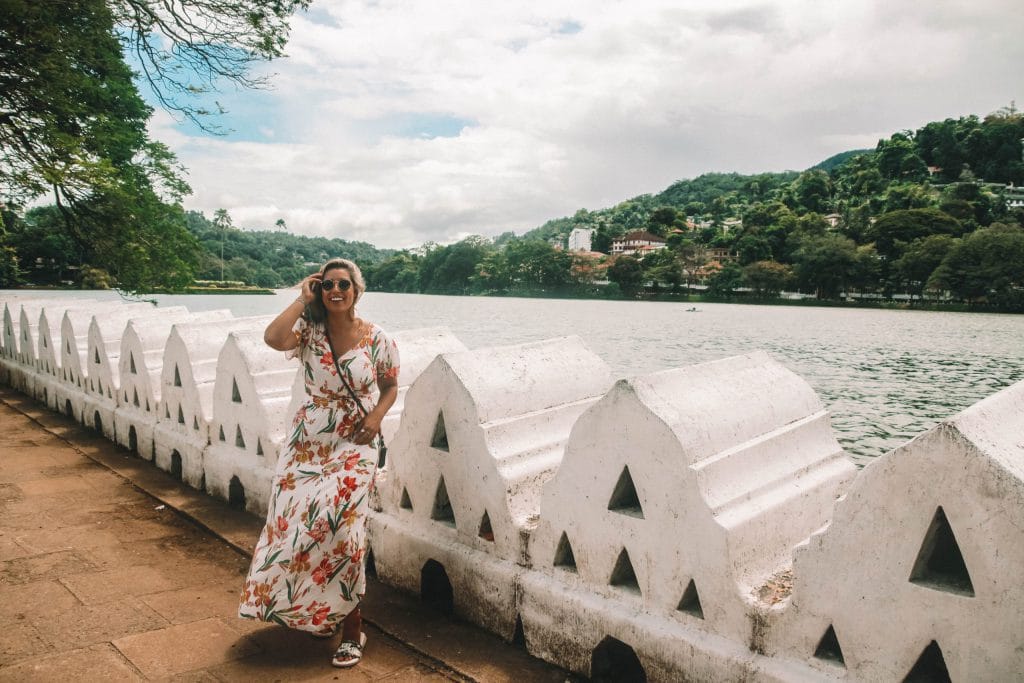 Kandy City Center (KCC) shopping mall
Kandy City Center or KCC is a large shopping mall in Kandy. You'll find this kind of shopping malls in many big cities and I love to stroll through them on a hot day! The KCC complex is modern but is built with the Kandy's architecture in mind. Inside, you will find numerous shops, such as Adidas, Nike, the Bodyshop, jewelers and perfumeries. Not the most cultural thing to do, but still worth a visit!
Bahiravokanda Vihara Buddha statue
If you walk through the center of Kandy and look around you, you will see a large white Buddha on a mountain. This is the Bahiravokanda Vihara Buddha statue, a huge Buddha statue, measuring about 27 meters high! The Buddha is the largest Buddha statue of Sri Lanka and because the statue is built on a hill, you can see it from a great distance. If you want, you can also take a closer look at the statue. From here you have a beautiful view over the city.
Train ride from Kandy to Ella
We made the train ride the other way, from Ella to Kandy. In another article I wrote down some tips for one of the most beautiful train journeys in the world. You can find these tips here.