Are you travelling to Sri Lanka for a holiday, roadtrip or round trip? You might be curious about the budget you need for your trip! In Sri Lanka one pays with the rupee, the Sri Lankan rupee (LKR). The prices in Sri Lanka are very low compared to western prices. It's even cheaper than in other Asian countries, like Indonesia and Thailand. In this article, I will tell you more about the costs during our 12-day round trip in Sri Lanka. The costs have been converted to euro's and US dollars.
Flight tickets to Colombo
Our trip started in Colombo, as most flights to Sri Lanka go here. We found our tickets via Skyscanner. They cost € 459,- per person ($520 per person). Our flight departed from Düsseldorf in Germany and we had a stopover in Abu Dhabi on the outward and return flight. We deliberately opted for a longer stop of six hours on the outward flight, allowing us to visit a number of sights in Abu Dhabi. The stopover during the return flight lasted two hours.
Visa Sri Lanka
When you travel to Sri Lanka, you need a visa. Prior to our trip we bought an ETA or e-visa online for about € 30,- ($34) via the official website eta.gov.lk.
Transportation in Sri Lanka
Prior to our trip we thought about renting a tuktuk in Sri Lanka and traveling around the island with it. In the end we didn't do it because we also wanted to travel by train, and wanted to try other local means of transport. Also we just didn't have enought time.
Bus prices
Public transport in Sri Lanka is super cheap. The bus costs:
– Normal bus from Matara to Tissamaharama – € 0.90/$1 per person (143 km and 3 hours)
– A/C Bus from Kandy to Dambulla – € 1,- / $1.10 per person (75 km and 2 hours)
– Normal bus from Dambulla to Colombo – € 2,-  / $2.20 per person (160 km and 4,5 hours)
Tuktuk prices
Besides the bus, we used tuktuks a lot. The prices per ride depend on the location. They often set high prices, but you can haggle it down. Below you will find the prices of several tuktuk rides we did.
– From Galle to Unawatuna – € 2,- / $2.20 (6 km)
– From Unawatuna to Mirissa – € 7,50 / $8.40 (30 km)
– From Mirissa to Matara – € 1,- / $1.10 (15 km)
– From Ella to Ravana Falls and back – € 5,- / $5.60 (2x 5 km was waiting for us)
– From Sigiriya to Pidurangala Rock – € 5,- / $5.60 (2x 2,5 km and was waiting for us )
– From Dambulla to Sigiriya – € 4,- / $4.50  (15 kilometers)
Rides via Pick Me
In most areas you can use the app Pick Me, the Sri Lankan Uber, to book a tuktuk. If you use Pick Me it is even cheaper to travel, but sometimes you have to wait a while for an available tuktuk. Below are some rides:
– From Negombo hotel to the Negombo Fish Market – € 1,- / $1.10 (5 km)
– From Negombo center to Colombo Airport – € 2,50 / $2.80 (13 km)
Train from Ella to Kandy
We took the train from Ella to Kandy. This train ride is known as one of the most beautiful train journeys in the world. The price of your ticket depends on the class you want to travel in. A first class ticket costs about € 14,- / $16 per person if you buy it online in advance. At the station, the price is slightly lower. We opted for a TCR (Third Class Reserved) ticket and these tickets cost only € 2,50 / $2.80 per person.
Would you like to know more about the train journey from Ella to Kandy? Then click here!
Taxi prices
We used a taxi twice. The first time was from the airport of Colombo to Galle and cost almost € 60,- / $67 . This was an expensive ride, because we arrived at night and wanted to go straight to Galle. This way we didn't lose a day. If you arrive during the day, you can take a cheaper taxi or use Pick Me. The drive from the airport to Galle is about 150 km and takes almost 3 hours.
From Tissamaharama to Ella we also took a "taxi". At the bus stop we met a young man, who had to go to Ella for work and he wanted to take us with him for € 10,- / $11. Because the bus was overcrowded, this was a win-win situation. The ride was almost 100 km and lasted 2 hours.
We paid about € 75,- / $85 per person for transport on Sri Lanka. This includes the expensive taxi from Colombo Airport to Galle.
Accommodations
It is always difficult to set a budget, because it depends very much on the type of accommodation you want to stay in. We stayed mainly in middle class accommodations in a double room with a private bathroom. The prices we paid in the month of November varied from € 9 / $10 and € 35,- / $40 per night.
For 10 overnight stays in middle class accommodations we paid about € 250,- / $280. This means € 125,- / $140 per person.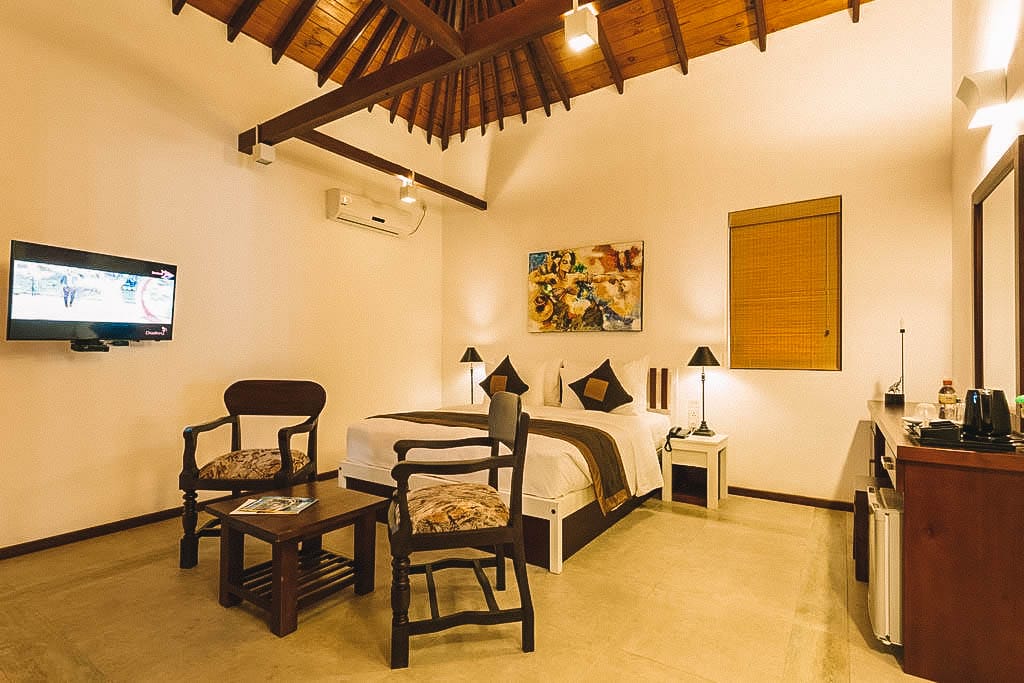 Eating and drinking
The cost of eating and drinking, as well as the price of accommodation, depends on the type of restaurants you like to visit, how often you eat out and how much alcohol you drink. You pay € 0.50 / $0.60 at a local restaurant for a large plate of kottu. We stopped along the road to have something to eat at a local restaurant. Hygiene is hard to come by, but the food is delicious and cheap! If you eat in a middle class restaurant, you pay between € 3,- / $3.40 and € 7,- / $7.90 for a meal, a Lion beer and a tip. Keep in mind that the Sri Lankan dishes are always a lot cheaper than the western dishes. The food in guesthouses was a bit more expensive than food in a restaurant. We paid about € 5,- / $5.60 per person.
We spent about € 150,- / $168 per person on food and drinks in 12 days. Every day we had breakfast, lunch and dinner.
Tip: Do you want to know more about eating and drinken in Sri Lanka and typical Sri Lankan dishes? Discover more here!
Activities and sights
There are many sights and activities in Sri Lanka that you can visit and do for free. There are also some activities you do have to pay for, such as the Yala National Park, which was one of the most expensive activities during our trip. A visit to Yala cost € 30,- / $34 per person. The Whale Watching Tour and the Kaudulla Safari also cost € 30,- / $34 per person. To be able to swing at the famous 'swing' just before Dalawella Beach and to climb the Pidurangala Rock you have to pay € 2,50 / $2.80 per person. You also need to pay for the Temple of the Tooth Relic in Kandy (€ 7,50 / $8.40 per person) and the Cave Temple in Dambulla (€ 7,50 / $8.40 per person). The towns and beaches can mostly be visited for free.
We spent € 350,- / $393 in 12 days for activities and attractions. This is € 175,- / $196.50 per person. The price includes three 'expensive' excursions of € 30,- / $34 per person.
Sri Lanka day budget
If we add up all the costs in Sri Lanka, without the costs for flight tickets and visa, but including transport costs in the country itself, we'd spend about € 40,- / $45 per person per day.
Depending on the desired luxury of your accommodations and restaurants, you'll end up with a travel budget between € 30,- / $34 and € 50,- / $55 per person per day. You don't have to save on food and drinks, activities, attractions and accommodations! Do you sleep mostly in hostels and don't go out three times a day for dinner? Then you can probably get it done with € 25,- / $30 per person per day!