You'll find one long street full of restaurants and bars in Ella's city center where you can eat and drink. We always have trouble picking a restaurant ourselves, and that's why I'll give you two tips to make your choice a little easier. We stayed two nights in Ella (in Sunray Homestay) and had dinner at two different restaurants. The first night we went for international food and the second day we decided to eat at a Sri Lankan restaurant.
Cafe Chill – International food and drinks in Ella
My favorite place in Ella is Cafe Chill! After 7 days of Sri Lankan food, we were looking forward to something different the night we arrived. Before we knew it, we ended up at Ella's busiest restaurant. What a party! Cafe Chill has a very varied menu and offers both Sri Lankan and international dishes. We chose a burger and it tasted so good!
The restaurant has two floors. The ground floor is the restaurant where you can have something to eat and on the first floor you'll find a lounge area. Here's a bar where they serve delicious cocktails and you will find beanbags to relax on.
Because we enjoyed Cafe Chill so much, we decided to come back the next day for lunch. The evening before we sat in the restaurant and this time went to the lounge. The food was very good again and this time we enjoyed a nice view over Ella's main street! The prices at Cafe Chill are a bit higher than the prices at most restaurants in Sri Lanka. Still, definitely worth it!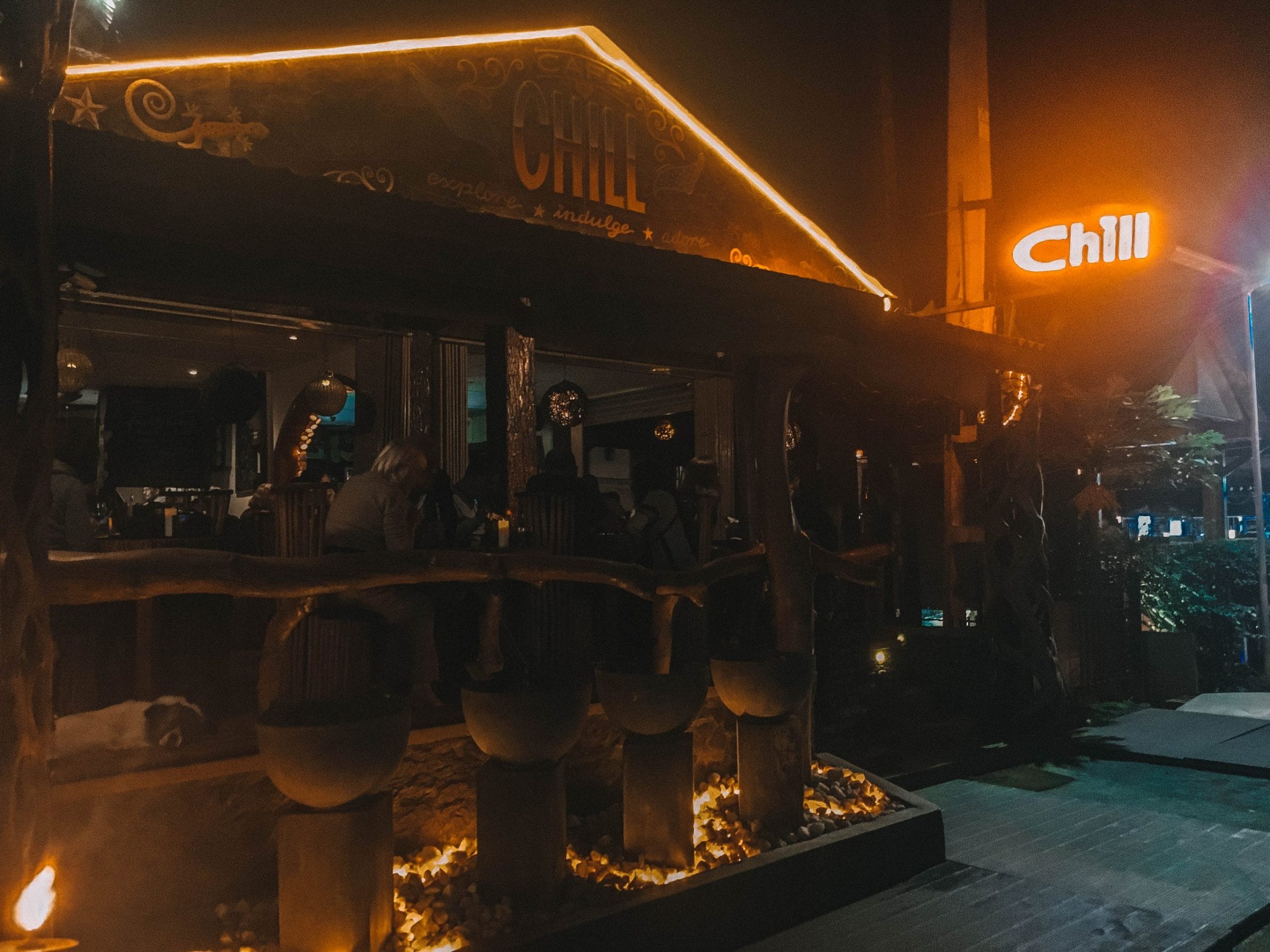 Cafe C
Would you rather eat genuine Sri Lankan food? Cafe C is the place to be! Cafe C is a very small restaurant with only six tables. The owner serves Sri Lankan dishes which are finger licking delicious. We just happened to walk by and decided to take our chances and it turned out to be a good choice! I chose noodles and my boyfriend chose roti. Both dishes were delicious!
As they serve local dishes here, the prices are a lot lower than at Cafe Chill. Cafe C is simple, but nicely decorated. The wall is full of rave reviews in all languages and, if you want, you can leave a message too! Make sure to visit if you are in Ella! Don't walk past it, because it's very small. Cafe C is located at the end of Wellawaya Road, just before the T-junction with Ella Station Road.
Tip: Curious about the things to do and see in Ella? Discover more!