Are you soon travelling to Sri Lanka and are you curious about what they eat and drink there? I happy to present you 10 typical (and tasty) Sri Lankan dishes that I've eaten and absolutely loved during our round trip!
Tip: Check out our aftermovie!
1. Kottu
Kottu is a typical Sri Lankan dish and consists of vegetables and small pieces of roti. You can add egg, chicken or fish. All ingredients are put together and baked on a large baking tray and then everything is chopped into pieces on a large chopping board with a huge knife. The best local kottu can be found along the road in one of the local restaurants where only locals come.
Tip: Ask your tuktuk driver to take you to a local restaurant. We have done this a couple of times and the food here was very tasty and super cheap!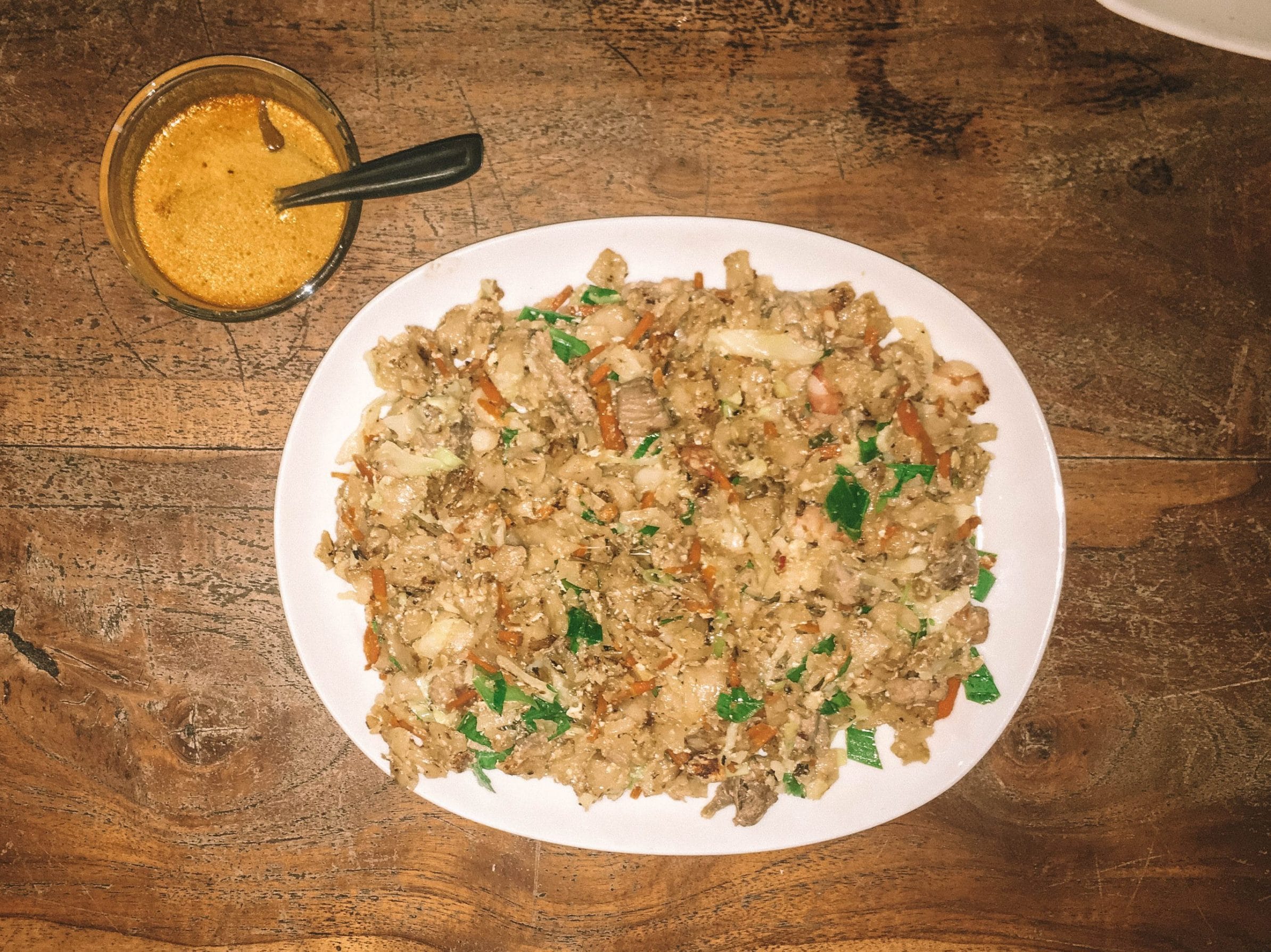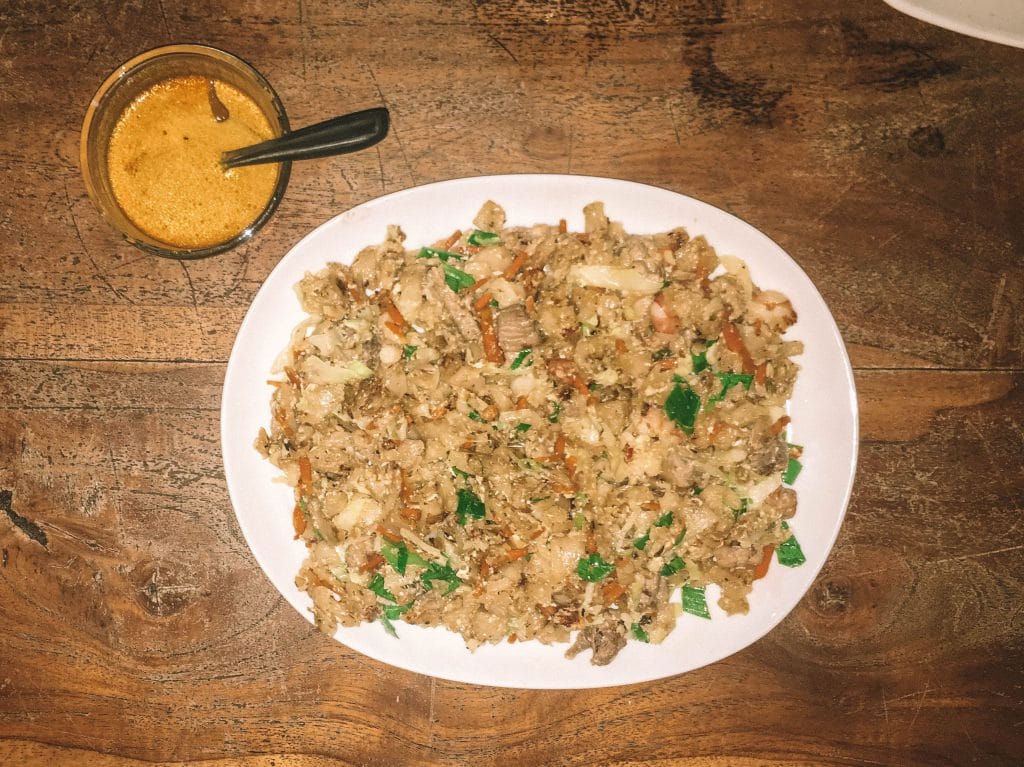 2. Devilled Rice
Most restaurants in Sri Lanka serve Devilled Rice. This dish owes its name to the fact that it is very spicy! Usually you can pick between chicken or prawns that are fried in a spicy red sauce. The sauce is served with white rice. Don't skip this dish when you are in Sri Lanka!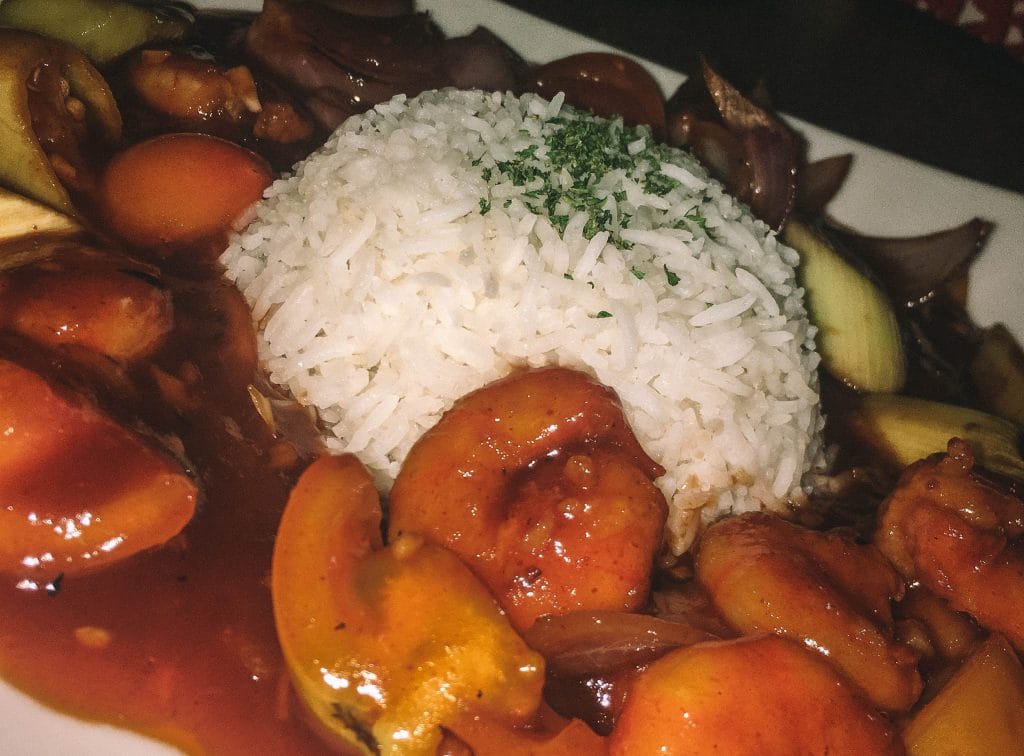 3. Fresh smoothies
You can buy fresh smoothies and juices on every corner of the street. Some restaurants have smoothies on the menu, but in other places you can create your own smoothie. How great is that? Especially on a hot summer's day! You know what's also great here? They mostly use iron straws instead of plastic ones! This limits plastic use.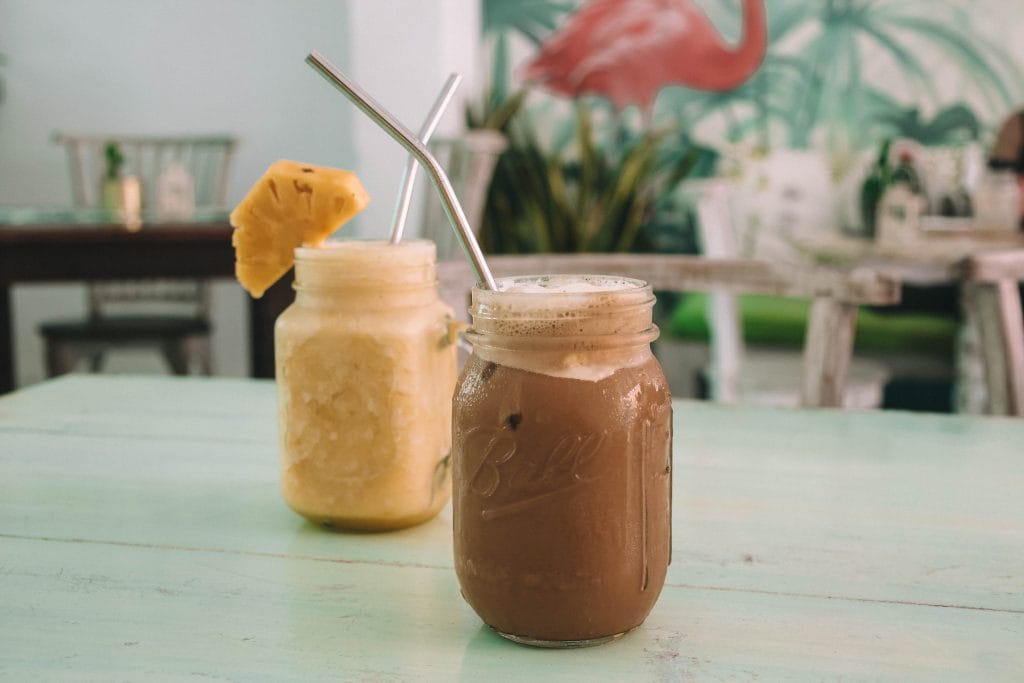 4. Hoppers
I've never seen this dish before: hoppers! Hoppers are a kind of bowl-shaped thin pancakes that come in all shapes and sizes. You can choose a "Hopper Natural", but also a stuffed hopper. A hopper with egg, vegetables or yogurt, for example. I loved them!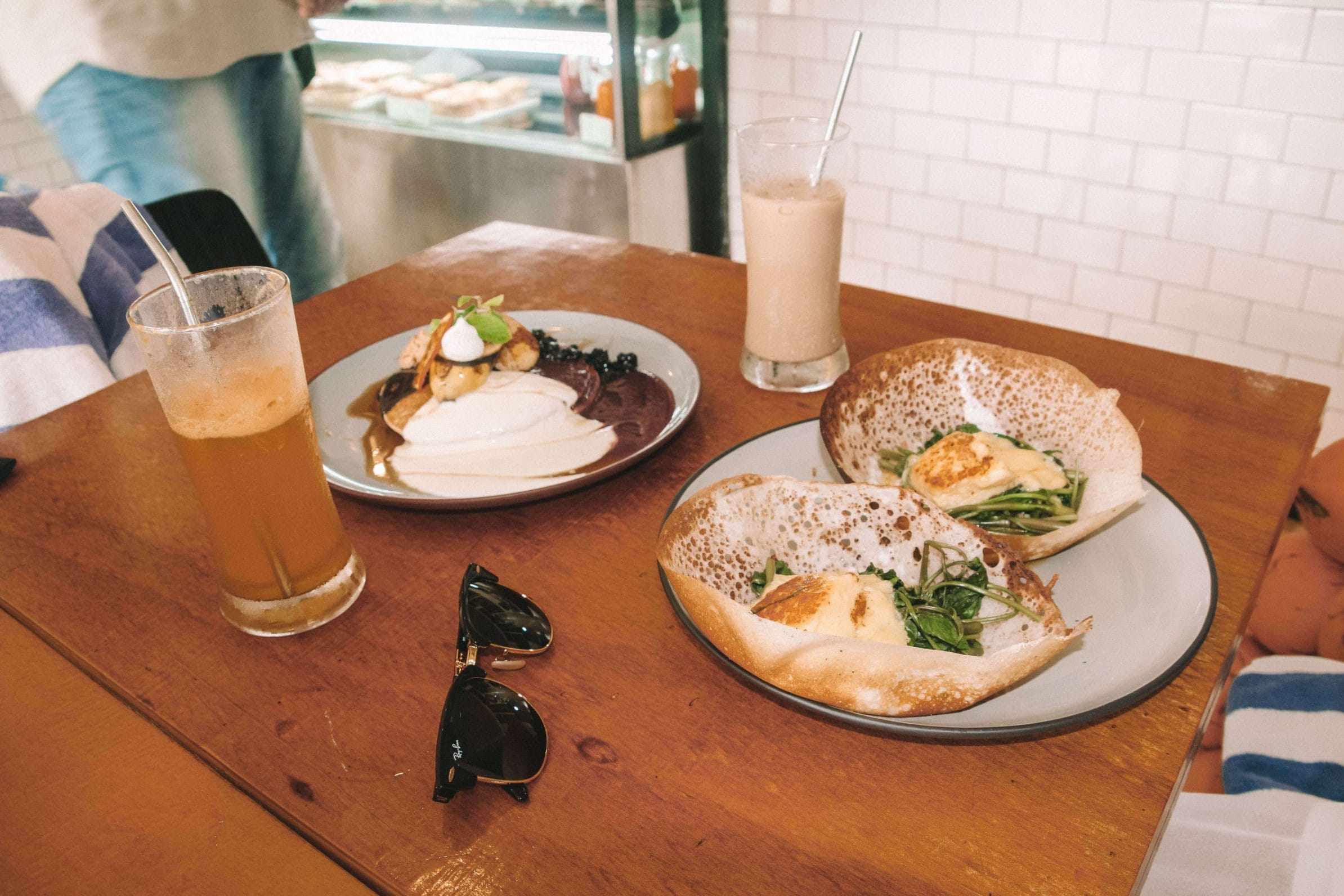 5. Lion beer
A beer is always delicious! Every time we are on holiday somewhere, we always try the local beer. The beer that is sold the most in Sri Lanka is Lion Beer. Lion beer can be recognized by the golden lion on the label. The lion is a symbol of visionary leadership and strength.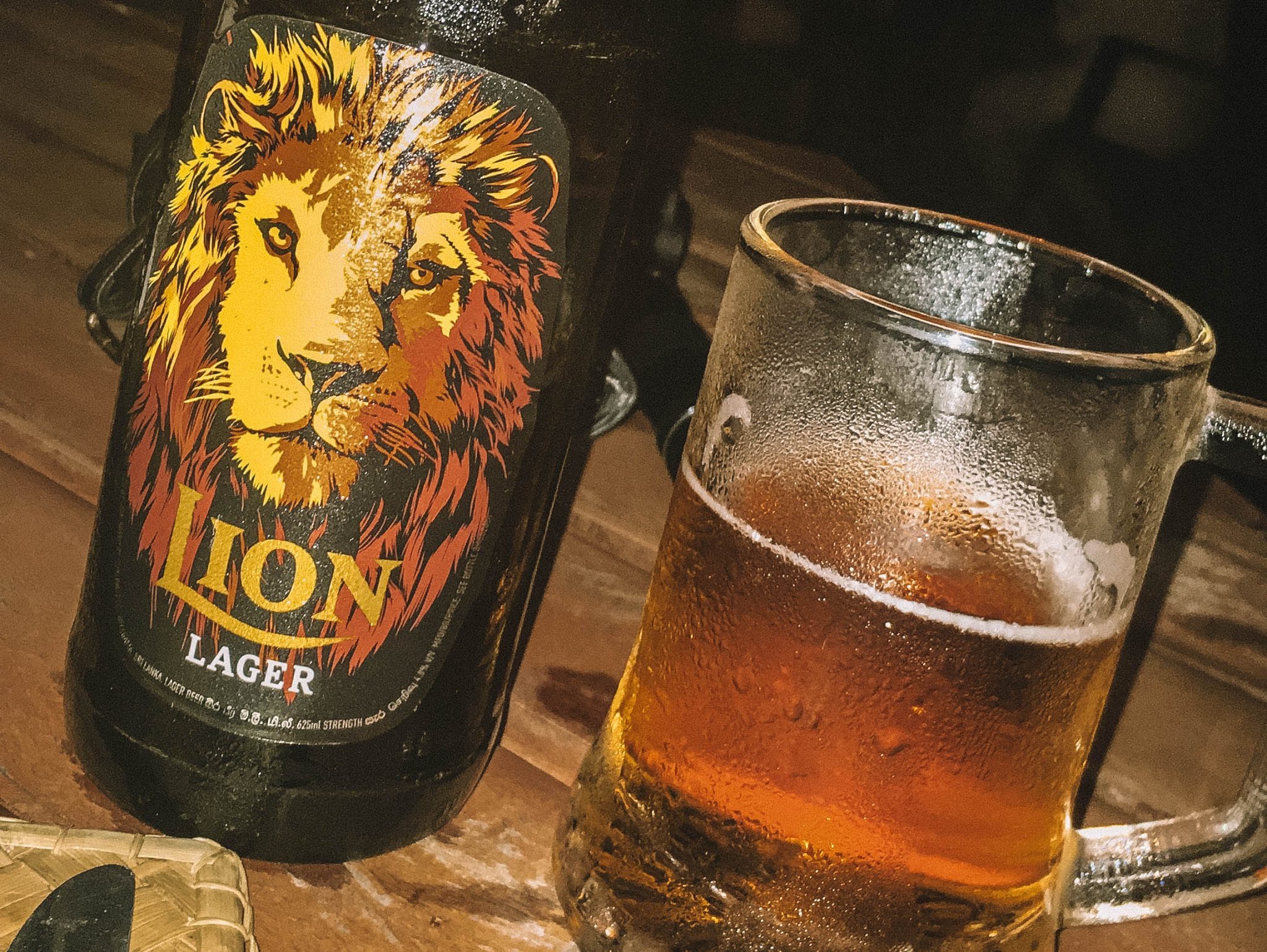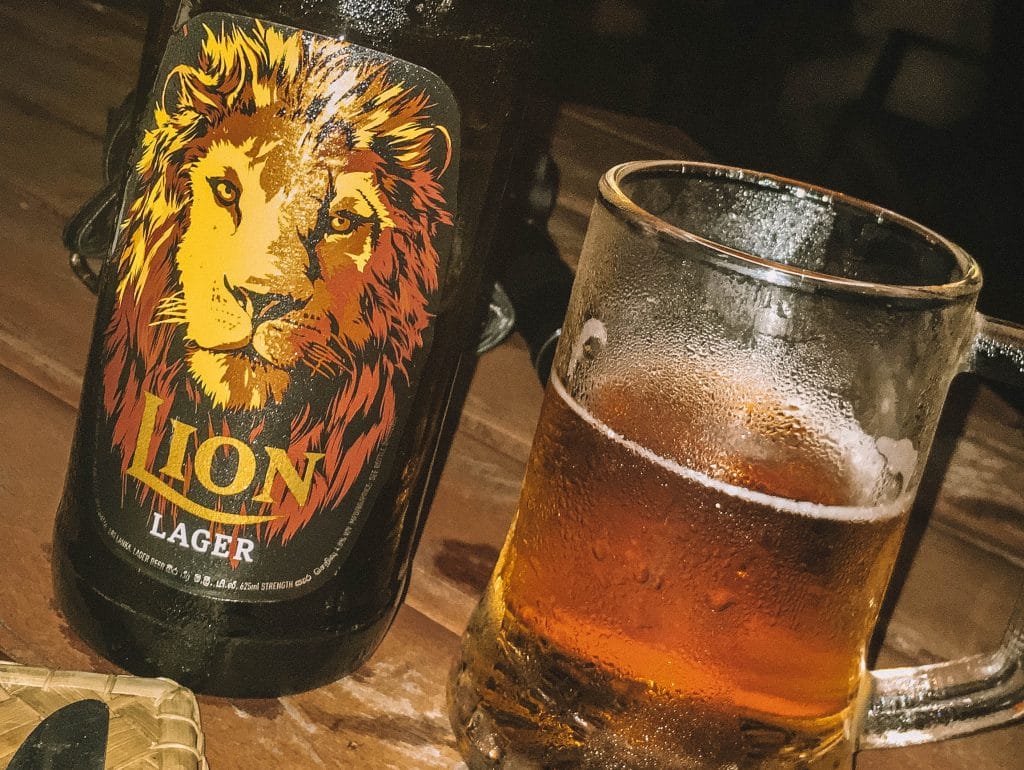 6. Noodles
Asian cuisine means eating noodles! I love them and I also eat them a lot when I'm at home. But they taste just so much better when they are freshly prepared for you in an Asian country, like Sri Lanka. In Sri Lanka they serve different kinds of noodles, for example vegetarian, with egg or with chicken.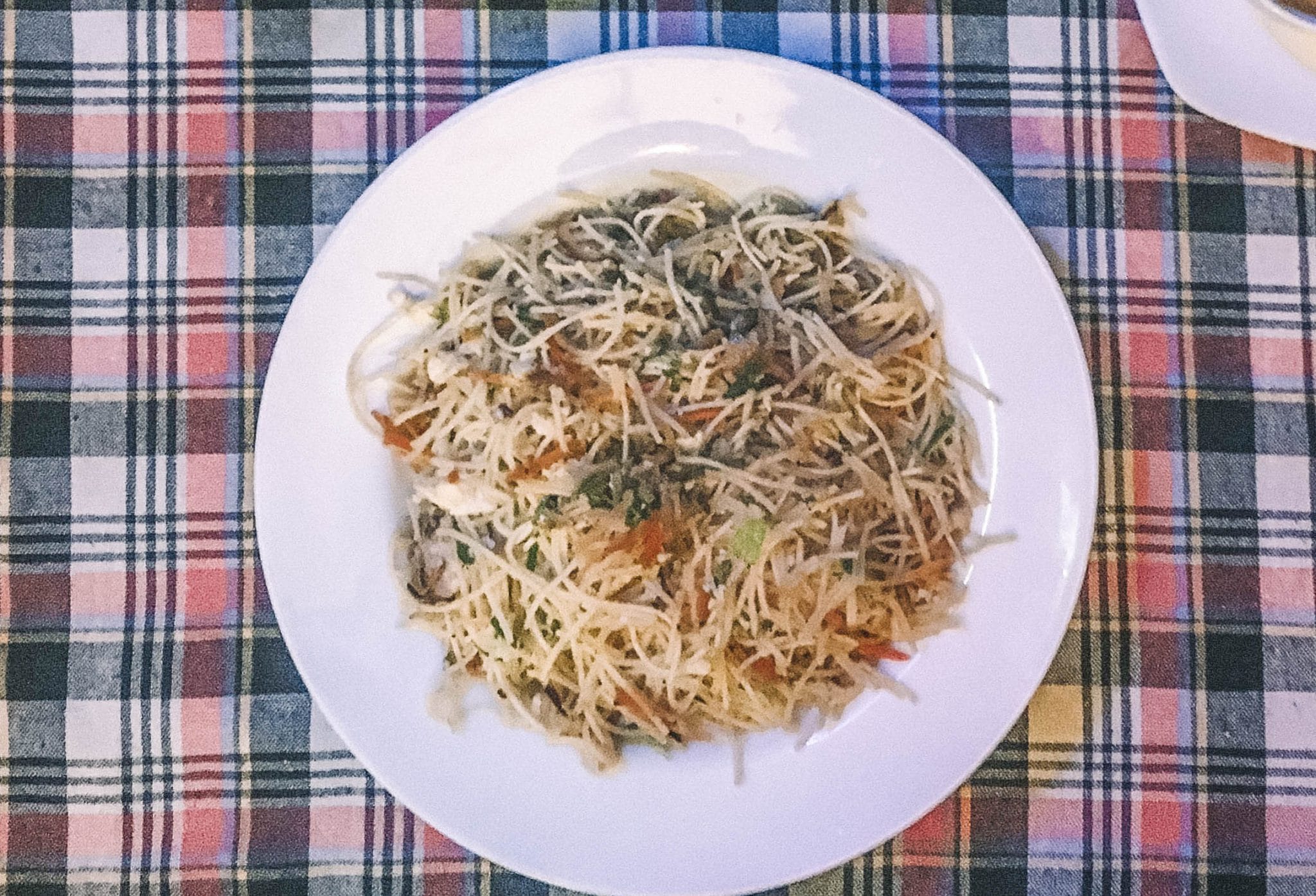 7. Roti and coconut sambal
Roti is a kind of bread pancake and is eaten in and around India. It looks a bit like a wrap, just thicker. Roti's are made of flour, dough and water and then baked on a baking tray. You can choose ordinary roti in Sri Lanka, but also flavored roti with honey or coconut. When you order roti, it is usually served with different sauces and side dishes. Examples are coconut sambal and dhal Curry. Delicious!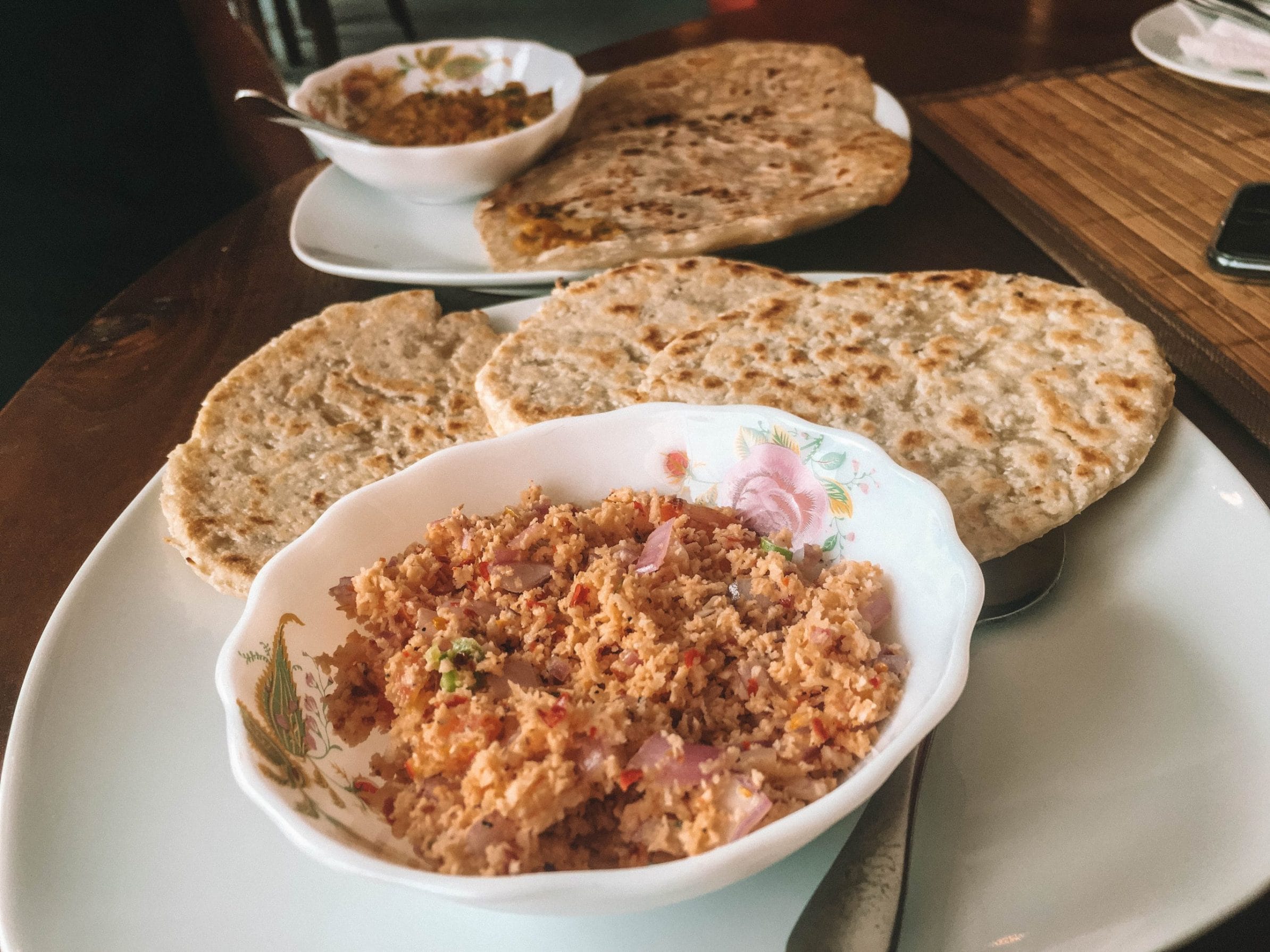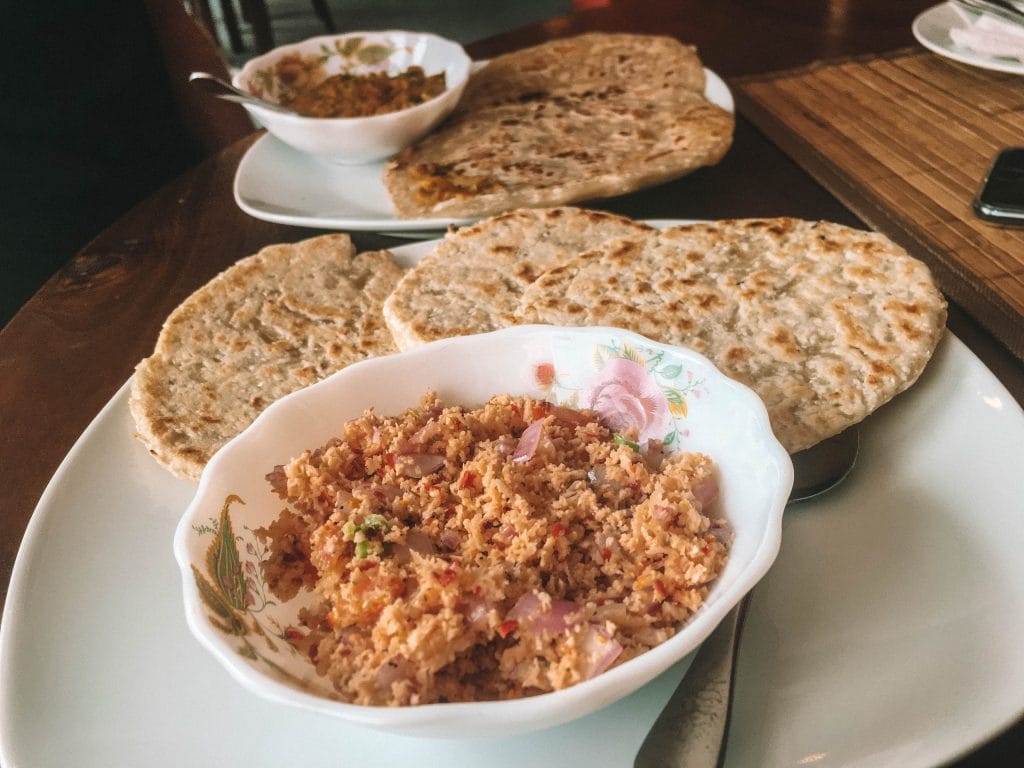 8. Papadam
A papadam is a kind of crispy wrap traditionally eaten in India. In India it is also called Papadum and is usually served as an appetizer or snack. When you order papadam, you get a number of bowls with chutney, chopped onion or coconut sambal with it.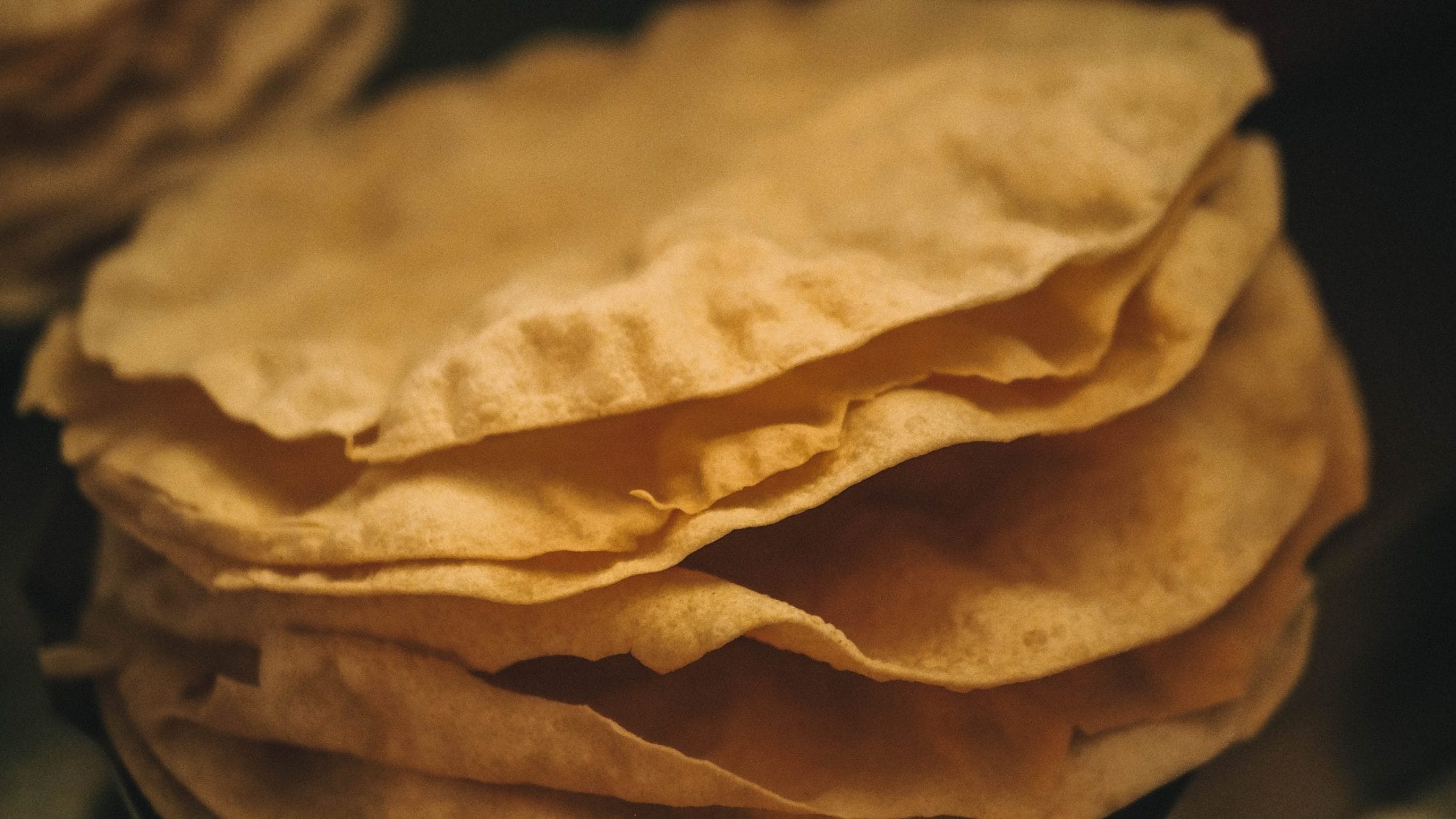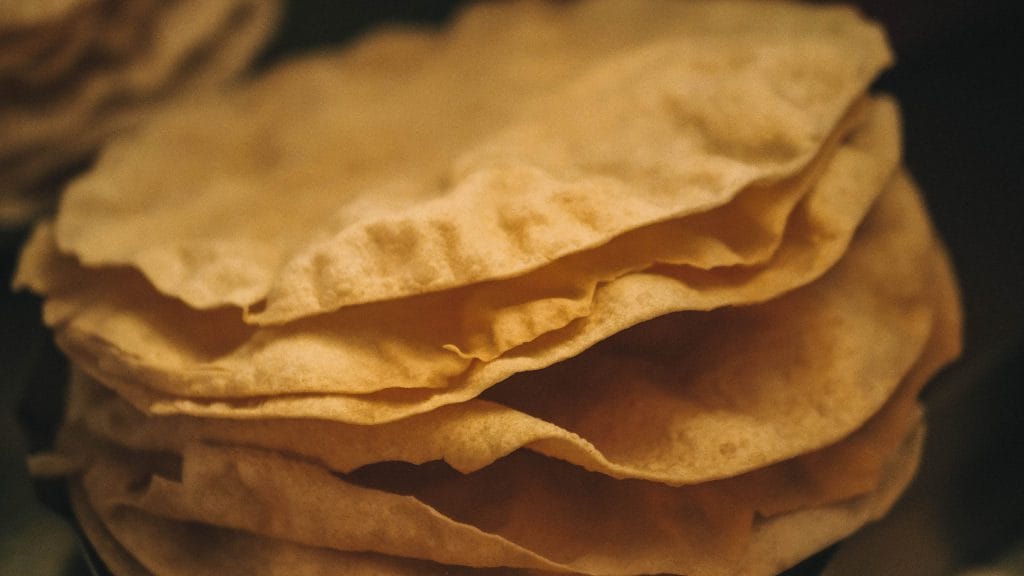 9. Curry
When you order curry at a restaurant in Sri Lanka, you can be sure that there'll be plenty of food. We ate curry on several occasions and each time it was enough to feed an entire orphanage! If you pick your curry, you'll also get white rice and trays with different kinds of curry. Often you have a choice of vegetarian, chicken or fish. The Sri Lankan kitchen has different curries, such as dhal curry, eggplant curry (baingan bharta) and beet curry.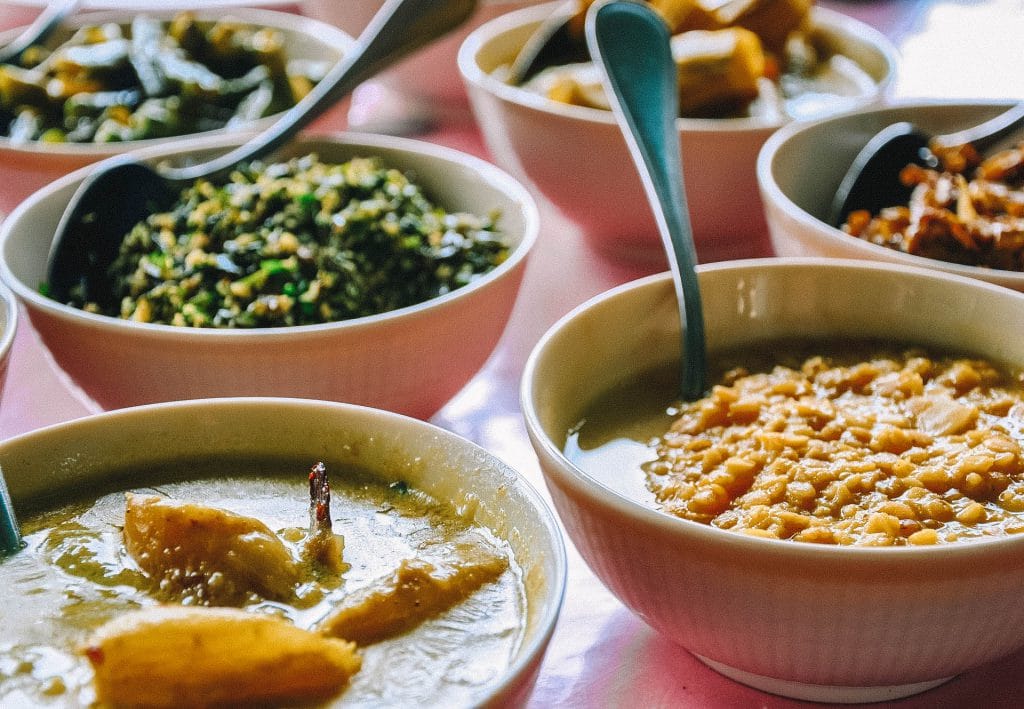 10. Short eats
Wherever you are in Sri Lanka, you'll always see stalls and shops where they sell short eats. These are savory and often spicy (fried) snacks that are perfect as a afternoon snack. We bought some during our train journey from Ella to Kandy. It reminded us of deep-fried potato croquettes. They were delicious!