During our stay in Pisa, we decided to rent a car on the last day and to a Tuscany road trip. Tuscany is a region in central Italy and is known as one of the most beautiful areas of this country. You will discover beautiful green hills, vineyards and sunflower fields. The towns in this area are each very pretty and full of history. Below, you will find the ultimate car itinerary through Tuscany in one day.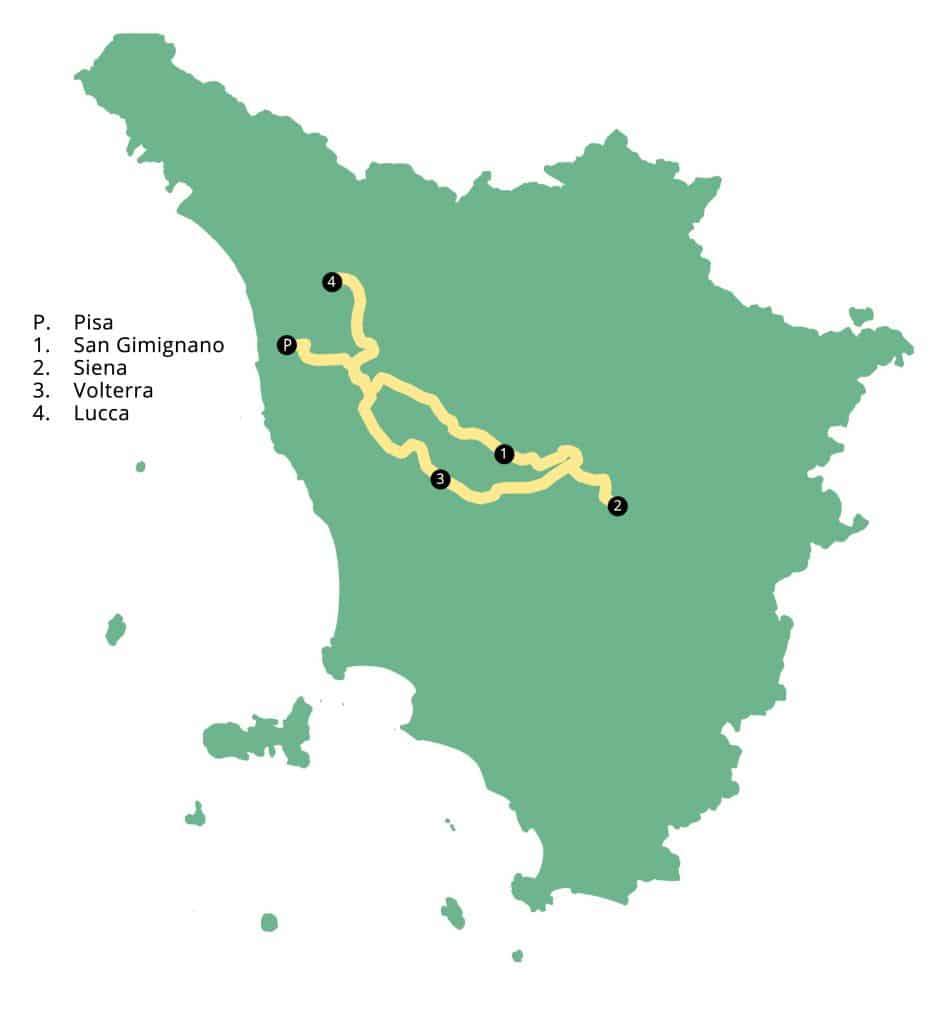 Start car itinerary Tuscany: Pisa
We stayed in Pisa, so it goes without saying that our route started here. Pisa has some nice sights like the Leaning Tower of Pisa, the Cathedral, the Baptistery (all located in Piazza dei Miracoli) and Piazza dei Cavalieri. If you feel like shopping, you can go to Pisa's nicest shopping street: Corsa Italia. Here you will find some nice Italian boutiques, but also the famous brands.
Parking in Pisa
One kilometer from the center is Via Paparelli, where you can park your car for free. If you prefer to park your car in the center, you will find the secure parking garage Via Cammeo next to the Leaning Tower of Pisa.
San Gimignano
The next stop is in San Gimignano. A medieval town, which you can already see from a great distance. If you drive from Pisa to San Gimignano you will pass beautiful green hills and some sunflower fields.
Note: These sunflower fields are in bloom in June and July!
The historic center of San Gimignano, which is surrounded by a large city wall, is a UNESCO World Heritage Site. This makes it one of the busiest towns in Tuscany. At the highest point of San Gimignano, there are a number of beautiful squares, surrounded by medieval walls, towers and a church. You will also find numerous souvenir shops and some restaurants.
Parking in San Gimignano
San Gimignano has four large parking spaces. On this website you can find the exact locations and see how many spaces are available per parking space. The website is updated every 5 seconds, so the information is always up to date!
Siena
From San Gimignano you drive on to the second stop of the Tuscany roadtrip, namely Siena. This is the capital of the Siena province and this city, just like San Gimignano, has medieval architecture and is a busy tourist attraction. Some beautiful sights in Siena are the Duomo di Siena (Cathedral of Siena) and the town square Piazza del Campo, where you will find the Palazzo Pubblico. The Palazzo Pubblico has a 102 meters high bell tower. There are plenty of nice restaurants in the small streets of Siena to enjoy your lunch.
Parking in Siena
It's easy to park your car in the parking garage Parcheggio Santa Caterina. This garage is located on the edge of the city wall. The location of the parking garage can be found here. Siena is located on top of a hill. If you walk up the hill from the parking lot, you'll find an escalator on your right hand side that will take you up the hill. Very convenient on a hot day!
Volterra
The next town during our Tuscany road trip was Volterra. I know Volterra because of the Twilight movies. Like Siena, this town is situated on top of a hill and has a beautiful view of the surroundings. Volterra is very small, but it is super fun to walk around. The streets are very pretty, and you will see a nice square and nice restaurants with delicious wine! Another popular activity in Volterra is visiting the Museo Etrusco Guarnacci, one of the oldest public archaeological museums in Europe.
Parking in Volterra
A good parking garage is La Dogana Srl and is located right on the edge of the city center. From here you walk directly into Volterra. Perfect!
Lucca
The last stop during our Tuscany road trip is Lucca, one of the richest cities in northern Italy and also surrounded by a city wall. As in many other Italian cities, you will find a beautiful cathedral in Lucca, the Duomo di San Martino. Another famous attraction is Piazza dell'Anfiteatro. There used to be a large Roman amphitheater here, but now the square is surrounded by nice restaurants. We ended the day here and had a delicious meal. Other attractions are Piazza Napoleone, the basilica of San Frediano and the Torre Guinigi.
Parking in Lucca
Just outside the city there are parking spaces where you can easily park your car. You don't pay afterwards, but in advance by means of a parking meter.
Note: There are regular police walking around to check the parking tickets. It' s a 15-minute walk from the parking lot to Piazza dell'Anfiteatro.