Bohol is a lush island in the Philippines, situated close to Cebu and north of Siquijor. Bohol consists of two parts, namely Bohol and Panglao. The island is particularly renowned for the Chocolate Hills and the tiny tarsiers that live here. Did you know that these tarsiers are found in only a few places worldwide? And that's not all! Bohol also features several spectacular waterfalls, stunning beaches and rice fields. This article provides information on how to reach Bohol and Panglao, where to find the best accommodations and the must-see attractions and activities you shouldn't miss out on!
How to Get to Bohol or Panglao?
Flying from Manila to Bohol-Panglao
If you're traveling from Manila to Bohol, the airplane is the fastest and most cost-effective option. You can fly to Bohol-Panglao for as low as 15 euro per person (one way). The flight takes only 1.5 hours.
Taking the Ferry from Cebu to Bohol
The direct ferry from Cebu to Bohol's Tagbilaran Port departs from Cebu Pier 1, the harbor located near the center of Cebu City. Several providers, such as OceanJet and Supercat Fast Ferry, operate this route daily. The boat journey lasts approximately two hours.
If you're traveling from the southern part of Cebu Island to Bohol, Apekoptravel's ferry runs daily from Oslob to Tagbilaran Port on Bohol.
Taking the Ferry from Siquijor to Bohol
From Siquijor as well, you can take a ferry to Bohol. Once again, you have the option of choosing OceanJet (from Siquijor Pier to Tagbilaran Port) or Apekoptravel (from Larena Pier to Tagbilaran Port). The crossing takes about two hours.
Tip: Ensure that you book ferry tickets in advance to secure them for your preferred date and time before they sell out.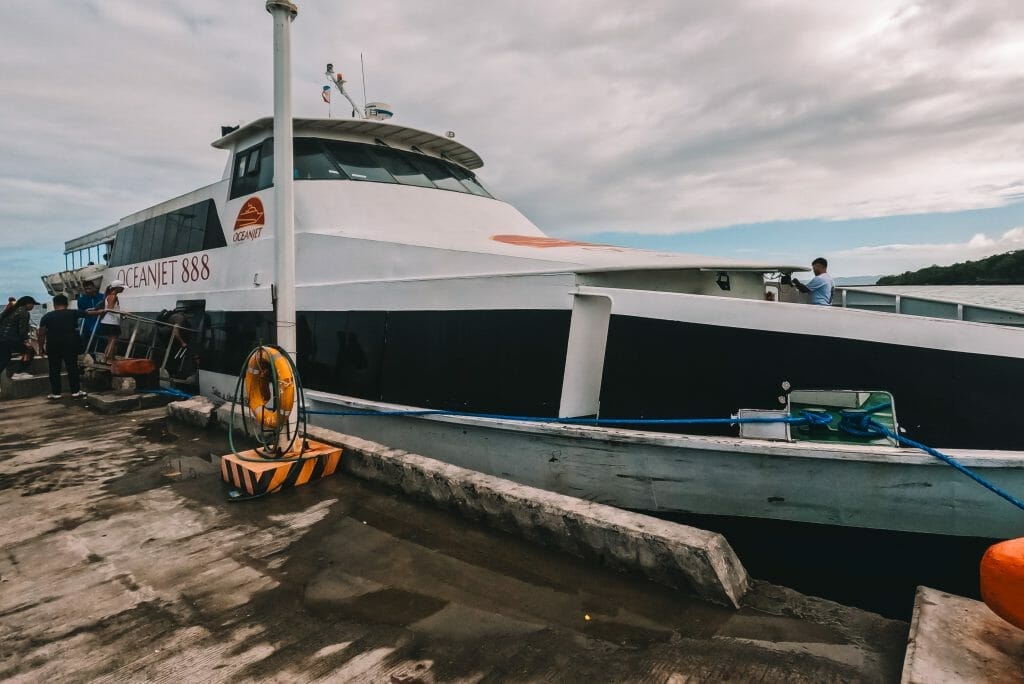 Staying on Bohol or Panglao?
As mentioned earlier, the island of Bohol consists of two parts, namely Panglao (near the airport) and Bohol itself.
Staying on Bohol Island
If you're looking for tranquility and beautiful nature, we recommend staying on Bohol itself, perhaps near the Loboc River or in Anda.
During our stay, we spent one night at Fox & The Firefly Cottages, a lovely accommodation situated by the Loboc River, which boasts one of the few restaurants in the area.
Additionally, we stayed one night at the Loboc River Resort, also a great choice!
Staying on Panglao Island
If you're looking for a lively spot with numerous restaurants and nightlife options, your best bet is to stay on Panglao. This is where you'll find the major resorts, countless bars, and well-known fast-food chains.
During our trip, we stayed here for one night, close to the airport, as we were flying back to Manila after our time in Bohol. One night was more than enough in our opinion! We stayed at The Three Shooting Stars, a comfortable accommodation just outside the bustling center. The owner is a friendly and helpful Dutch man!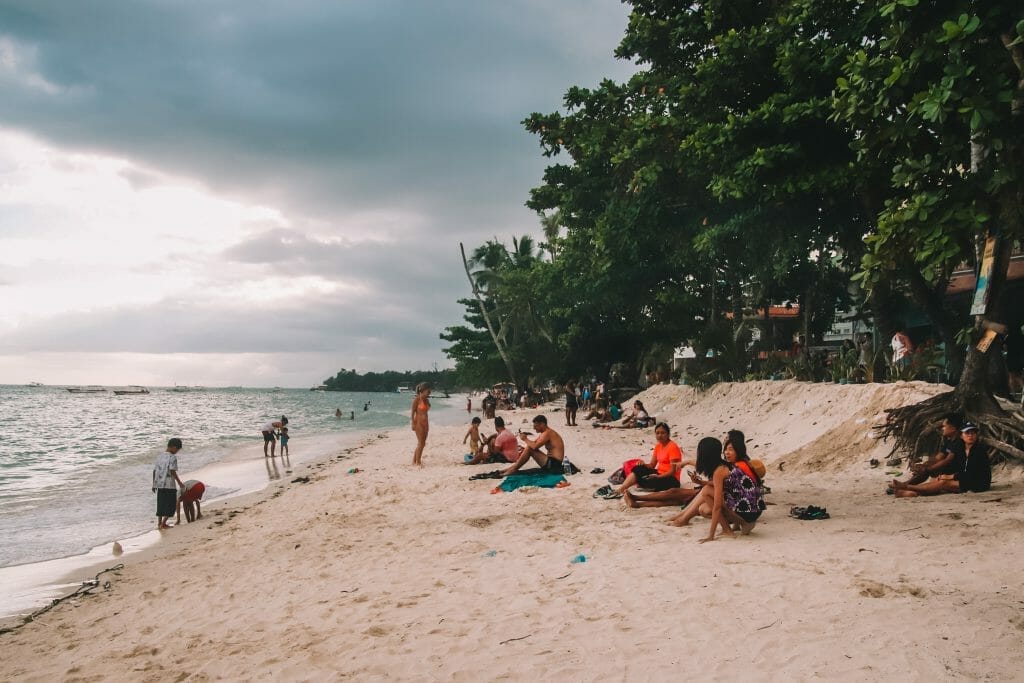 Things to Do on Bohol and Panglao
Rent a Scooter
Bohol is a fantastic island to explore with a scooter. The scenery is beautiful and with a scooter, you can leisurely explore the island at your own pace. The wind in your hair and stopping at places you come across along the way, that's the most enjoyable way for us to discover new spots!
Keep in mind that Bohol is much larger than Siquijor, so you'll cover quite a bit more distance.
We rented a scooter for two days through our accommodation. We paid around 8 euro per day. The cost for refueling were about 6 euro.
Waterfalls on Bohol
Bohol boasts several spectacular waterfalls, making it a perfect destination for a few days of waterfall hopping. Here are a few of our favorite waterfalls on Bohol:
Pahangog Falls
The most stunning waterfall on Bohol, in our opinion, is Pahangog Falls, also known as Twin Falls. This waterfall is located in the municipality of Dimiao and gets its name from the fact that water flows down on two sides. Essentially, they're two waterfalls side by side!
The natural pool at the base of the waterfall has a beautiful turquoise color and is perfect for cooling off. To reach the water pool, you'll need to descend 500 steps and then walk across a bamboo bridge. From here, you can jump into the water from the rocks. The waterfall, the water, and the bamboo bridge create a fantastic scene!
The waterfall can be visited free of charge.
The Kawasan Falls
It seems like every island in the Philippines has its own Kawasan Falls, and Bohol is no exception. This 20-meter-high waterfall is located in the municipality of Balilihan and is surrounded by beautiful nature. From the parking area, you walk through a series of constructed steps and a stunning bridge to reach the waterfall.
I've read on various blogs that there's a small entrance fee to visit the waterfall. However, when we went, there was no one there, so we didn't have to pay anything.
Can-umantad Falls
The Can-umantad Falls is an impressive waterfall situated in the remote area of Candijay. The water plunges from a height of approximately 60 meters. Standing next to the waterfall, you'll feel tiny! At the base of the waterfall, there's a water pool where you can swim. It takes about a 5-minute walk from the parking area to reach the waterfall.
The waterfall is free to visit, but they might say it's mandatory to have a guide accompany you down. It's then up to you whether you want to give the guide something or not.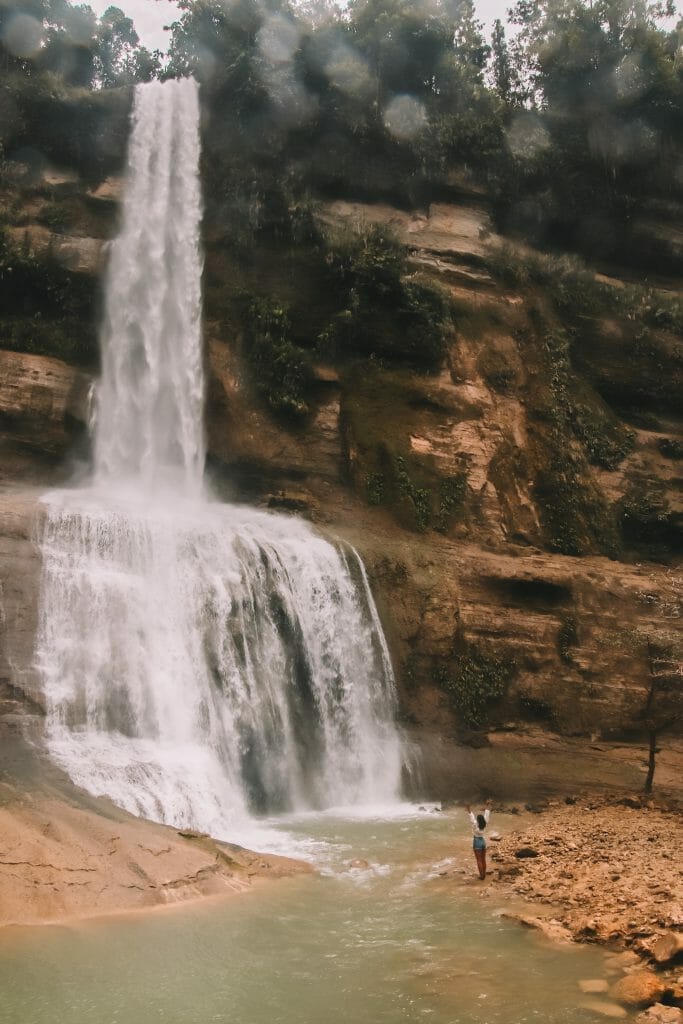 Other Waterfalls on Bohol
Do you have some extra time? You can also pay a visit to the Camugao Falls, Kinahugan Falls, Ingkumhan Falls, and Mag-Aso Falls.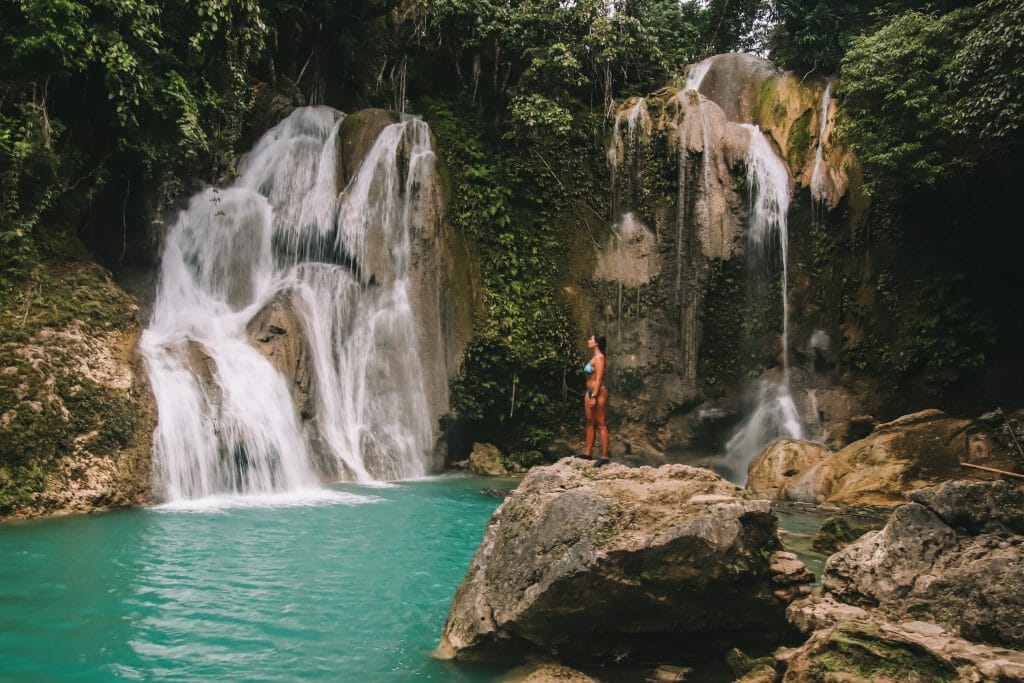 Visit the Chocolate Hills
In the heart of Bohol, you'll discover an exceptionally unique landscape known as the Chocolate Hills. As far as the eye can see, there are over 1,000 cone-shaped hills ranging from 30 to 120 meters in height. During the dry season, these hills take on a chocolate-like hue, hence their name "Chocolate Hills." According to local legend, these hills are the tears of a giant who wept for his lost love. At the center of the area, there's a viewpoint that offers a panoramic view of these natural wonders.
We had to pay 50 PHP per person to access the viewpoint.
Tip: Want to enjoy the view with fewer people around? Make sure to arrive early. We were there slightly before 8:00 AM and had the entire viewpoint to ourselves.
Parking
If you arrive on a scooter, you should park it down below in the parking area along the main road. Parking is free, and from here, you can either hike up or rent a quad to drive up. It's about one kilometer from the parking area to the viewpoint. However, we got lucky! We arrived before opening time, so the staff at the entrance near the viewpoint allowed us to park there.
Day Tour from Panglao
If you're staying on Panglao and would like to visit the Chocolate Hills, you can also book a day tour that includes a visit to the Chocolate Hills among other stops. This way, you won't have to make the entire journey on a scooter; you'll be traveling in a van, which is more comfortable! The quad ride from the parking area to the viewpoint is included in the tour price.
Hiking through the Binabaje Hills in Alicia
One of the most enjoyable activities we did in Bohol was hiking through the Binabaje Hills in Alicia. These hills offer a picturesque landscape with green slopes and stunning views. The hike uphill takes approximately 30 to 45 minutes but is quite challenging. You're constantly walking steeply uphill. Once you reach the top, you realize the effort was worth it and you can unwind while enjoying a magnificent view! Despite not arriving very early, we had the area all to ourselves. After taking some time to relax and soak in the scenery, we walked back down to the starting point of the hike in about 30 minutes.
To do the hike, we paid a 30 PHP environmental fee and 300 PHP for the guide. The guide leads the way up and shares information about the surroundings. The area is open 24/7, and if you have a tent, it's also possible to camp overnight.
Tip: Sensitive skin? Make sure to wear low-cut pants or sport leggings. The path you walk on is surrounded by plants that can graze against your skin, causing it to turn red and warm. Additionally, bring plenty of water and make sure to apply sunscreen!
Philippine Tarsier Sanctuary
The Philippine Tarsier Sanctuary, located in Corella, Bohol, is a conservation center dedicated to preserving the endangered Philippine tarsiers. Tarsiers are found only in the jungles of Borneo, Sulawesi, Sumatra, and Bohol. These small mammals, about 15 centimeters in size, have enormous eyes. They belong to the primates, a group of mammals that includes all prosimians and apes (including humans). Due to their sensitivity to changes in their habitat and other threats, tarsiers have sadly become an endangered species. Therefore, efforts like the Philippine Tarsier Sanctuary are crucial for their survival.
You can visit the park with a guide. Since tarsiers are nocturnal animals and usually sleep in trees in dense areas during the day to protect themselves from predators, they're challenging to spot. The park guides search for the animals in the morning so that when tourists arrive, they know exactly where to find them. To minimize any disturbance to the tarsiers, visitors are asked to be quiet during their visit and only whisper. During our visit, we spotted three tarsiers. Incredibly adorable!
For visiting the Philippine Tarsier Sanctuary, we paid 150 PHP per person.
Cadapdapan Rice Terraces: Bohol's Most Beautiful Rice Fields
While Bohol is mainly renowned for its Chocolate Hills and other natural attractions, there are also several stunning rice fields to be found on the island. One of the most well-known is the Cadapdapan Rice Terraces. These rice fields are situated in Candijay on the eastern side of Bohol and are definitely worth a visit! You can combine your visit with a meal at Eleuterio's Restaurant and Rice Terraces, which offers a fantastic view over the fields.
Other Rice Fields on Bohol
Other beautiful rice fields can be found near Pahangog Falls. We stumbled upon these fields thanks to our guide who took us to Pahangog Falls and also works in these rice fields. He mentioned it as we walked to the waterfall and asked if we were interested in seeing the rice fields. We agreed, and it was absolutely stunning! You can find the exact location of the rice fields here.
Visit the Loboc River
Whether you're staying in Panglao or on Bohol, a visit to the Loboc River is a must. The river is surrounded by lush jungle and palm trees. It's wonderfully serene, especially when compared to the bustling Panglao.
The Loboc River is a popular tourist attraction, offering various activities such as river cruises or more active options like paddleboarding. In the evening, you can take a cruise to spot thousands of fireflies, a truly unique experience.
On sunny days, the river water takes on a beautiful blue hue. But if you happen to be there on a rainy day, the water might turn brown.
Two lovely accommodations along the Loboc River are Fox & The Firefly Cottages and Loboc River Resort.
Visit the Beaches of Bohol
Bohol offers a selection of beaches where you can enjoy a relaxing afternoon. Below are two of our favorite beaches on the island.
White Beach in Anda: A stunning piece of paradise known for, as the name suggests, its white sand and turquoise waters. White Beach is located on the east coast of Bohol in Anda. Being far away from the hustle and bustle of Panglao, it's wonderfully tranquil here, allowing you to savor the experience even more.
South Palms Beach in Panglao: Despite not finding Panglao as fantastic, South Palms Beach stood out to us as one of the most beautiful beaches on both Bohol and Panglao. The beach is part of the South Palms Beach Resort, but it's also accessible to non-guests. The sand is pristine white, surrounded by numerous palm trees. You can also relish a breathtaking sunset here!
Drive through the Bilar Man-Made Forest
The Man-Made Forest is an artificially planted grove of mahogany trees established in the 1960s and 1970s. A 2-kilometer road winds through the forest between the towns of Bilar and Loboc. The tall trees on either side of the road have grown to meet each other, creating a fairy-tale-like tunnel. It's the perfect spot to capture some Instagram-worthy shots!