Siquijor is a small island in the Philippines, located south of the islands of Cebu and Bohol. The island is known for its beautiful beaches and stunning nature, such as waterfalls, palm trees, and rice fields. Siquijor is much quieter than places like Cebu, Coron, and El Nido, allowing you to enjoy it even more. This article provides information on how to get there, where to stay and the attractions and activities you shouldn't miss during your visit to this green island!
How to get to Siquijor?
As Siquijor is a small island, there are no commercial flights to the island. Siquijor does have an airport, but it is only used for chartered private planes. Therefore, most people travel to Siquijor by boat.
From Cebu to Siquijor
The direct ferry from Cebu to Siquijor Larena Port departs from Liloan Port in Santander. This ferry operated by Maayo Shipping leaves four times a week at 2:00 AM, specifically on Mondays, Tuesdays, Thursdays, and Saturdays. On Sundays, the ferry departs at 7:00 AM. The crossing takes about 2 hours.
Other ferries (such as OceanJet) run more frequently, but they involve a stopover in Dumaguete or Bohol.
From Bohol to Siquijor
If you're traveling from Bohol to Siquijor, you can take a direct ferry from Tagbilaran Port. Multiple companies operate ferries on this route, including OceanJet, Apekoptravel and Lite Shipping Ferries. The crossing takes approximately 2 to 3 hours, depending on the ferry you choose, and brings you to either Larena Port on Siquijor or Siquijor Pier.
Where to stay in Siquijor?
Most hotels and restaurants are located in the southwest of Siquijor, in San Juan. If you prefer to have everything close by, this is a good location to stay.
We stayed at Nakabalo Guesthouse & Restaurant ourselves, a beautiful accommodation with a stunning infinity pool where you can relax. Highly recommended! Keep in mind that this accommodation is situated on top of a hill, so having your own scooter is desirable.
Things to do in Siquijor
Rent a scooter/motorbike
Since Siquijor is relatively small, it's the perfect island to explore by scooter or motorbike. If you ask us, this is the most enjoyable way to discover the island. Ride through various towns, along roads surrounded by palm trees and past beautiful rice fields. Truly a delightful experience!
Most accommodations offer scooter rentals. We rented a scooter for two days and the cost was around 6 euros. For refueling we only spent about 2.50 euros.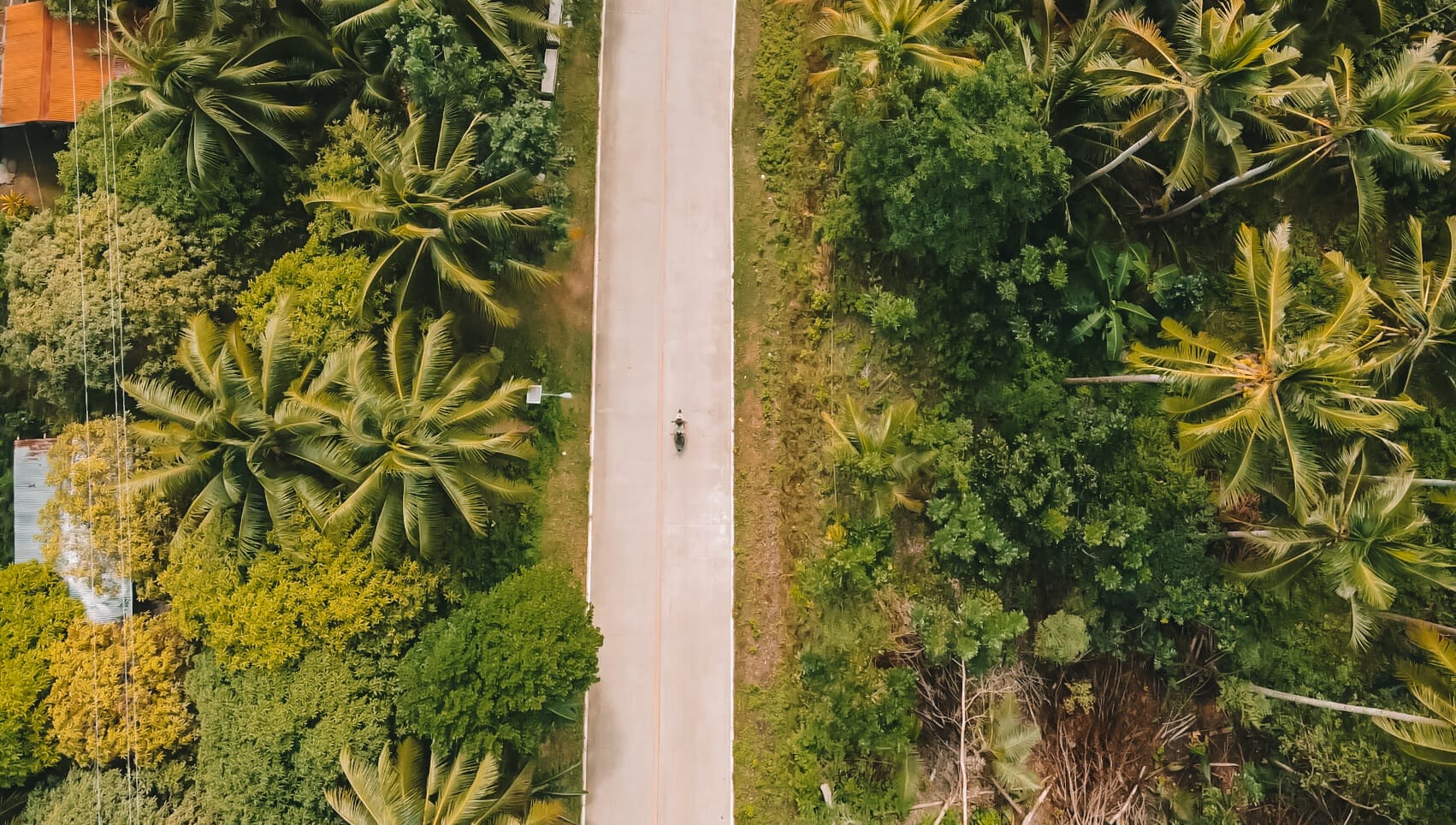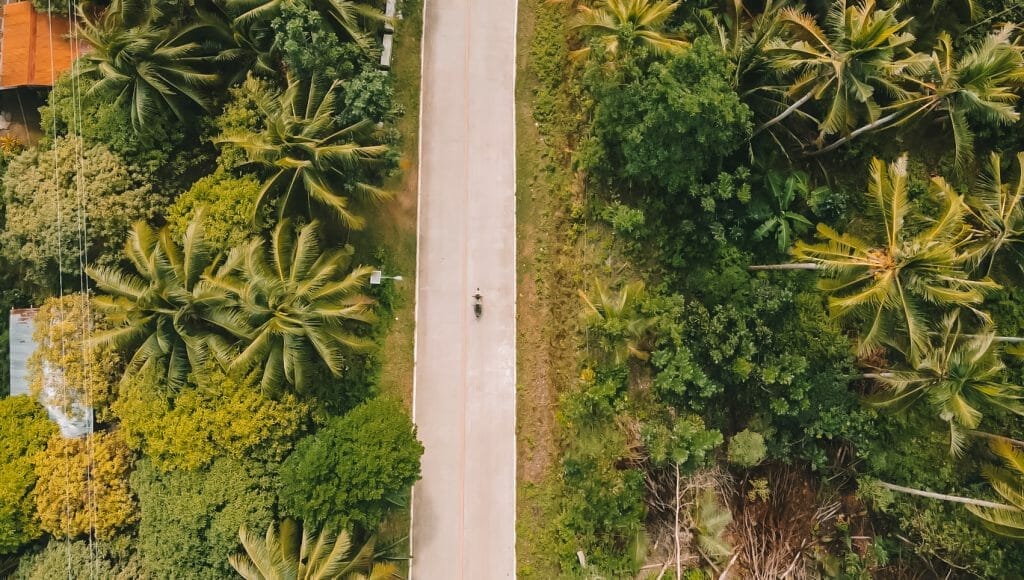 Visit the various waterfalls
On Siquijor, you'll find numerous waterfalls, making it perfect for a day (or even two) of waterfall hopping. Below are our favorite waterfalls on Siquijor:
Cambugahay Falls
Cambugahay Falls is undoubtedly the most popular waterfall on Siquijor. The waterfall has multiple levels and the water has a beautiful blue color. You'll also find the 'Istafamous' bamboo raft here, where you can capture some beautiful shots. For the real daredevils, there's a high Tarzan swing from which you can plunge into the water!
Tip: If you want a photo without other people, make sure to arrive before opening hours (8:00 AM). The premises are technically still closed, but you can already reach the waterfall. You'll likely have the waterfall all to yourself!
The entrance fee for Cambugahay Falls is 20 PHP per person.
Lugnason Falls
Lugnason Falls is a small waterfall surrounded by a beautiful green jungle. On sunny days, the pool at the bottom of the waterfall is a vibrant blue in color. However, when we visited Lugnason Falls, it had just rained, making the water green in color.
If you continue down the jungle path, you'll reach a constructed cold spring where you can cool off and relax.
Lugnason Falls can be visited free of charge.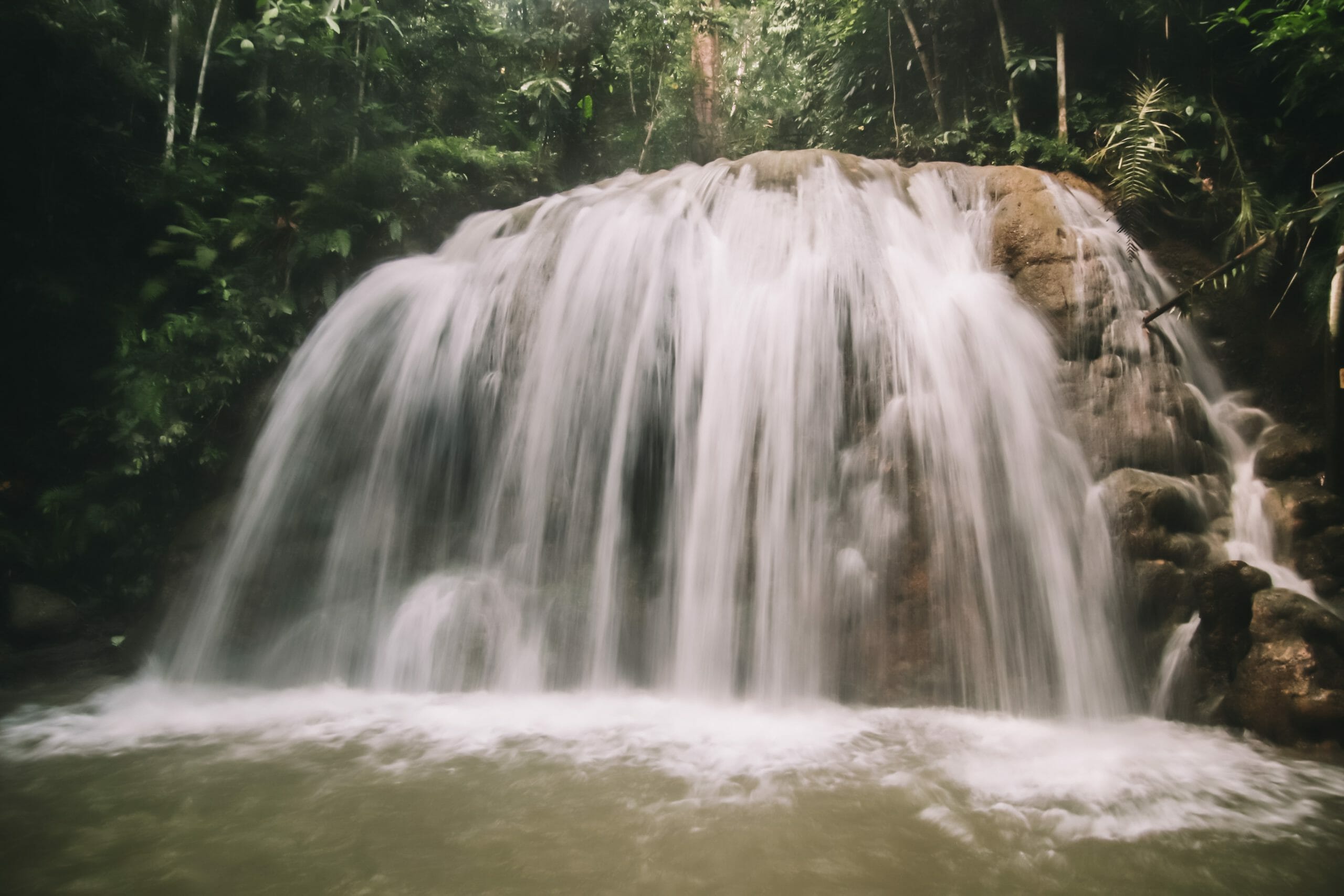 Locong Falls
Locong Falls is a small but delightful waterfall to visit. This waterfall, with a small cave, is a hidden gem in the middle of the jungle. It's much quieter here compared to other waterfalls, so there's a good chance you'll have the place all to yourself.
You'll also find a Tarzan swing, lounge chairs, and tables and chairs for picnicking.
The entrance fee is 50 PHP per person.
Kawasan Falls & Cave
Another, less crowded waterfall is Kawasan Falls. Here too, you can use a Tarzan Swing to cool off in the water. The unique feature of this waterfall is that you can swim through it and enter a small cave.
The waterfall can be visited for free, but we had to pay 10 PHP for parking our scooter.
Visit the beaches
You'll find several beautiful beaches on Siquijor, where you can relax and unwind. Since the island is not as touristy as places like El Nido or Coron, the beaches remain relatively untouched. Below are two beaches you shouldn't miss!
Paliton Beach: A stunning white sandy beach surrounded by a number of enormous palm trees. This beach is also the perfect spot to catch the sunset.
Tubod Beach: A beach located behind Coco Grove Resort. Here, you'll also find the Tubod Marine Sanctuary, a protected reef area ideal for diving and snorkeling. Like Paliton Beach, Tubod Beach is a great place to witness a breathtaking sunset.
Visit Lazi Church and Twenty4 Restaurant and Burger Bar in Tigbawan
While you are exploring the island, you can make a short stop in the village of Tigbawan. Here, you'll find the Lazi Church, one of the oldest churches in Siquijor, renowned for its massive convent. If you're feeling hungry or thirsty, be sure to visit Twenty4 Restaurant and Burger Bar.
The church can be visited for free.
Experience the Ibiza vibe at RUNIK
Want to spend a day with a cocktail in hand at a luxury beach club with an infinity pool? Then, visit RUNIK! Although this place feels nothing like the Philippines, it's the perfect spot to laze around, enjoy a cocktail or smoke a shisha while watching the sunset.
Food and drinks in Siquijor
There are several restaurants and bars to be found on the island. Below are a few of our favorites: