Iceland is known as one of the best whale watching destinations in the world. There are several cities in Iceland where you can book the so-called 'Whale Watching tours'. You book them in Reykjavik, Húsavík and Akureyri, for example. We picked a tour operator in Reykjavik, Iceland's capital. You can read about Elding and the tours they offer in this article.
Do you want more information about our road trip along the south coast of Iceland? Discover more.
Elding Adventure at Sea
We decided to do a whale safari with Elding Whale Watching. The founders started this family business because their personal interest in wildlife, boats and people. For them, whale watching was the perfect way to combine their passion with work. They offer locals and tourists a chance to explore Iceland's marine life.
Elding follows the codes of conduct set by IceWhale for responsible whale watching. They are the only PLATINUM certified whale watching organization in the world.
Elding Tours
Elding offers different tours, like as Whale Watching tours, Northern Light tours and Puffin Watching tours. The tours take place daily, usually several times a day. We only did the Whale Watching tour. Because the whale watching tours are so popular, Elding offers different types of whale watching tours. For example, they have the Classic Whale Watching, Whale Watching by Night, Premium Whale Watching (smaller groups in a RIB boat) and more. Because we visited Iceland in the winter, we only had the choice of one tour, the Classic Whale Watching tour.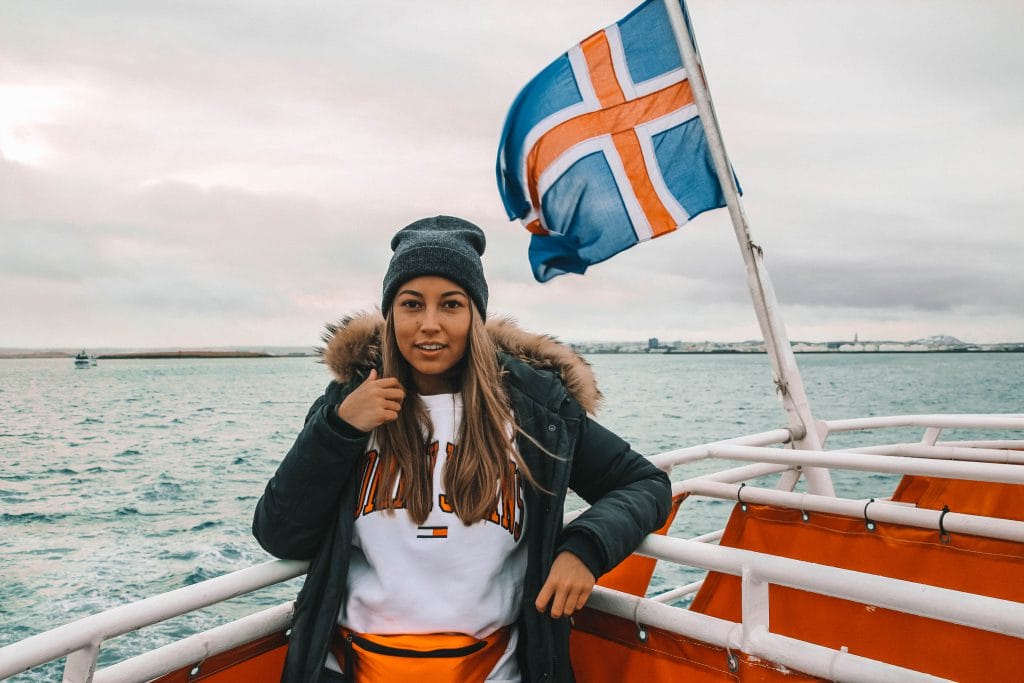 Classic Whale Watching Tour
The Classic Whale Watching tour is a three-hour tour where you will be searching for cetaceans; the large marine mammals. You may encounter minke whales, humpback whales, blue whales, killer whales, white beaked dolphins, harbor seals and harbor porpoises. Most whales are spotted in summer, but there's plenty of chance to spot them in winter as well!
During winter, boats leave twice a day. In summer they even leave six times a day! The full schedule can be found on the Elding website. Make sure you are there at least fifteen minutes before departure. The boats depart from the Old Harbor in Reykjavik's city center. To reach the boat you first need to walk through a souvenir shop. Have a look around! Take the stairs down in the souvenir shop, because there's a small whale museum.
On board you can choose to sit outside or inside. If it's very cold, you can use a kind of ski suit for free. Outside, you can stay at the front or the back of the boat. Inside you have a view from both sides. Got cold? Inside it's nice and warm and if you want, you can also buy some food and drinks.
Whale watching
The Elding staff writes a daily blog about the tours of that day. They call the blog their Whale Diary. During the tours in the days before our tour, they mostly saw dolphins and sometimes they saw nothing at all. Nevertheless, we hoped that we would spot whales. Unfortunately, this didn't happen. But we did see a lot of playful dolphins, maybe 200. It was great to see how the dolphins were jumping and swimming along the boat. Still a pity we didn't see any whales.
Didn't you see any whales or dolphins during your tour? Then you will receive a free ticket, which allows you to do the tour again within two years.
Whale safari costs
The costs for a Classic Whale Watching tour are 10,990 ISK per person. Children between seven and fifteen can join for 5,495 ISK and children up to seven years are free of charge. It isn't cheap, but then again, nothing in Iceland is. Despite the fact that we didn't spot any whales, the large group of dolphins was really cool to see! Check out what a great experience you have when you do spot whales!