Iceland is an island in the Atlantic Ocean and is located northwest of mainland Europe and northeast from the United States. The island is very unique and here you will find all kinds of special natural formations, like waterfalls, volcanoes, glaciers and geysers.
We did an 8-day roundtrip through the south of Iceland and came across many beautiful spots. I don't know about you, but I love to take some awesome photos for my blog or Instagram. In this article you will find an overview of my top 15 best Instagram and photo spots around the south of Iceland.
1. DC-3 Plane Wreck
Number one is one of the coolest spots in Iceland: the DC-3 Plane Wreck. In 1973, an American DC-3 plane crashed on a beach, about 23 kilometers from Vík. The reason of the crash is still unknown, but fortunately all passengers survived! The wreckage was never removed by the Icelandic government, so it is still there today. Since a couple of years, after the release of the I'll Show You  video by Justin Bieber, the wreck became a popular tourist attraction and photo spot.
Location: Click here
2. Fjallsárlón glacier lake
The second spot is the Fjallsárlón glacier lake, located in the south of Iceland, about an hour's drive from Höfn. I thought this was the coolest glacier lake I've ever seen! Fjallsárlón is part of Iceland's largest glacier: The Vatnajökull. If you drive from Vík to Höfn, you can stop at several places along the road to see the Fjallsárlón lake, but for me the best place to see this glacier is next to the Fjallsárlón restaurant.
Location: Click here
3. Skógafoss waterfall
The Skógafoss waterfall is located between Selfoss and Vík. Skógafoss is 60 meters high and 25 meters wide, so it's huge! When you're lucky and the sun shines, a beautiful rainbow appears in front of the waterfall. Super cool to see and to capture.
Location: Click here

4. Reynisfjara Black Sand Beach
Close to Vík you will find the fourth spot: Reynisfjara Black Sand Beach. This beach is not only special because of its black sand, but also because of the enormous basalt cliffs by which it is surrounded. Super cool to behold and a great place to shoot!
Location: Click here
5. Hallgrimskirkja
The fifth spot is the Hallgrimskirkja, a church in Reykjavik with a very futuristic look. The architect was inspired by the basalt rocks that can be found on Iceland. The church is 74.5 meters high, making it the highest church in all of Iceland. So, this place cannot be missing from your Instagram page.
Location: Click here
6. Strokkur geyser
Number 6 is in this photo spots overview the Strokkur geyser, which can be found on the Golden Circle route. Every few minutes the geyser sprays water, which can reach a height of 30 meters. Super cool to see and to photograph offcourse!
Location: Click here

7. Blue Lagoon
Offcourse the Blue Lagoon cannot be missing from this overview. The Blue Lagoon is a geothermal bath and is probably the most popular attraction in Iceland! The (swimming) pool is artificial and is located in a volcanic area. As a result, the water is full of minerals and has a healing effect against e.g. eczema. The beautiful blue color comes also from these minerals. The Blue Lagoon is gorgeous, but also very touristy. Keep in mind that the entrance fee is quite expensive and that it can be very busy. Nevertheless, I was able to enjoy it for a while and relax.
Location: Click here
8. The Seljalandsfoss waterfall
The Seljalandsfoss waterfall is one of the most famous waterfalls in Iceland and is very popular among tourists! This waterfall is located between Selfoss and Vík and has a height of 65 meters. What makes the waterfall remarkable, is the fact that you can walk behind it. Make sure to put on a raincoat though, because you're going to get very wet!
Location: Click here

9. Diamond Beach
Diamond Beach can be found on the opposite the large parking lot of the Jökulsárlón Glacier Lake. Diamond Beach is a black sand beach where the ice rocks from the glacier lake wash ashore. The ice rocks, which look like diamonds, shine bright in the sun and the contrast with the black beach makes it a great (Instagram) photo opportunity!
Location: Click here
10. The Svartifoss waterfall
For me, the Svartifoss waterfall was the most beautiful waterfall I've seen in Iceland, due to the black basalt columns by which it's surrounded. The basalt columns were created by lava that cooled down very slowly, which allowed it to crystallize. You can create a very cool photo here!
Location: Click here

11. Stokksnes & Vestrahorn
Stokksnes is a peninsula about 15 kilometers from Höfn and is a popular spot among photographers, because Vestrahorn is located here. Vestrahorn is one of the most beautiful cliffs in Iceland. The peaks of the mountains have an altitude of 454 meters and are surrounded by a black beach. A wonderful bit of nature!
Location: Click here
12. The Kerið volcano and crater lake
The next spot is the Kerið volcano and crater lake. The crater is about 170 by 270 meters and is 55 meters deep. There are several stories about the origin of the crater lake, but it is believed that Kerið was a cone volcano that collapsed during an eruption. The water in the crater lake has a beautiful turquoise color and is about 10 meters deep.
It is possible to descend from the edge to the crater lake. There are stairs, so it's easy to get there. During our visit there was snow and the crater lake was frozen, which made it truly special.
Location: Click here
13. The Gullfoss waterfall
The Gullfoss waterfall is one of Iceland's most impressive waterfalls and that shows, because there are a lot of tourists visiting it. The water of the waterfall falls into a 70 meter deep gorge, which is 20 meters wide and 2.5 kilometers long. The waterfall has two steps, so there is a lot of drifting water. If you're lucky and the sun shines over the waterfall, a rainbow can form. Just picture perfect!
Location: Click here
14. Icelandic Road
The Icelandic roads are beautiful, it is quiet and the scenery is incredibly gorgeous! Especially the road towards Stokssnes and Vestrahorn I found breathtakingly beautiful! When we drove on a winding road and passed a meadow with Icelandic horses, I just had to stop to take some photos.
Location: Click here
15. Street art Reykjavik
The last spot I want to share with you guys is a street art wall in the centre of Reykjavik. I personally love street art and a photo for this wall could not be missing from my Iceland photo collection!
Location: Click here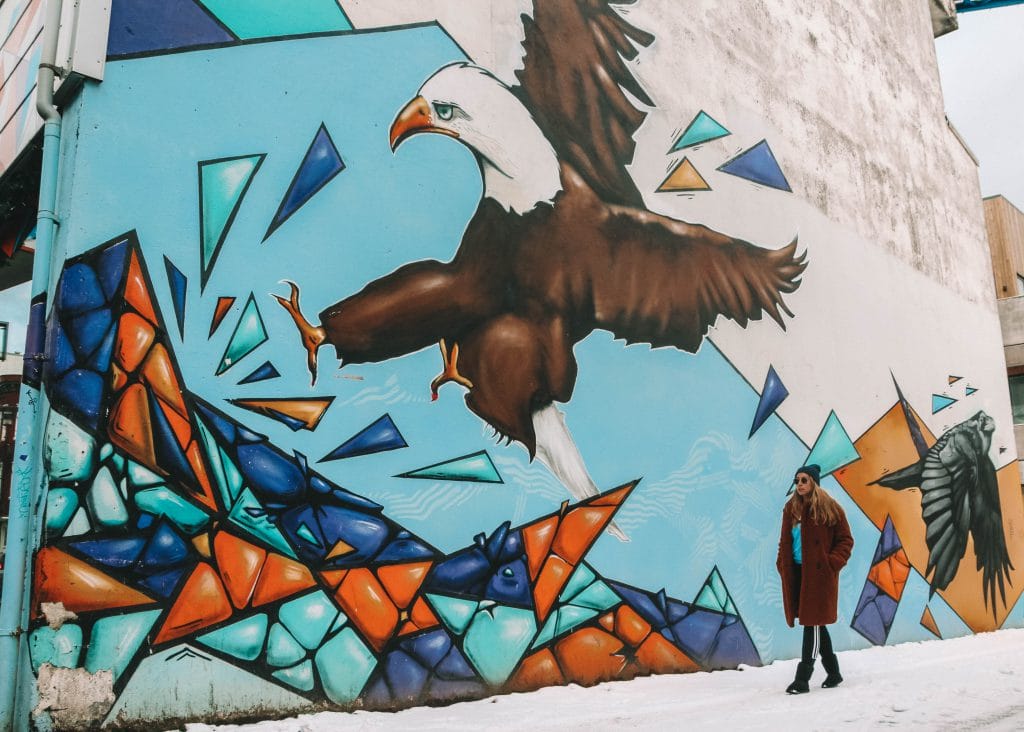 Tip: Offcourse there is a lot more to see and to do in Iceland. Here you will find all my Iceland related articles.