Vík is an excellent starting point to visit some beautiful sights in the far south of Iceland. The town is the southernmost town on the island. It rains a lot in Vík, so make sure you don't forget your rain gear!
We stayed two nights near Vík, but neither time we stayed in Vík itself, because the prices in Vík are relatively high. On our way to Höfn, we slept one night in Skógar, in the Þorsteinshús Four-Bedroom Farmhouse. A relatively cheap, but nice guesthouse. On the way back to Reykjavik we spent the night in the South Island Guesthouse. Another cheap guesthouse, but it was clean and comfortable.
In this article, you will find information about the attractions we visited around Vík and what you can do.
Tip: Check out the ultimate South Iceland road trip – 8 day itinerary.
Skógafoss waterfall
The Skógafoss waterfall is between Selfoss and Vík. Skógafoss is 60 meters high and 25 meters wide, it's huge! The waterfall flows over the former Icelandic coastline, just like the Seljalandsfoss waterfall. When the sun shines, a beautiful rainbow appears in front of the waterfall. Super cool to see! Next to the waterfall is a staircase, which allows you to see the waterfall from above.
The Skógafoss waterfall can be visited for free.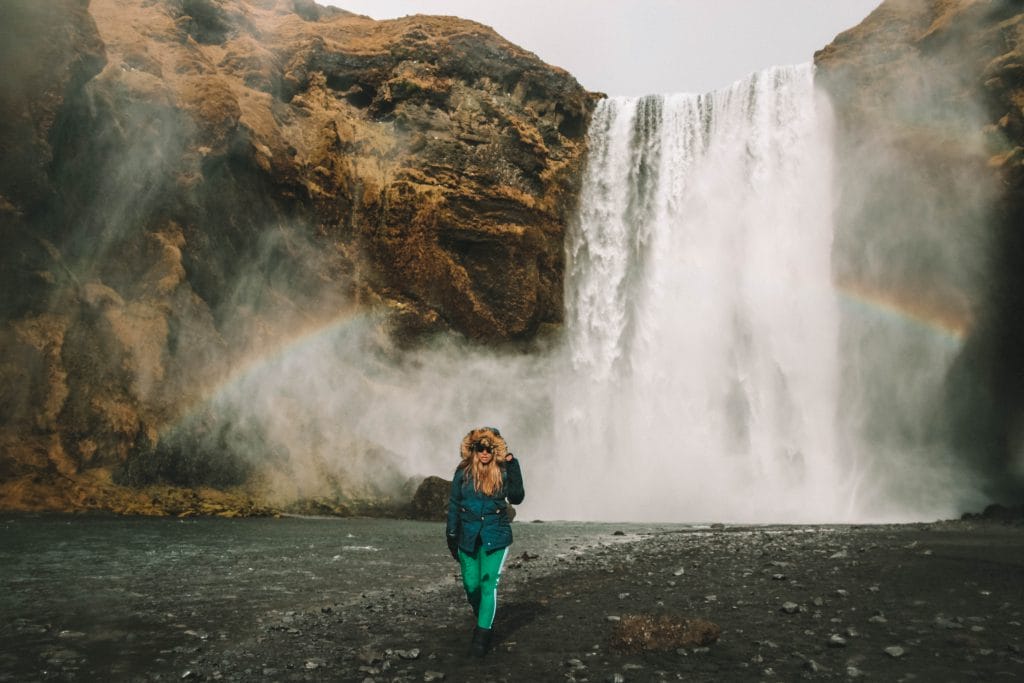 Kvernufoss waterfall
About a kilometer walking distance from the Skógafoss waterfall, there's another waterfall, the Kvernufoss waterfall. This waterfall is 50 meters high and must be very special.
Due to bad weather we were unable to visit Kvernufoss. The waterfall is not accessible by car.
Skógar Museum
The Skógar Museum has a cultural heritage collection of 15,000 regional artisan artefacts, spread across 3 museums and 6 historic buildings. A visit to this museum can easily be combined with a visit to the Skógafoss waterfall, as they are only 1.5 kilometers apart. Besides artifacts, it's also an open-air museum. You will find houses from different periods of Iceland's architectural history. There is a typical Icelandic farmhouse, a school, a church and a house. You can also get inside these buildings. It is interesting to see how they used to live.
The Skógar Museum is open 364 days a year and a visit costs 2,000 ISK per person. For more information about opening hours and ordering tickets, I refer to the museum's website.
DC-3 Plane Wreck: a plane wreck at Sólheimasandur Beach
In 1973, an American DC-3 plane crashed on the beach of Sólheimasandur, about 23 kilometers from Vík. The reason of the crash is still unknown, but fortunately all passengers survived! The wreckage was never removed by the Icelandic government, so it is still there today. Since a couple of years (after the release of the I'll Show You Justin Bieber video clip) the wreck became a popular tourist attraction.
To get to the DC-3 wreck, you can park your car on the parking lot along the Þjóðvegur (main road). Although you wouldn't expect this at first, it is a 3.5 kilometer walk to the wreck. It will take you about 45 minutes.
Note: That means 45 minutes to the wreck and 45 minutes back. There is a path with poles along it. If you keep following this path, you'll end up at the wreck.
Don't you feel like walking? There's a shuttle bus! Two Icelandic tour operators, Icelandic Mountain Guides and Arcanum Glacier tours, offer this service. The shuttle leaves every hour and costs ISK 2,000 per person. It only takes 10 minutes to get to the wreckage. You'll have one hour to look around and take pictures. After this hour you will be picked up again by bus.
The DC-3 Plane Wreck can be visited for free. If you use the shuttle, you have to pay for it.
Reynisfjara Black Sand Beach Vík
Close to Vík you will find the Reynisfjara Black Sand Beach. The beach is not only special because of its black sand, but also because of the enormous basalt cliffs, the Hálsanefshellir cave and the basalt sea piles Reynisdrangar. Super cool to behold. The sea is very wild and hits against the rocks with full force, which makes for an awesome picture!
Tip: Reynisfjara Black Sand Beach can also be seen in season 7 of the popular HBO series Game of Thrones.
This special beach is free to visit.
Dyrhólaey Arch Vík
The Dyrhólaey Arch is a small peninsula (former island), located near Reynisfjara Black Sand Beach. The peninsula is mainly known for its natural arch. This 120-meter-high arch was created by the force of seawater. The arch is so large that even ships and small planes can sail and fly through it. You have a beautiful view over the black beaches from the Dyrhólaey Arch.
Dyrhólaey also serves as a bird sanctuary. It is a popular place for bird lovers to spot puffins. Thousands of puffins nests in the grass on the hills of Dyrholaey in the summer.
To get there you drive from the main road to the Dyrhólaey Lighthouse, where you can park your car. You can continue on foot from there. Unfortunately, the peninsula was closed during our visit and we couldn't walk further than the Lighthouse.
Note: During the breeding season the Dyrhólaey Arch is closed. Generally, this is in May and June, but the area was also closed during our visit in March. Please check in advance with a local tour operator if the area is open at that time.
The Dyrhólaey Arch can be visited free of charge.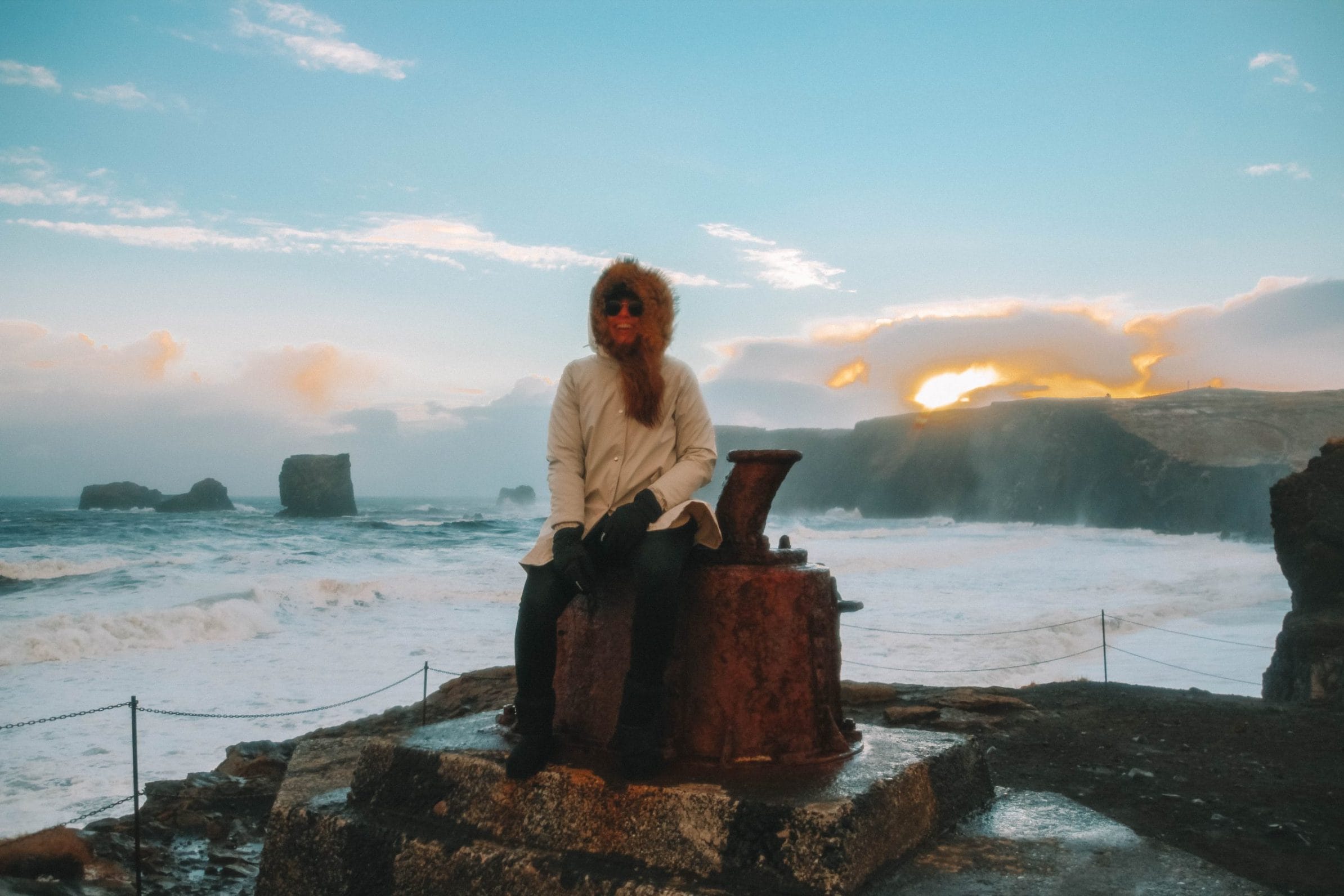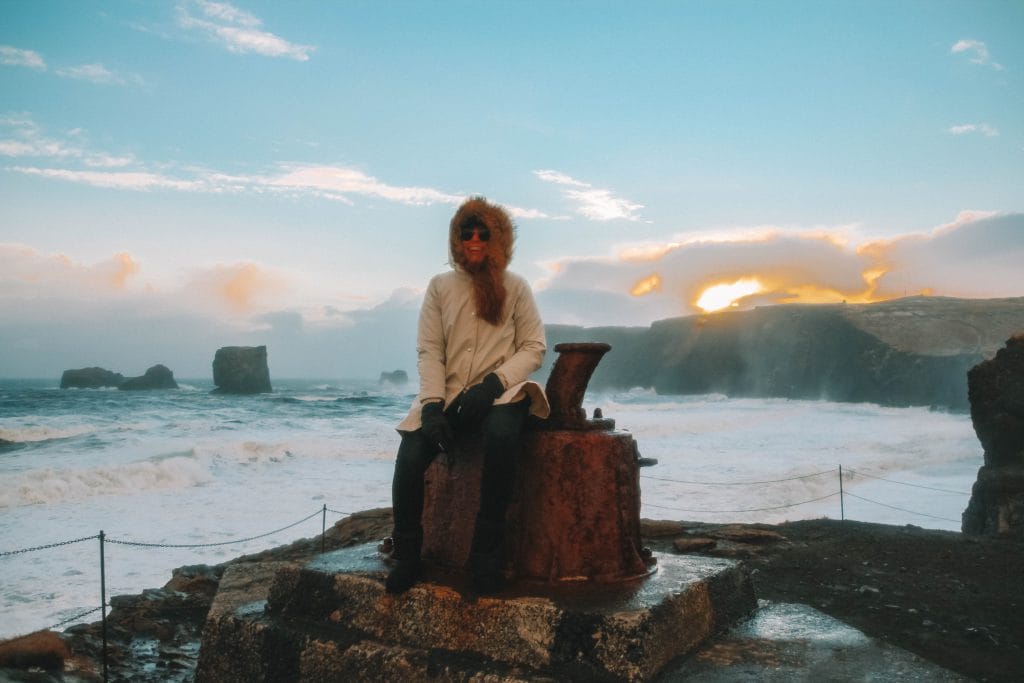 Fjaðrárgljúfur Canyon
The Fjaðrárgljúfur Canyon is a beautiful gorge located about 70 kilometers from Vík. The gorge is about 100 meters high and 2 kilometers long. Fjaðrárgljúfur has steep walls, is narrow and winding. The soil in Fjaðrárgljúfur is largely palagonite (a weathering product that occurs after interaction between water and volcanic glass) and is about two million years old. A river runs through the gorge, but this water is generally not very high. For this reason, you can also walk through the gorge. However, most people choose to walk along the edge, which provides a beautiful view over the gorge!
Note: We were unlucky and this area was closed during our visit to Iceland. The reason: Justin Bieber's videoclip which was partly recorded in the Fjaðrárgljúfur Canyon. This clip caused an 80% increase in tourist numbers! Regrettably, it has its impact on nature and the government has now decided to close the area until it is fully restored.