One of the best experiences of our trip to Colombia was our visit to Amazon region. Sailing on the Amazon River, spotting pink and grey dolphins, spending nights in a wooden cabin and hiking through the Amazon rainforest searching for wildlife.
A visit to the jungle and the Amazon shouldn't be missed on your Colombian itinerary. In this article you will find information and tips!
What is the Amazon?
The Amazon is a river in South America that flows through the Amazon rainforest which shares its name. This enormous river, which is approximately 6,500 kilometres long, originates in Peru, flows, including its tributaries, through Ecuador, Bolivia and Colombia and empties into Brazil and the Atlantic Ocean. The Amazon Rainforest covers a total area of 6.7 million km² and is spread over nine countries, including Colombia (9%).
How do you get to the Amazon in Colombia?
The Amazon River and Rainforest are located at the southernmost tip of Colombia, where the country borders Peru and Brazil. This area can only be reached by plane. You fly from Bogota to the town of Leticia. Leticia is actually the only really noteworthy city that can be found in the Amazon region of Colombia. This you can see especially well from the plane. As far as your eyes can see, there's only jungle. A fantastic view!
We flew from Bogota to Leticia and back for $ 130 per person.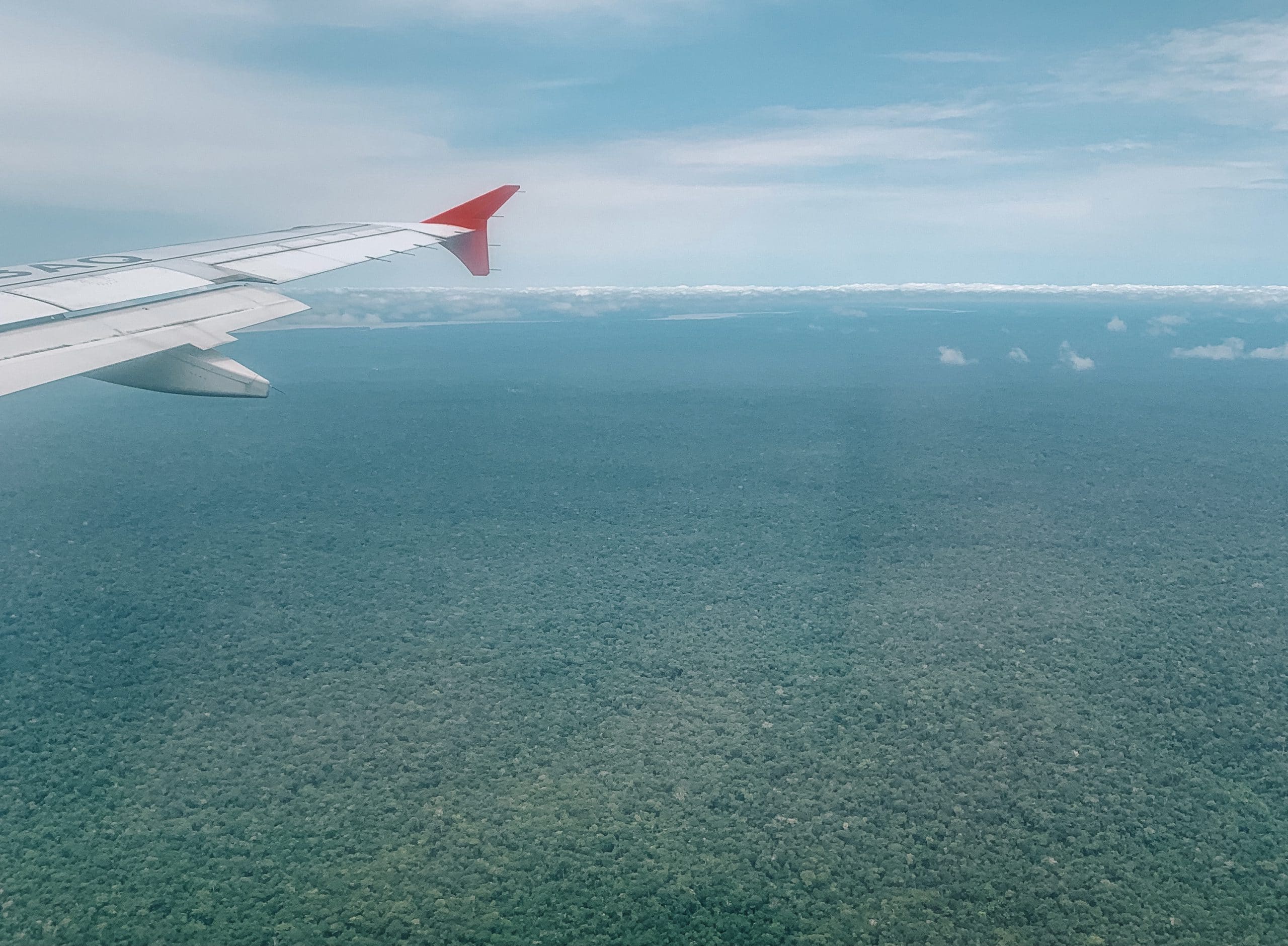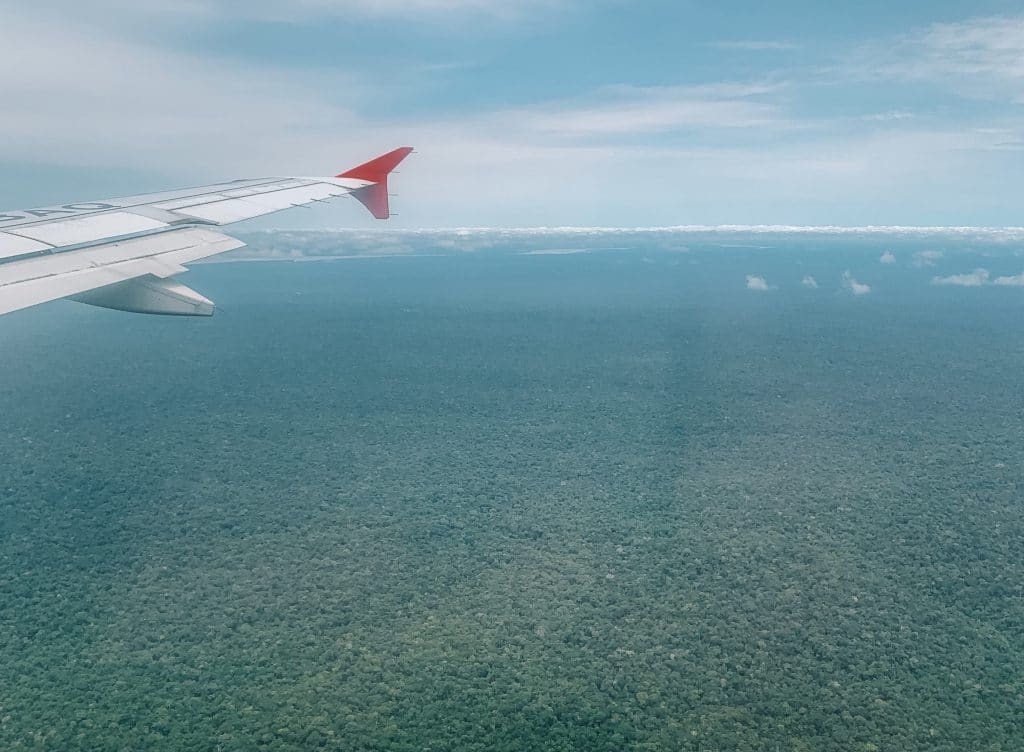 Where to stay when visiting the Amazon region?
Do you want to visit the Amazon region of Colombia? Below you'll find a number of possibilities.
Staying in Leticia
Leticia is located along the Amazon River. The town is surrounded by jungle and is, due to its location, a good base for exploring the Amazon region. You can book all kinds of tours and trips that are organised by small companies in town. Furthermore, you can take the boat to Brazil and Peru from here.
Would you like to stay in Leticia? Accommodations can be found here!
Things do in Leticia
There is not much to do in Leticia itself, but you can book several trips from here.
Visit the Boardwalk
Go and explore the Boardwalk of Leticia. Canoes loaded with fish or bananas and boats carrying tourists: you can take some good photos here. In the evening, you can enjoy a beautiful sunset!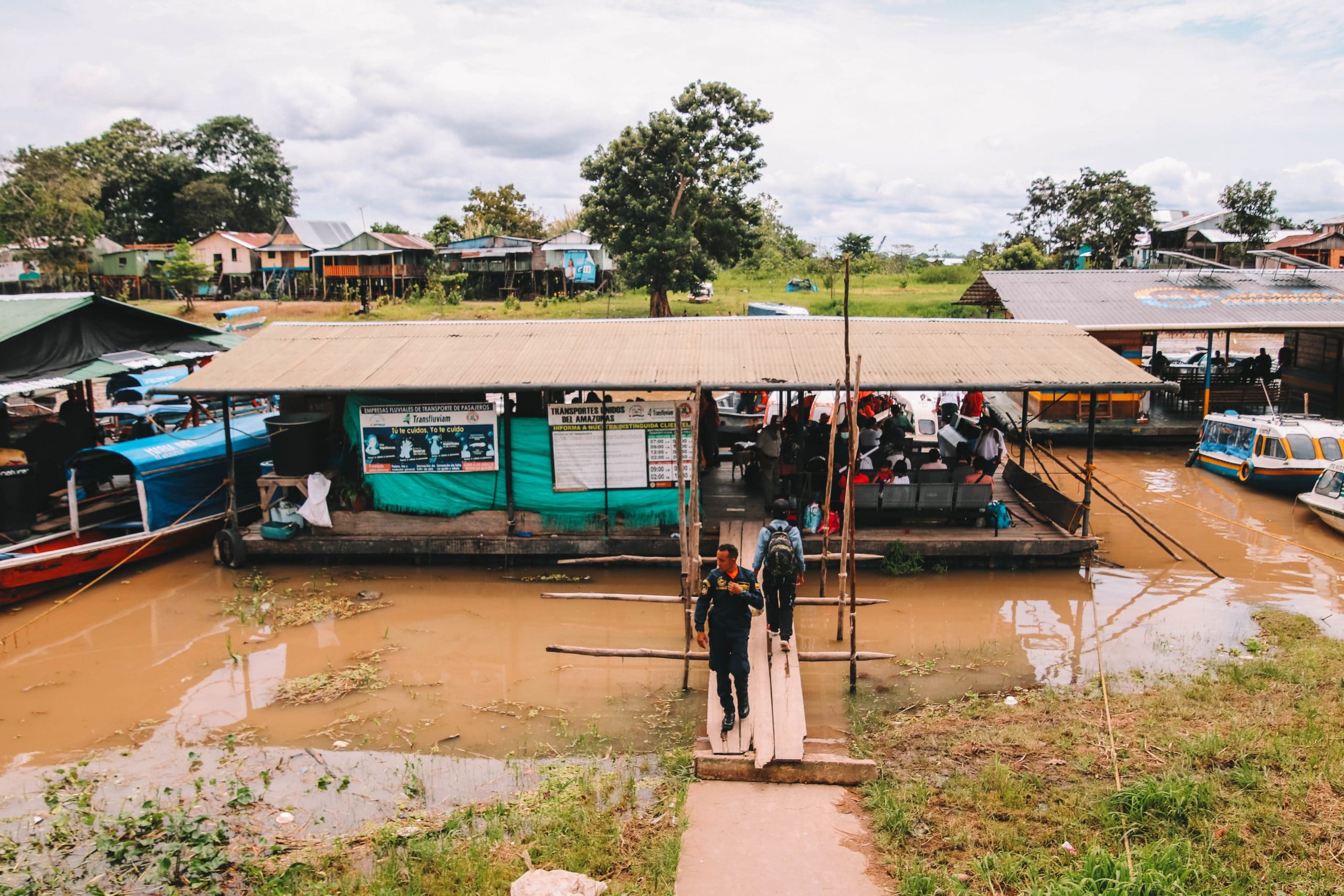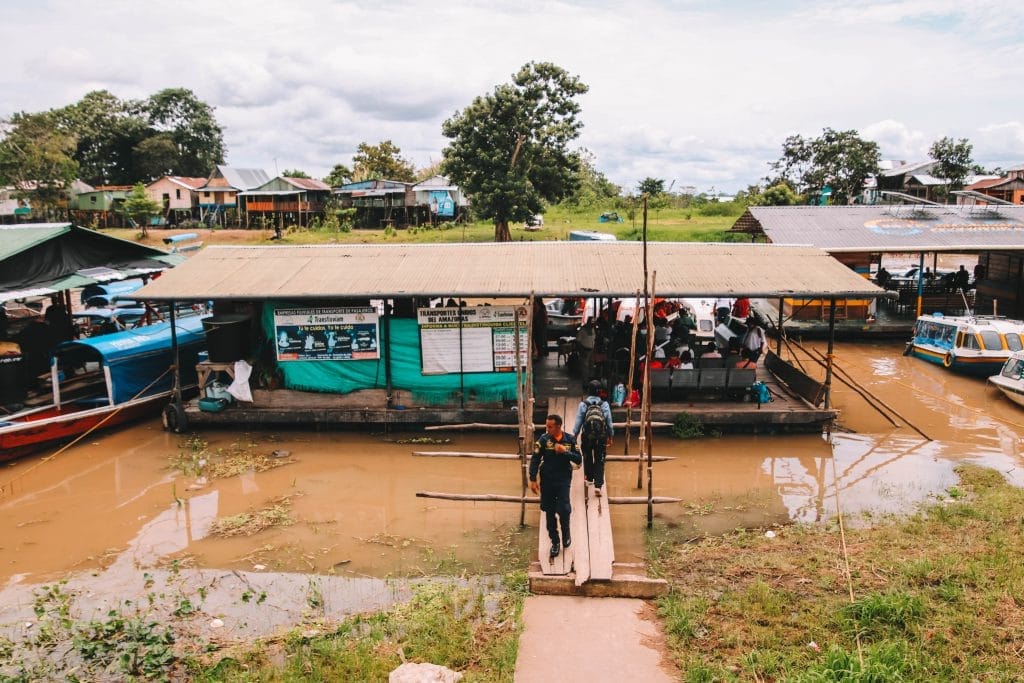 Parque Santander
Visit Parque Santander late in the afternoon. Every evening, thousands of parrots and parakeets return from the jungle to this park to eat and rest. They make a lot of noise! This scene is not only popular among tourists, also locals can be found here around sunset.
Caution: Protect yourself, because these thousands of parrots and parakeets produce a lot of poop.
Ethnographic museum
Would you like to learn more about the indigenous people of Colombia? Then pay a visit to the Ethnographic Museum, which can be visited free of charge. You can find clothing, masks and other objects that are still being used and learn everything about the indigenous culture and history.
Visit the Colombian jungle
Book a jungle trek and visit the Amazon Rainforest together with a guide in search of plants, trees and wildlife. It is also possible to take a boat trip to one of the small, indigenous villages that are isolated from the modern world.
Crossing the border into Brazil or Peru
As Leticia is located on a tripoint, you can easily take a trip to Tabatinga in Brazil or Santa Rosa in Peru. An easy way to cross off two more countries from your list!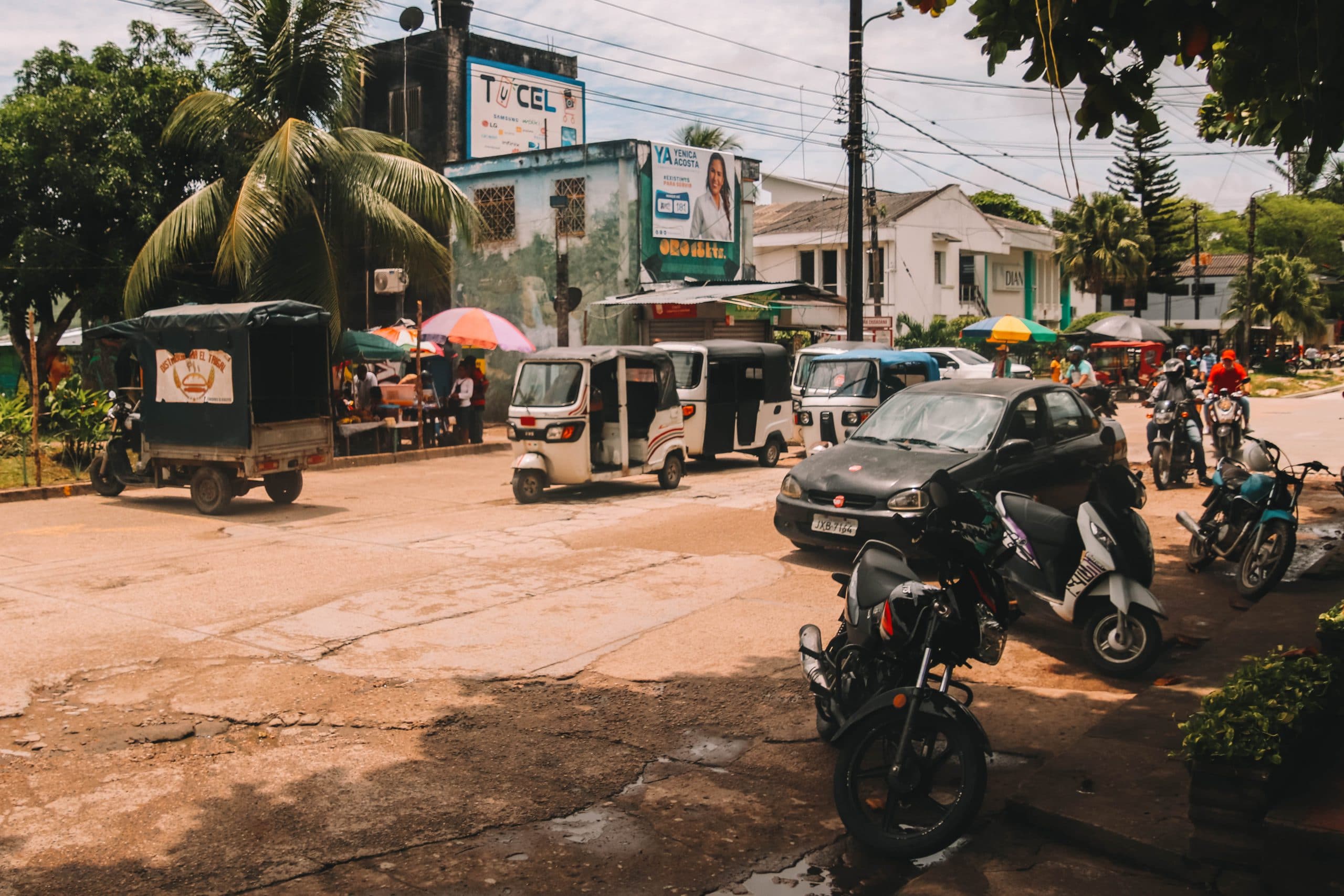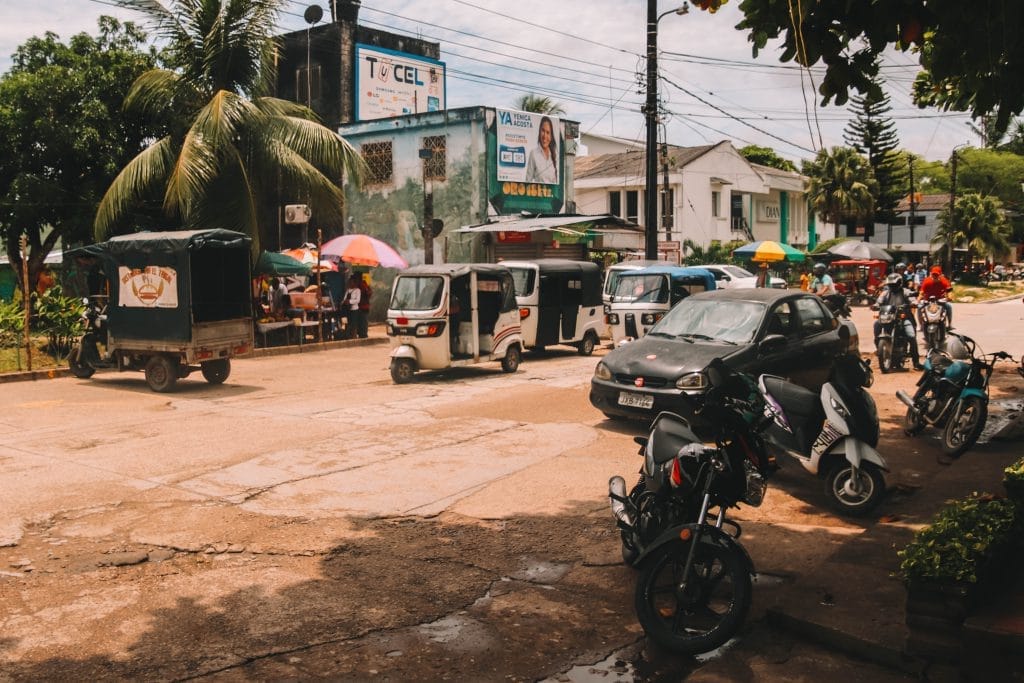 Staying in Puerto Nariño
A second option is to stay in Puerto Nariño, a small village about a 2-hour boat ride from Leticia. To get here, take the Express Boat from the port of Leticia. It leaves at 7:00 & 10:00 am and at 1:30 pm.
About 8,000 people live in Puerto Nariño and they are mainly of indigenous origin. It is a cozy and pleasant village where you can find different accommodations and restaurants.
Would you like to stay in Puerto Nariño? Accommodations can be found here!
Things to do in Puerto Nariño
From Puerto Nariño it is also possible to undertake various activities.
Visit the central square of Puerto Nariño
Here you will find the Puerto Nariño letters, a number of statues of animals that can be found in the Amazon river and a soccer/basketball field. It is nice and lively around this plaza. You will find people coming to watch the sports game or selling their products at the market. A fun place to behold.
Check out the view from Mirador Nai-pata
Climb the Mirador Nai-Pata (Nai-Pata means treehouse in Ticuna), a tall tower from which you have a 360° view over the village and the Amazon. Once back down, you can buy a homemade ice cream at a store next door. My favorite? Coconut!
Caution: The tower is made of wood. If it rains, the steps are very slippery.
Visit the Natütama Museum
At the Natütama museum you will learn all about the flora and fauna of the Amazon River and rainforest. Even though the guide doesn't speak English, she tries  her best by speaking Spanish very slowly, so you can still understand most of her story. Inside the museum are handmade carvings, representing the animals that live in the Amazon River. After the tour, you get to see a video about the critical condition the pink dolphin and the manatee are living in. An educational activity!
(Pink) dolphin spotting in Lake Tarapoto
About half an hour by boat from Puerto Nariño you will find Tarapoto Lake, which is known as a popular spot for spotting (pink) dolphins. You'll find both gray and pink dolphins here. The pink dolphin is not only special in color; this species is also the largest river dolphin in the world. You recognize the dolphin, in addition to its pink color, by its dorsal fin, which is a lot flatter than the dorsal fin of the gray dolphin.
Besides spotting dolphins you can of course take a refreshing dip in the lake!
Tip: Also pay close attention in the port of Puerto Nariño. Here too you can regularly see the dolphins!
Visit the jungle
Also from Puerto Nariño it is possible to book a jungle trek or a boat trip to one of the small villages with indigenous communities.
Staying in an indigenous village
As far as we are concerned, this is the most unique way to experience the Amazon region! It is amazing to experience how the indigenous people live, without any form of luxury as we know it. For example, they only have electricity for 4 hours a day and there is no mobile network. Moreover, they still speak the indigenous language and ancient traditions are well preserved.
We stayed 3 nights at Casa Gregorio, an accommodation located in the middle of the rainforest in the village of San Martin de Amacayacu about 8 kilometers from Puerto Nariño.
Casa Gregorio in San Martin de Amacayacu
Casa Gregorio is a small accommodation located in the village of San Martin de Amacayacu. About 500 Tikuna people live in this village, spread over about 100 wooden houses. This was not always the case. Until about 40 years ago the Tikuna families lived together in communal houses, also called Malokas.
The accommodation is set up and run by the couple Heike and José. Heike is a Dutch biologist who moved to the Amazon 17 years ago (initially for her PHD) and José grew up in San Martin. Together they have already meant a lot to San Martin de Amacayacu. They are involved in several community projects, such as providing 40 toilets and setting up a kindergarten.
How to get to Casa Gregorio.
To get to Casa Gregorio, first take the Express Boat from Leticia towards Puerto Nariño. It leaves at 7:00 and 10:00 am and at 1:30 pm. We paid COP 32,000 per person. Casa Gregorio will reserve a spot for you on this boat, so you don't have to worry about that.
Note: Try to take an early flight from Bogota to Leticia, so you can at least take the last boat at 1:30 pm. Otherwise, you'll have to spend an extra night in Leticia.
Half an hour before Puerto Nariño (at the Bocana Amacayacu stop) the Express Boat stops, so you can transfer to the boat from Casa Gregorio. From here, it is still a short boat ride away.
The lodging
Casa Gregorio is a small-scale accommodation and can accommodate up to 18 people. They have a number of rooms with private bathroom and a number of rooms with shared bathroom. Would you like to stay at Casa Gregorio? Then contact them via their website. Heike can provide you with more information.
Tip: Are all the rooms still available and do you have the option to choose? We slept in the private room with private bathroom, a super romantic house of several floors that you have completely at your disposal. Highly recommended!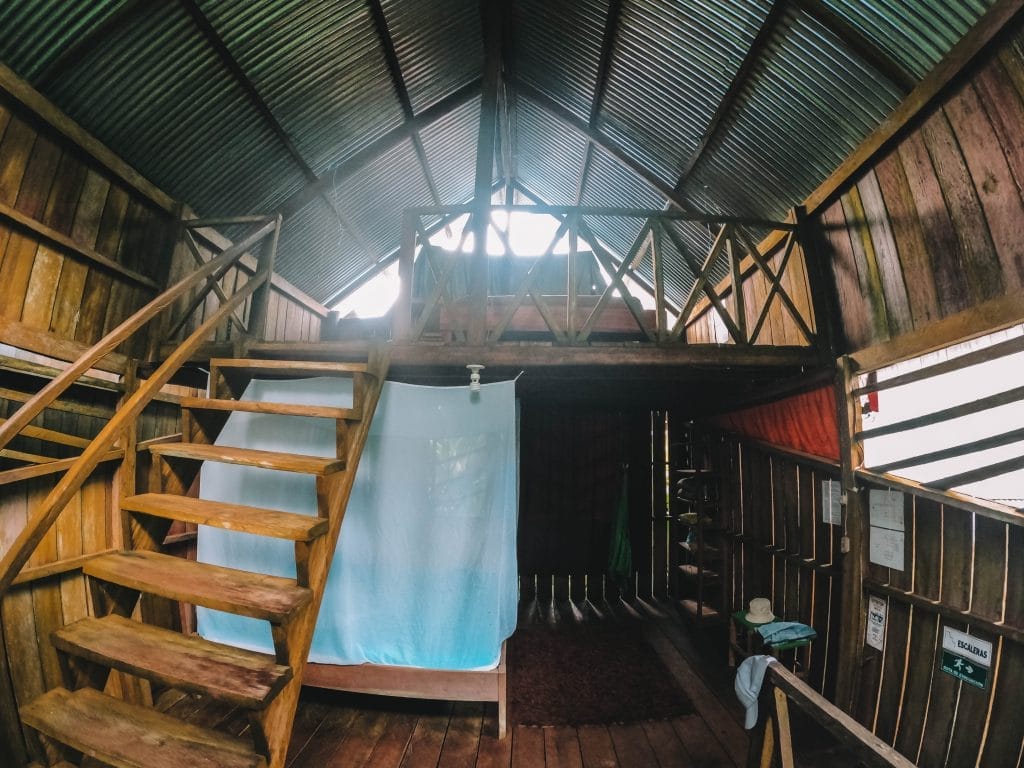 Activities
Casa Gregorio offers packages, so you don't have to arrange anything yourself. We found this very convenient! The package includes activities, meals, water, coffee & tea, rubber boots, rainwear, a private guide and transportation to and from the activities.
Depending on the number of days you stay, you will undertake a certain number of activities. The actual program is determined in agreement with you. You can choose from the following activities:
A community walk through the village of San Martin de Amacayacu
Different jungle walks, both a day walk and a night walk; distances can be discussed.
Agriculture walk
Craft workshops, think of making bracelets or ceramic bowls
Spotting (pink) dolphins and swimming in the Tarapoto Lake
A visit to Puerto Nariño, including a visit to Mirador Nai-Pata, lunch and the Natütama museum
Fishing for piranhas
A visit to the Mocagua Monkey Sanctuary
Amazon region packing checklist
Since there are no stores in San Martin, it is important that you go well prepared. Below you'll find a list of essentials you shouldn't forget:
Long, quick-drying pants; I personally choose a pair of sports leggings
Long sleeved shirt of a thin fabric, for example a surf shirt
Hat to cover your head
Long socks for in the rain boots
Rain boots, if the accommodation does not already provide them
Swimwear
Flip flops and/or sandals
Flashlight (your phone's flashlight is not sufficient during a night walk). I recommend you bring a flashlight and not a headlamp, because mosquitoes and other bugs are attracted to light. Otherwise they will constantly fly into your face.
Sunscreen
Insect repellent
Reusable water bottle
Toiletries
Necessary medications and paracetemols
External battery/power bank, due to limited availability of electricity
Waterproof bag/pouch for your phone etc.