Are you going on vacation to Quintana Roo and Yucatán in Mexico? Then you must be very curious about the travel budget you need for your trip! In Mexico one pays with the Mexican peso. Prices in Mexico are low compared to Western Europe, but higher than in Asia and the neighboring countries of Guatemala and Nicaragua. In this article I will tell you more about the costs we made during our 16-day tour through Yucatan and Quintana Roo. I have converted the costs into euros and US dollars.
Note: We visited Quintana Roo and Yucatán in May 2018. Prices may have changed a bit in the meantime.
Tip: Check out our Mexico aftermovie
Flight tickets to Cancun
We decided to start our trip in Cancun. Using Skyscanner you can easily find the cheapest tickets. We booked our tickets in May for € 430,- ($510) per person. We flew with Swiss International Air Lines. On the way (Switzerland) and the return (United States) we had a stopover of about three hours.
Transport
Because we wanted to do a round trip, we rented a car. The cost for the car for sixteen days was about € 200,- ($235). In total we covered almost 2,000 kilometers and paid less than € 200,- ($235) on fuel and toll. Petrol is cheap in Mexico and costs less than € 1 ($1.20) per liter.
Besides the car we also used ferries to get to the different islands. We parked the car for a few euros near the harbor. The ferry from Playa del Carmen to Cozumel cost € 18,- ($21) per person, the ferry from Chiquila to Isla Holbox cost € 7,- ($8) per person and the ferry from Cancun to Isla Mujeres cost € 14,- ($17) per person.
We rented a scooter once. We rented the scooter including gasoline for about € 20,- ($24) for one day.
The transport in Mexico, parking, scooter and the ferries to three different islands cost us about € 250,- ($295) per person.
Accommodations
There are all kinds of accommodations in Mexico. Ranging from very cheap hostels to very expensive luxury hotels. The required budget depends very much on the type of accommodation you want to stay in. We mainly stayed in middle class accommodations in a double room with a private bathroom. The prices of this type of accommodation varied in the month of May from € 30 to € 50,- ($35 – $60) per night.
15 nights in middle class accommodations cost us approximately € 600,- ($710). This is € 300,- ($355) per person.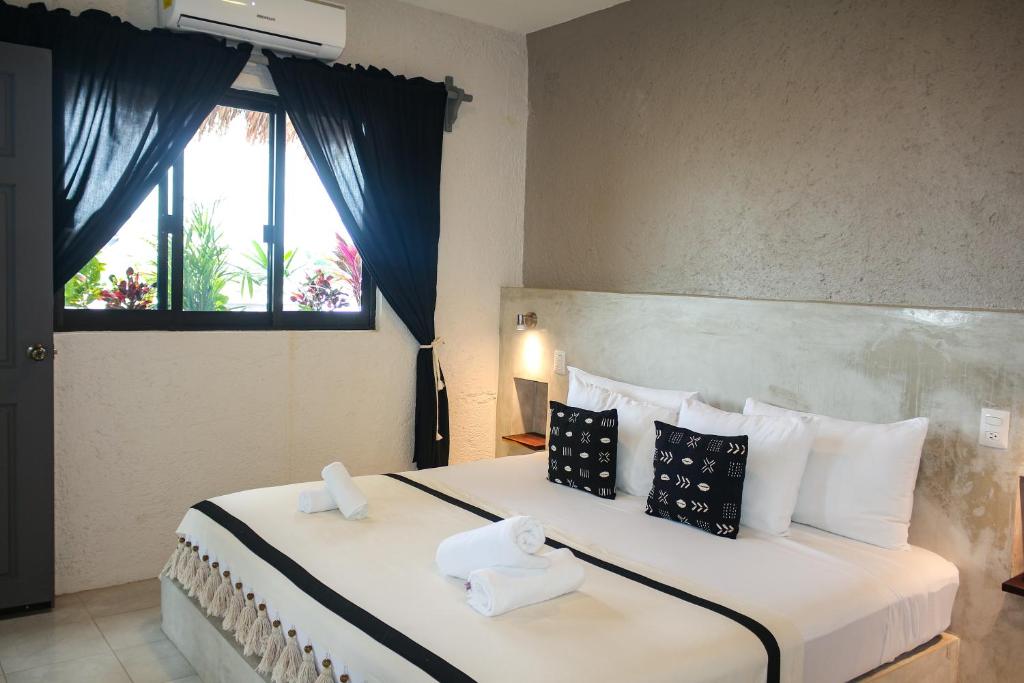 Eating and drinking
The cost of food and drinks also depends on the type of restaurants you like to visit, how often you eat out and how much alcohol you drink. Do you like to eat tacos at a local restaurant? Sometimes it'll costs you less than a euro for a tasty meal. We've eaten and drunk at local restaurants several times, because the food was very tasty. You pay between € 5 – € 10 ($6 – $12) for a meal at a middle-class restaurant and € 1 – € 2.50 ($1.20 – $3) for a soda, a Sol or a Corona including a tip. Keep in mind that the food and drinks in the tourist towns, such as Tulum and Cancun, are a bit more expensive than in less popular, local destinations.
In 16 days, we spent about € 300,- ($355) per person on food and drinks. Every day we would have breakfast, lunch and dinner somewhere.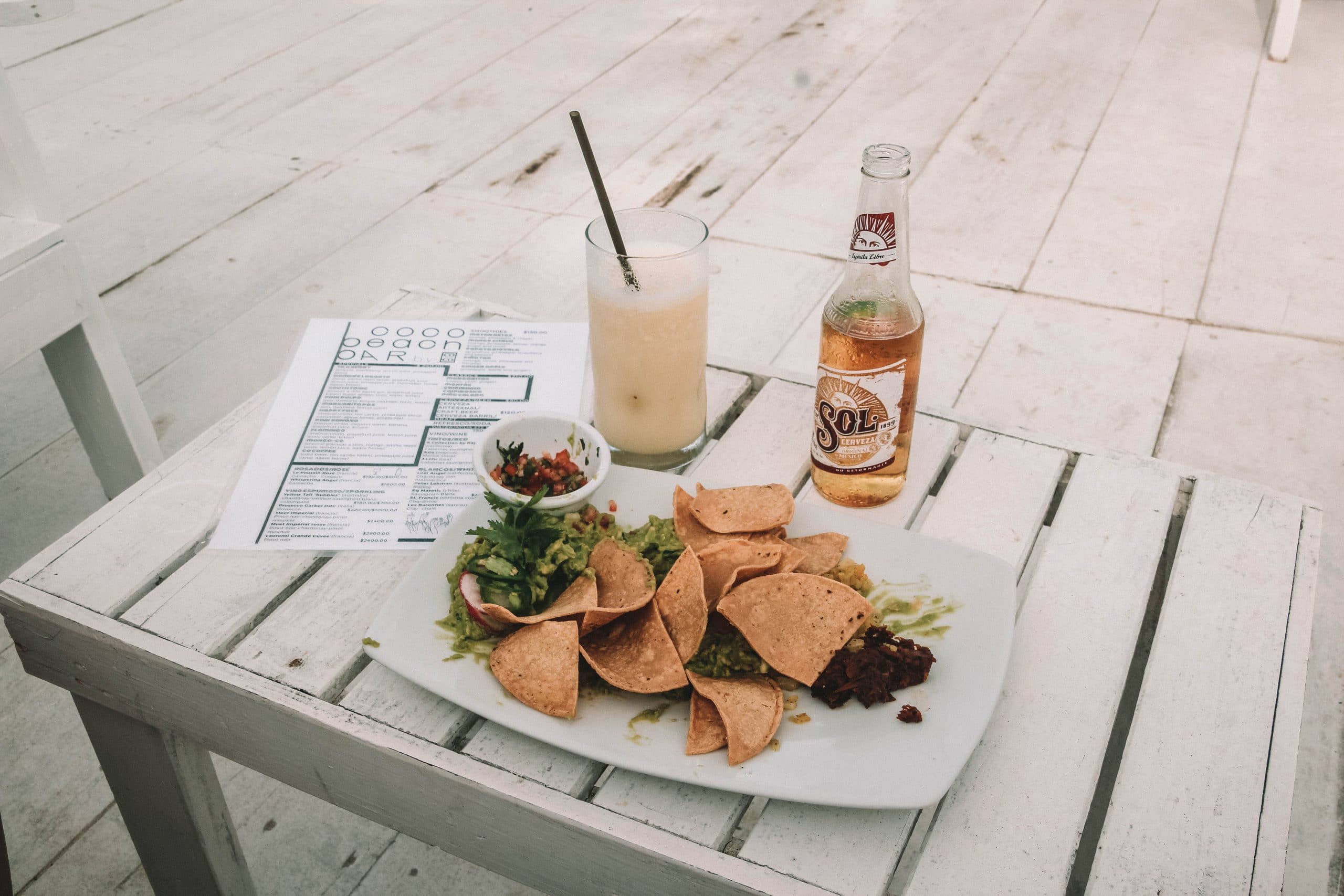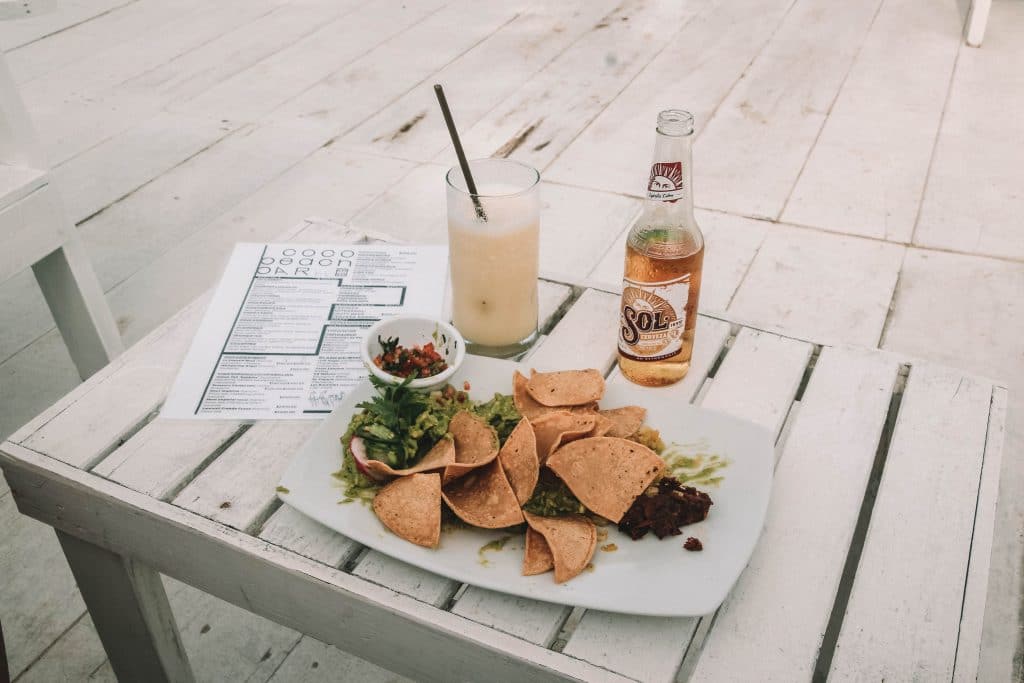 Activities and sights
Many sights and activities can be visited for free. However, there are also sights that you have to pay for. The entrance and parking fees for the Mayan temples and cenotes vary from a few euros to € 25,- (a few dollars – $ 30) per person. You can rent a kayak for a few euros. The towns and beaches (with the exception of Akumal) can be visited for free, but beds and umbrellas at some beach bars cost you money or you have to buy something there. The minimum spending is included under food and drink.
In 16 days, we paid less than € 100,- ($118) per person for sightseeing and activities. This doesn't include the cost of diving. We paid € 75,- ($90) per person for two dives at Cozumel.
Day budget car trip Yucatán and Quintana Roo, Mexico
If we add all our costs in Mexico, without the cost of the plane tickets, but with the cost of the rental car, we'd spend about € 60,- ($75) per person per day including the two dives we did.
Depending on the desired luxury of your accommodation and restaurants you will end up with a budget between € 50,- and € 70,- ($60 – $80) per person per day. You don't need to save on food and drinks, activities, attractions and accommodations! Do you travel by public transport, sleep in hostels and don't want to eat out three times a day? Then you might even be able to make ends meet with € 40 ($50)!