Are you planning a holiday to Mexico and don't want to stay in an all-inclusive resort for two weeks? Below you will find our ultimate (car) itinerary for a round trip around Quintana Roo and Yucatán in Mexico. Quintana Roo and Yucatán are two states that are both located on the Yucatán peninsula. The two states are popular with travelers for the remains of the Mayan culture and obviously for its beautiful white beaches.
In total we spent sixteen days on the Yucatán peninsula. We rented a car via Europcar, as driving turned out to be fine, but more on that later. Below you will find our itinerary.
Directly to the cities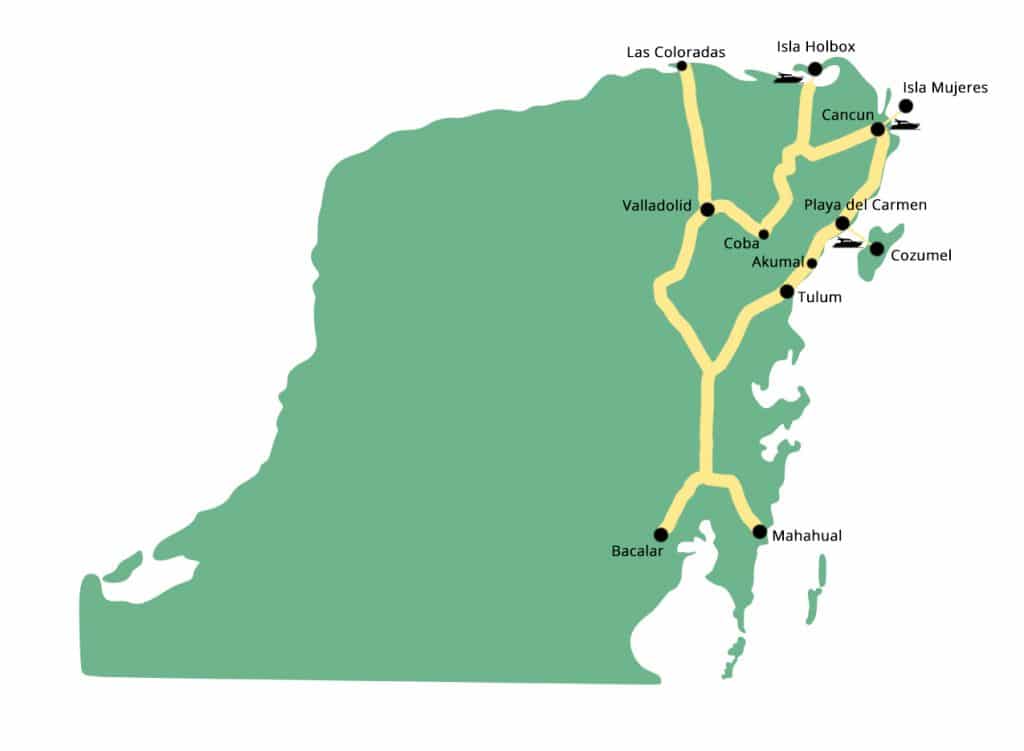 Flying from Amsterdam to Cancun
We left for Cancun from Amsterdam. We booked a cheap ticket with Swiss Air for about € 430,- / $486 per person, 3 months in advance. As Swiss Air is a Swiss airline, we had a connection in Zurich. We finally landed in Cancun after thirteen hours of flight.
Cancun is the largest city of Quintana Roo and is divided into two parts: Cancun Center and the 'Hotel Zone'. The Hotel zone is, as the name suggests, full of large resorts, hotels, shopping malls and nightlife. We don't like all-in resorts and since there isn't much else to do in Cancun, we decided to just spend the night in Ibis Cancun Centro and drive to Playa del Carmen to catch the boat to Cozumel early the next morning.
From Cancun via Playa del Carmen to Cozumel
We drove from Cancun to Playa del Carmen, where the boats to Cozumel depart. This was about an hour's drive. Playa del Carmen is, just like Cancun, a popular seaside resort with tourists, that's why we didn't stay here either. The boat to Cozumel leaves from Playa del Carmen harbor, Terminal Marítima NAVEGA. There are several parking facilities around the harbor where you can park your car.
It's a 5-minute walk from the parking lot to the harbor. There are several companies that offer a ferry to Cozumel. We chose Ultramar, the leading passenger transport company in Mexico, but you can also choose another company if their ferry departs earlier. The paid 380 pesos per person for the return trip. The ferry from Playa del Carmen departs every hour. You'll reach your destination within 45 minutes: Cozumel.
Cozumel is Mexico's largest island and is popular for diving and snorkeling. The island is also a popular port of call for cruise ships, because you can shop tax free. For us, diving was the main reason to visit Cozumel. We stayed here for two nights in the Beds Friends Hostel and that was more than enough. We rented a scooter from our hostel on the first day and explored the island. There are beautiful/unspoilt beaches on the northside of the island and a number of nice restaurants and bars where you can stop for a refreshing swim or a cold Corona. The second day was all about diving. We made two dives and finally saw a turtle again! Later that afternoon we strolled through the town, where you can find all kinds of restaurants and souvenir shops.
Tip: Wondering what to do on Cozumel? Click here to discover more!
From Cozumel (via Akumal) to Tulum
After spending two nights at Cozumel, it was time to continue our road trip. We took the ferry back to Playa del Carmen and drove to Tulum. Tulum is an ancient Mayan city in the state of Quintana Roo and is located on the Caribbean Sea. It's a city where you can combine sightseeing and the beach! Like Cancun, Tulum is also divided into two parts: the center and the beach. There are plenty of stunning hotels and restaurants along the beach, but the prices here are higher than in the city center. We stayed in the center, in Aruma Hotel & Boutique.
We stayed four nights in Tulum and I would've liked to stay longer. There are lots of trendy restaurants and places where you can take cool Instagram photos! The atmosphere is very chill and it's much less crowded compared to Cancun or Playa del Carmen. Five days in Tulum are more than enough for sightseeing, in combination with relaxing on the beach. This allows you to discover what the town has to offer and you also have time to chill out on the beach with nachos and a Sol.
Nice places to visit in and around Tulum are the Maya Ruins of Tulum, the Maya Ruins of Coba, Dos Ojos and other cenotes, Tulum beach, Playa Pescadores and Akumal Beach (snorkeling with turtles). Nice beach clubs and restaurants in Tulum are Beach club Aura, CoCo and Azulik. All three can be found on the beach. Would you rather eat and sleep a bit cheaper? Pick a nice hotel in the city center and eat Mexican food in one of the side streets.
From Tulum to Mahahual
Our Mexico road trip continues to Mahahual, a small and quiet fishing village, 2.5 hours from Tulum. Mahahual is also in the state of Quintana Roo and has only about 2,000 inhabitants! There's a part of the second largest living coral reef in the world just of the beach. This reef runs from Mexico all the way to Honduras. The eelgrass found here will increase your chances of encountering a turtle while snorkeling. If you have a little more time, you can get deeper into Xcalak. Here you have the opportunity to spot manatees while diving.
Besides snorkel lovers, Mahahual lives off cruise tourists. Every other day a number of very large cruise ships arrive, with the passengers spending one day in Mahahual. This difference is clearly visible in the village. We stayed one night in Mahahual. The first day when no cruise ship was moored, there was hardly anyone walking the streets, most restaurants and shops were closed, and we had the beach almost for ourselves. The second day a ship arrived and the whole village was mayhem! You could only use the beach beds if you had reserved them and all the restaurants were packed. Fun to see the difference, but if you can, you should avoid the cruise ship days. Luckily, we left for Bacalar after breakfast.
Besides snorkeling and chilling on the beach, there is not much to do in this small village. My advice is not to stay here for more than one night. We stayed in the Koox Matan Ka´an Hotel.
From Mahahual to Bacalar
I really liked Bacalar! Our reason to travel to Bacalar was to see Laguna Bacalar with our own eyes. This lake is also called "La Laguna de los Siete Colores", or the lake with seven shades of blue. It was about an hour and fifteen minutes' drive from Mahahual to Bacalar.
You can opt for accommodation in Bacalar's center or at the lake. Our accommodation was on the lake and had a splendid view. We could use canoes for free, which we could use to go to the other side of the lake. The lake was even more beautiful than on our side! Amazingly beautiful colors of blue and extraordinarily clear water, just amazing! Besides the beautiful and clear lake, Bacalar also has a nice, non-touristic and typical Mexican center where you can take a stroll. Another great activity in Bacalar is drift snorkeling at Rapidos de Bacalar and chill out at Los Cocalitos. You can eat proper food at La Piña and have breakfast at Enamora.
We stayed two nights in Bacalar and that's enough to see and do everything. We stayed in Villas Karalv.
From Bacalar to Valladolid
Valladolid is found in the state of Yucatán and is a quintessential Mexican city. Colored houses, colored cars and live music on the streets. Awesome!
In order to drive from Bacalar to Valladolid, you have to drive north again. Altogether, the drive took about 3,5 hours, but it was definitely worth it! We stayed two nights in Valladolid, but I would've liked to stay another night.
The town is super cozy and there's plenty to see in the vicinity, like the famous Chitchén Itzá (one of the most important Mayan cities where the pyramid of Kukulcán is located), the Suytun and the Ik Kil cenote and Ek Balam. We also drove from Valladolid to the pink lakes and flamingos of Las Coloradas, which was quite a drive but definitely worth a visit.
We stayed two nights in Valladolid in Gayser Apartments and were short on time for all the things we wanted to do and see, so I'd recommend staying at least three nights in Valladolid.
From Valladolid (via Coba) to Holbox
Isla Holbox is an island in the north of Quintana Roo and is surrounded by beautiful white beaches. Late May there' s a (big) chance that you can snorkel with whale sharks. That' s why we travelled to the island. To get to Holbox, you have to take the ferry from Chiquila, which is less than two hours' drive from Valladolid and an easy ride. We took a detour via Coba, because we didn't want to miss these Mayan ruins. There are two different types of ferries from Chiquila, but the prices are the same. We paid 140 pesos per person. The ferry leaves every hour, one on the hour and the other on the half hour. Basically, there's a ferry leaving every half hour and for that reason it's best to check which ferry leaves first.
When arriving at Isla Holbox you'll immediately notice that there are no cars on the island. There are no paved roads either, so people use golf carts and bicycles. Grab or rent a bike at your accommodation to cycle around the island. Holbox is super colorful with all kinds of cool murals. They are extremely cool, and you definitely need to take pictures of them. Talking about pictures, the most famous Holbox photo spot can be found at Hotel Villas Tiburon: the Holbox hammocks!
Initially we were supposed to stay at Isla Holbox for three days, but because the high waves, there were no whale shark tours. That's why we decided to leave a day earlier. Three days at Holbox is more than enough. You can cycle over the island in the morning and get a Sol or Corona on the beach in the afternoon. We stayed in accommodation Maria Carlota.
From Holbox to Isla Mujeres
We had bad luck at Holbox with the high waves, preventing us from doing a whale shark tour, so we decided to expand our itinerary and pay a visit to Isla Mujeres. We saw that whale sharks had already been spotted there and a tour organization on Isla Mujeres told us that the tours would probably take place. From Chiquila, where we had parked our car for 100 pesos a day, we drove back to Cancun in 1.5 hours and took the ferry to Isla Mujeres. We took the Ultramar (Puerto Juarez) ferry again. We paid 300 pesos per person for a return trip.
Isla Mujeres, literally translated as 'women's island', is twenty minutes sailing off the coast of Cancun and is often visited for a daytrip. You'll notice this as soon as you arrive! It is very crowded, there are tourists everywhere and it has a souvenir shop every few meters.
Personally, the island was a bit too touristy for my taste and when we were told that the whale shark tour wouldn't happen here either (and diving also wasn't possible), we had no idea what to do on Isla Mujeres. There isn't really much more to the island than the beach, a turtle farm and some souvenir shops. As we didn't have much time, we decided to spend our last day on the beach. Do you have more time? You can rent a scooter or golf cart and explore the other side of the island. Perhaps it'll be quieter and less touristy there!
We slept here one night in accommodation Isla Caracol.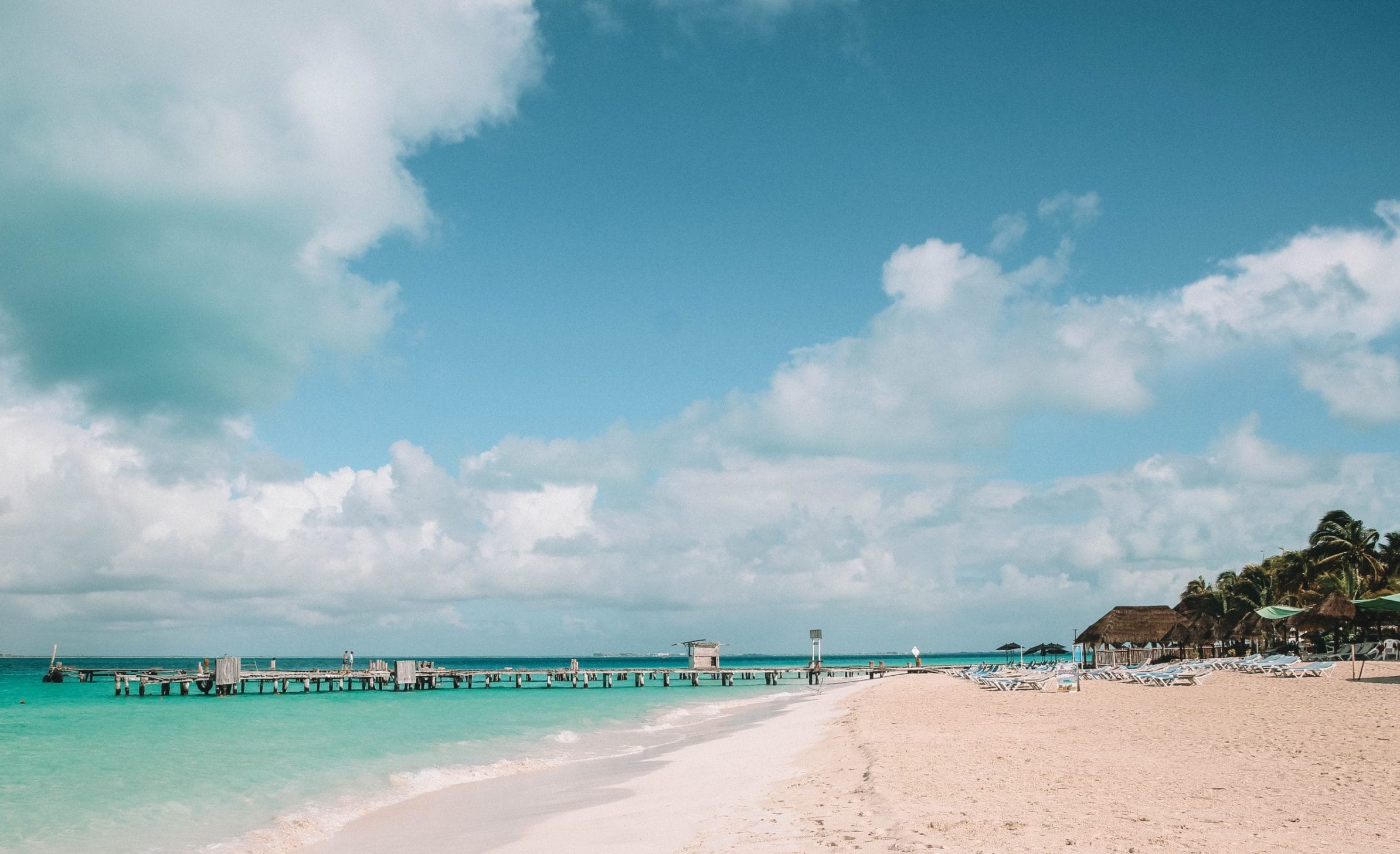 Isla Mujeres via Cancun to Amsterdam
Our Yucatán and Quintana Roo round trip had come to an end. By evening we took the ferry back to Cancun, where we spent our last evening in a Shopping Mall. We slept in Ibis Cancun Centro again, as we liked our first stay there. We dropped our car off at the airport the next morning and after that we flew back to Amsterdam via Houston in 13 hours.
Yucatán and Quintana Roo truly exceeded all our expectations. Anyone going to Cancun or Playa del Carmen and only staying at their all-inclusive resorts misses out on all the beauty the peninsula has to offer. Obviously, there are a lot of tourists in Cancun and Playa Del Carmen who don't get out of their resort. But anyone who likes adventure can enjoy a lot of unique experiences by visiting the Mayan Ruins, Cenotes and typical Mexican towns!