Eilat is a seaside resort in the southernmost tip of Israel and is popular among Russian and Israeli tourists. It is also a popular beach and diving destination. We wanted to visit Eilat for diving, because the city is located on the Red Sea which makes it a perfect diving destination!
Admittedly, Eilat was certainly not our favorite destination during our Israel and Jordan tour. The beaches are not as beautiful as in the ones in the Caribbean or in Asia, it is very crowded and touristy. Don't like diving and lying on the beach? Then I'd advise to skip Eilat, because there is not much to see and do in the surrounding area. Are you a diver, just like us? Then I definitely recommend you go diving with dolphins.
In this article you'll find information about diving and sightseeing in and around Eilat. We stayed here for two nights and slept in the Exodus Dive Center and Guest House. We had our own room with private bathroom and we really liked it!
Tip: Check out our aftermovie!
Dolphin Diving in Eilat
Eilat is located on the Red Sea and that makes it a perfect destination for diving! There are a number of great dive spots, with so much to see. We made three (shore) dives ourselves, to dive spot 'Underwater Restaurant', a wreck dive to dive spot 'The Satil Wreck' and a sunrise dive to dive spot 'Katza'. We planned the last dive to Katza, a dive spot also called 'Dolphin Reef' well in advance, because we really wanted to dive with dolphins in the open sea. There is a dolphinarium in Eilat and their dolphins have the opportunity to voluntarily swim into the open sea. Almost every morning their dolphins are spotted by divers at the dive spot Katza!
We chose to dive with Ahla Dive, a great dive center with a good rating on Tripadvisor. The staff of the diving school told us that we had more than 90% chance to spot dolphins during a sunrise dive. We started looking for the dolphins with our Divemaster Alexander and we were lucky! This was the first time we saw dolphins during a dive in the open sea!
Tip: Do you want to dive in Israel? Please be aware that the legislation is very strict. Your last dive must have taken place less than 6 months ago, otherwise you have to do a refreshment dive first. Moreover, it is mandatory for every diver to be insured for diving accidents.
Dolphin Reef Eilat
Are you not a diver or would you rather admire the dolphins from the mainland? You can visit Dolphin Reef Eilat. This dolphinarium is unique in its kind, because they don't have dolphins in captivity here. The dolphins can swim out of the park at any time, which means you can also meet them as a diver in the open sea.
You can watch the dolphins from floating piers and observation points. Don't have a diving license, but would you still like to dive with dolphins? Anyone between 8 to 88 who can swim, can snorkel or dive with dolphins for a fee.
Dolphin Reef Eilat is open almost every day. A ticket costs 69 NIS. More information about the opening hours and entrance fees can be found on the website of the dolphinarium.
Dekel Beach
Although the beaches in Eilat are not the most beautiful in the world, it's still nice to spend a day there. Are you looking for a nice beach where you can chill out and have a nice meal and drinks? Then pay a visit to Dekel Beach! It's a small beach with a nice restaurant. You can eat and drink here and the staff is very friendly. The beach is not in the center of Eilat, but about 2 kilometers west. We walked, but you can also grab a taxi. The restaurant's garden has a shop with very nice bikinis and other beachwear.
Tip: Despite the fact that there are a lot of stones at the bottom, you don't need water shoes. You will find mats in several places that are laid over the stones. This allows you to easily walk into the sea.
Mosh Beach
Another nice beach is Mosh Beach. Mosh Beach is next door and is similar to Dekel Beach. There are a number of low tables on the beach and there are cushions to relax on. If you want to spend a day at the beach, I recommend you go to Mosh Beach or Dekel Beach. The beaches in the center of Eilat are a less pretty and the people are a less friendly as well.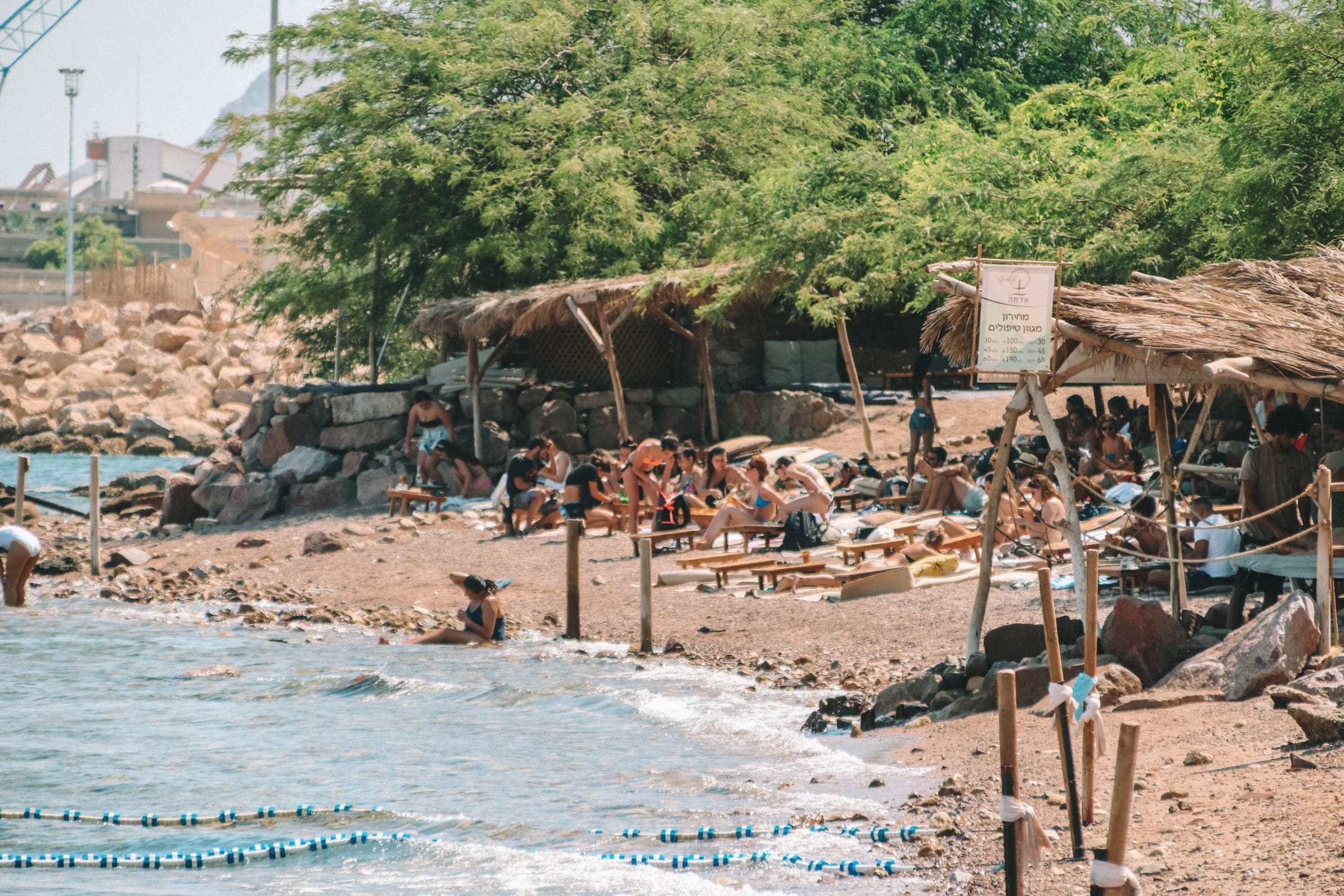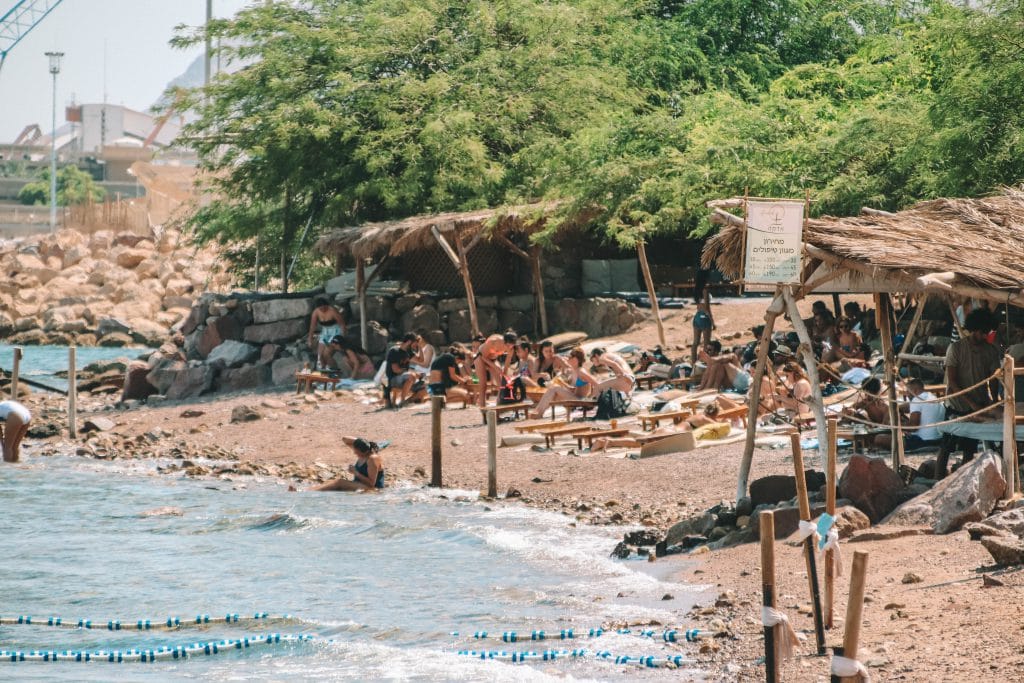 Shopping in Mall Hayam
Temperatures in Eilat can reach up to 50°C. When we were there, it was 43°C and that's why I longed for air conditioning. Also bothered by the heat? You can go to the Mall Hayam, the largest shopping mall in Eilat. You'll find about 90 stores that sell clothes, electronics, accessories, jewelry and food and drink. These include Zara, Foot Locker, Mango and Vans.
The mall is open daily from 09:00 to at least 18:00.
Stroll along the Eilat boulevard
There's a boulevard along Rimonim Beach with a number of shops, like Adidas, Urban Outfitters and several souvenir shops. Fancy something to eat or drink? Then take a seat at one of the many beach bars and restaurants. The view from the terraces is towards the sea and Aqaba, which is located in neighboring Jordan. Would you like to go for a walk? Buy an ice cream, walk along the boulevard and enjoy the beautiful view!
Red Canyon
Twenty minutes north of Eilat, in the Eilat Mountains, is Red Canyon. Red Canyon owes its name to the phenomenon that occurs when sunlight hits the reddish rocks, giving the canyon an intense red color. Not too hot and do you feel adventurous to take a hike? You can make several walks through the canyon. The Canyon is a bit reminiscent of Antelope Canyon in the United States.
Eating at Nine Beach Eilat
Would you like some proper food and drinks? Then take a seat at Nine Beach! Nine Beach is located on the boulevard on Rimonim Beach. Order some small dishes, like falafel, hummus and nachos, and enjoy the view!
Curious about what you can eat here? Have a look at their website.