Modern Tel Aviv is the second largest city in Israel and is located on the central coast, on the Mediterranean Sea. Tel Aviv is a popular beach destination and is known as a gay friendly city. The weekend before we visited Tel Aviv, one of the largest Gay Pride festivals in the world took place here and you could still see all kinds of influences.
We stayed one night in Tel Aviv, in Florentin House. We really recommended that accommodation!
In this article you can read what you can do in Tel Aviv and what the best attractions are!
Rent a bike or electric scooter in Tel Aviv
A nice way to explore Tel Aviv is on a (electric) bike or an electric scooter, since the distances between the attractions are quite large.
We hired a bike for a day, which is very easy to arrange. You can find bike stands at several places in the city and pay with your credit card or via the app. Once you have paid, the bike will be unlocked!
Rent an electric scooter
A more modern way to explore the city is by electric scooter. This mode of transportation is very popular and you'll see a lot of them passing by! You can unlock the scooters by using an app on your phone. Want to see an attraction? You can put the scooter anywhere within the limits of the rental company. Riding the scooter is a lot less demanding than cycling, since it can be quite hot in Tel Aviv.
Tip: Would you like to know more about renting a bike or electric scooter in Tel Aviv? Read more here!
Jaffa, the old port city
Jaffa is an ancient port city in Israel and has belonged to the municipality of Tel-Aviv since 1950. It is one of the oldest cities in the world and was an important port for a long time. Nowadays Jaffa is the oldest port in the eastern Mediterranean. The city is built on a hill and it is incredibly beautiful! Narrow streets with art galleries, street art and a cute square surrounded by restaurants. You'll find it all here! At the top of the hill is a large green park where you can enjoy a beautiful view over the skyline of Tel Aviv!
Carmel Market (Shuk Hacarmel)
The Carmel Market is Tel Aviv's largest market and runs from the intersection of King George Street, Allenby and Sheinkin Street to the Carmelit Bus Terminal. At this market you can literally buy anything! From clothing to smoothies and from spices to SD cards for your camera. There are also several eateries here where you can buy some delicious food. The Carmel Market is very crowded and you will find both locals and tourists alike.
The market is open from Sunday to Friday (closed on Saturday) from early morning until 19:00. Please note that the market closes earlier on Fridays due to the Sabbath.
Note: Before you buy something, first ask what the price is. Prices are not always shown, which makes it easy for the market men to ask way too much. Israel is quite expensive, but sometimes even more expensive than you expected!
Tel Aviv Beach
Tel Aviv is a popular beach destination and has several beaches! We visited a number of these beaches by bike, including Banana Beach, Tel Aviv Beach, Jerusalem Beach, Frishman Beach and Gordon Beach. All beaches actually look alike, and you'll find cots and covered places everywhere to chill out! There are restaurants on some beaches where you can enjoy a nice cool drink and something to eat.
Street art in the Florentin district
Florentin is an old neighborhood in Tel Aviv and is a popular place for restaurants, bars, nightclubs and trendy boutiques. It used to be different though! This part of town was very neglected and only the poorest people of the country and illegal foreign workers lived here. In the 90's this slowly changed, because Florentin was one of the few places in the country where one could live affordable. The neighborhood mainly attracted artists and designers, who turned the dilapidated buildings into hip homes. That's why you'll find street art throughout the district, which makes it very cool to walk around here!
Neve Tzedek
The Neve Tzedek district is one of the oldest districts of Tel Aviv and, like Florentin, is becoming increasingly popular. Neve Tzedek was built in 1887 and was the first Jewish quarter to be built as a suburb outside the old port city of Jaffa. The district is also considered a quiet haven in the busy, bustling city that is the modern city of Tel Aviv. You will find beautiful houses here, and the district is lovely to walk through. Shabazi Street is the main street of Neve Tzedek and you'll find several boutiques and art galleries here!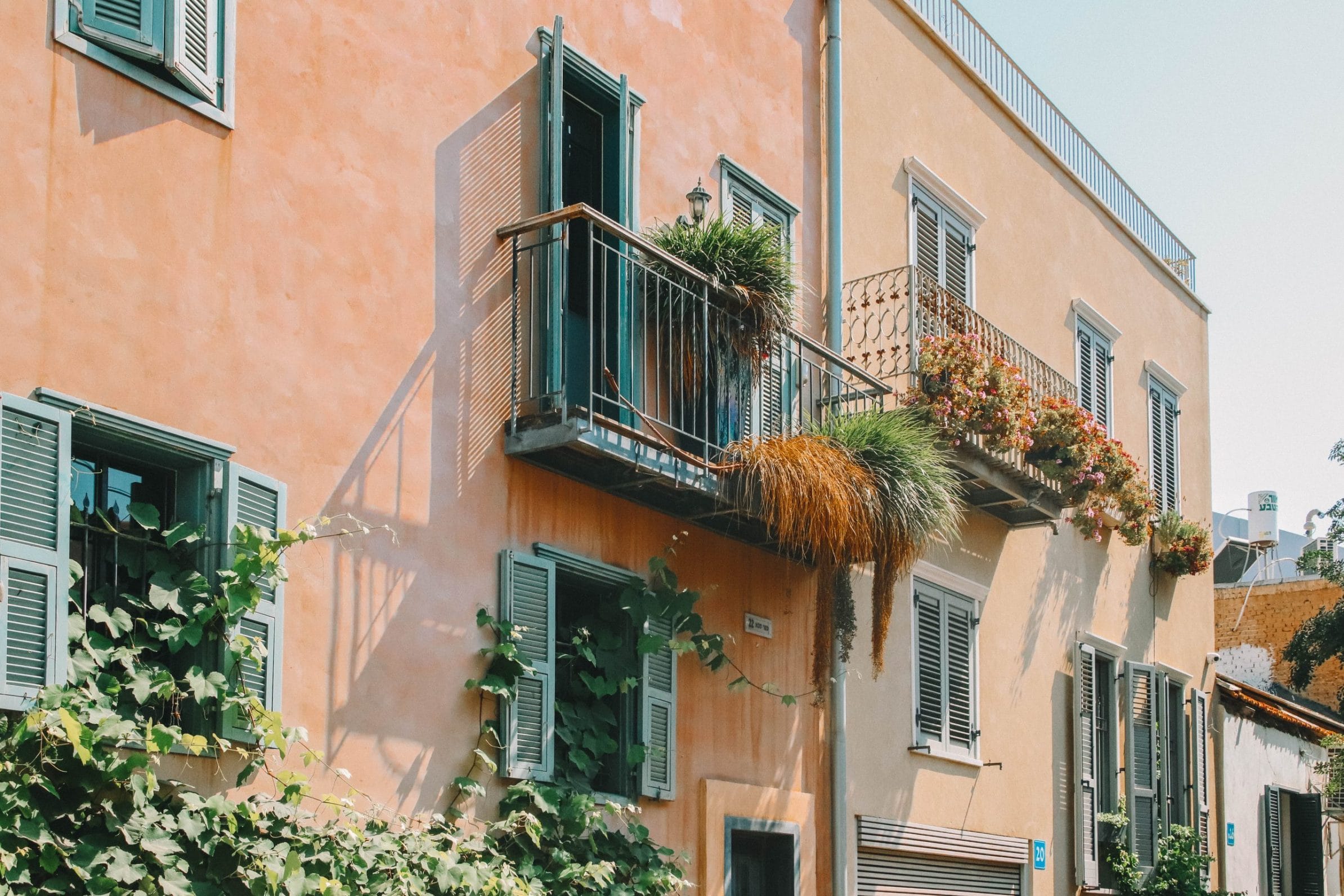 Rothschild Boulevard
Rothschild Boulevard is Tel Aviv's most famous and iconic street. It was built about 100 years ago and was one of the first streets in Tel Aviv. Rothschild runs from the Neve Tzedek district to the Habima Theatre and is the financial center of the city, that is why you will find a number of major banks and other financial institutions here. There is a bike and pedestrian path in the middle of the street. It is surrounded by beautiful trees, so you can cycle or walk in sheltered surroundings. Stop at a kiosk for a nice cup of coffee or ice cream!