Muscat, also called Masqat, is the capital and largest city of Oman. From the 1st century AD, Muscat was an important port located between the Western and the Eastern world. Through the years, various great nations ruled over the city, such as the Persians and the Portuguese. Influences of it can still be found here. The city is characterized by white, low-rise buildings and is surrounded by mountains. Very beautiful! In this travel guide I tell you about where you can stay, things to do, what sights you should not miss and places for food and drinks.
Flying to Muscat (Oman)
We ourselves flew from Amsterdam to Muscat, with a 4-hour layover in Istanbul. The flight cost us about 420 euros per person. The total travel time was about 13.5 hours.
Tip: Did you know that you can easily compare and book flights through Skyscanner?
Where to stay
We stayed for three nights at the Ramada Encore by Wyndham Muscat Al-Ghubra hotel. A nice hotel, with lovely beds and a rooftop pool. The hotel has its own parking lot, which is very convenient if you are traveling with a rental car. Furthermore, the hotel has a good restaurant, where you can eat a la carte as well as buffet style. We loved the location of the hotel, since it is located in between the airport, Al Mouj and the old town.
Do you have a bigger budget? Then check out the Kempinski Hotel Muscat. This 5-star hotel is located along the coast in Al Mouj, a luxurious area with numerous restaurants nearby. Just keep in mind that this hotel is a bit further from the old town of Muscat.
Things to do in Muscat
Visit the Sultan Qaboos Grand Mosque
The most popular sight in Muscat is undoubtedly the Sultan Qaboos Grand Mosque, Oman's largest mosque. The mosque covers an area of 40,000 m2 and is built of 300,000 tons of Indian sandstone. The complex features 5 minarets, of which the tallest is 90 meters high. The central dome of the mosque rises about 50 meters above the ground. A total of about 20,000 people can pray at the same time.
Inside the mosque is a prayer carpet that covers the entire floor of the prayer hall. It consists of 1,700,000,000 knots and weighs 21 tons. It took no less than 4 years to make the carpet. In other words, it is a huge carpet! In fact, it was once the largest single-piece carpets in the world, but this record has since been broken by the carpet in the Sheikh Zayed Mosque in Abu Dhabi. The chandelier hanging in the mosque was also once the largest in the world, but that record has been smashed by the one hanging in Abu Dhabi too. Still, the chandelier in the Sultan Qaboos Grand Mosque is very impressive to see. It weighs 8.5 tons, contains 600,000 crystals and 1,122 halogen lights.
Both the mosque and the complex grounds are very beautiful. You can easily spend 1 or 2 hours walking around here!
Please note: If you want to visit the Sultan Qaboos Grand Mosque, you must wear long pants or a skirt that covers your ankles. In addition, women should wear long sleeves and cover their hair with a scarf or something similar.
Walk along the Mutrah Corniche to Mutrah Castle
The Mutrah Cornince is a 3-kilometer-long boulevard that runs along the water and all kinds of stores, cafes and restaurants. Along the boulevard you will find Mutrah Souk, Mutrah Fish Market and Mutrah Fort. Most likely you will also spot the Sultan's multi-million dollar yacht here in the water.
Visit the Mutrah Souk and the Mutrah Fish Market
The Mutrah Souk is one of the oldest Arab souks in the world. It is a big maze where you can wonder around for quite some time. The stores sell different products, such as spices, clothing, jewellery and much more! Are you looking for a souvenir? Then you've definitely come to the right place here!
The Mutrah Souk is open every day from 09.00 – 11.00 am and then again from 16.00 – 22.00 pm.
Tip: take some cash with you. Although you can use debit cards in some stores, sometimes only cash is accepted.
Near the Mutrah Souk you'll find the Mutrah Fish Market. A traditional fish market, where fresh fish is sold. The market is quite a happening, but you need a strong stomach for it. The first fish are brought in around sunrise and the market lasts until about mid-morning.
Visit the Al Alam Palace
Located in Old Muscat, the Al Alam Palace is one of the sultan's royal residences. The palace was built in 1972 and is mainly used for ceremonies and receiving high-profile guests.
The palace is not open to visitors, but you can view the building from the outside. At the backside of the palace, you can see that it is surrounded by a number of old forts, built by the Portuguese in the 16th century.
Visit the Royal Opera House
The Royal Opera House is a beautiful building that hosts a variety of artistic, cultural and educational performances. It is the main stage for musical art and culture in Oman and seats about 1,100 spectators. On the grounds of the Royal Opera House, you will find not only a concert hall and an auditorium, but also a shopping center and a number of upscale restaurants.
You can of course attend a performance, but you can also just explore the venue!
Enjoy a sunset from a viewpoint
In Muscat, you will find several viewpoints from where you can enjoy a beautiful sunset. Our favorite spot is Yiti Round Point of View. From here you have a beautiful view of the districts Humriya and Ruwi. Truely amazing!
Enjoy a high-tea at Al Bustan Palace's Atrium Tea Lounge
You'll find the Atrium Tea Lounge in the Al Bustan Palace, A Ritz-Carlton Hotel, a 5-star hotel. The lounge is located in a 38-meter-high dome, and there is a huge chandelier hanging. When you walk in, you feel like you are visiting the sultan! Everything is just so pretty.
You can enjoy a delicious Afternoon Tea here. They serve a selection of sandwiches, mini desserts and, of course, scones. They also serve a variety of teas, which you can order as much as you like. Meanwhile, you can enjoy live piano music.
Afternoon Tea is served daily between 2 p.m. – 5 p.m. and costs about 30 euros per serving. One serving is enough for two people.
Please note: it is wise to make a reservation in advance, otherwise there is a big chance that there are no more etagères. In addition, they have a dress code. Men should wear long pants, a shirt and shoes or sandals. Women should wear a cocktail dress, long pants or skirt, a blouse and neat sandals.
Diving or snorkeling at the Daymaniyat Islands
The perfect spot for diving or snorkeling in Muscat is the Daymaniyat Islands. We did two dives ourselves and spotted one leopard shark, many turtles and a huge tuna, among other things. The islands also lend themselves perfectly for a snorkeling trip or dolphin spotting.
Between July and September is Whale Shark Season, so if you are very lucky you may even spot a whale shark here!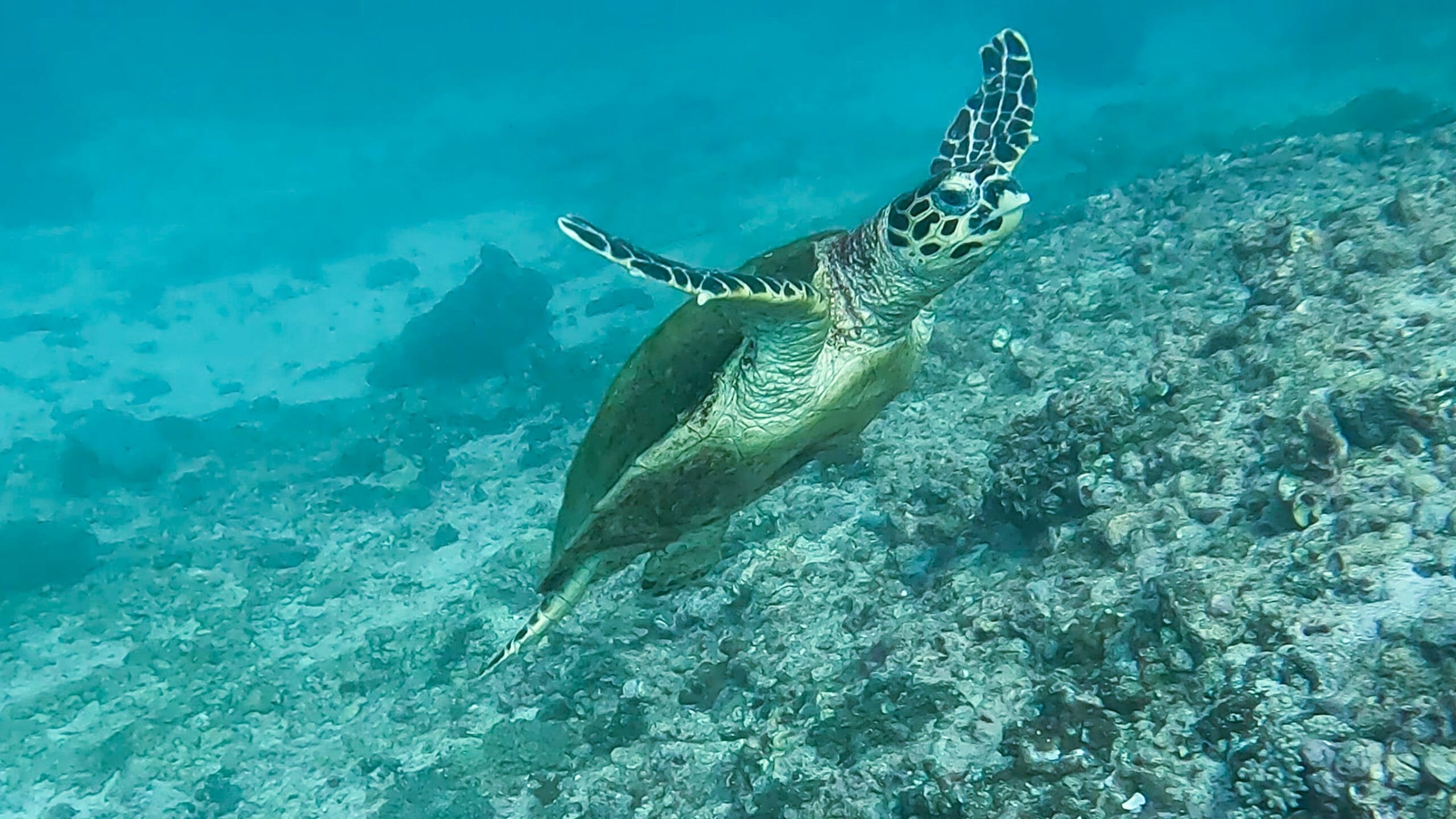 Shisha at Kalabash Lounge
Looking for a great place to enjoy an evening out? Then Kalabash Lounge is the place to be. This trendy restaurant is located on the top of a hill from where you have a great view of the city. The restaurant is slightly more expensive than other restaurants in Oman, but we found it totally worth it! The food is great, they serve amazing mocktails and you can order a shisha.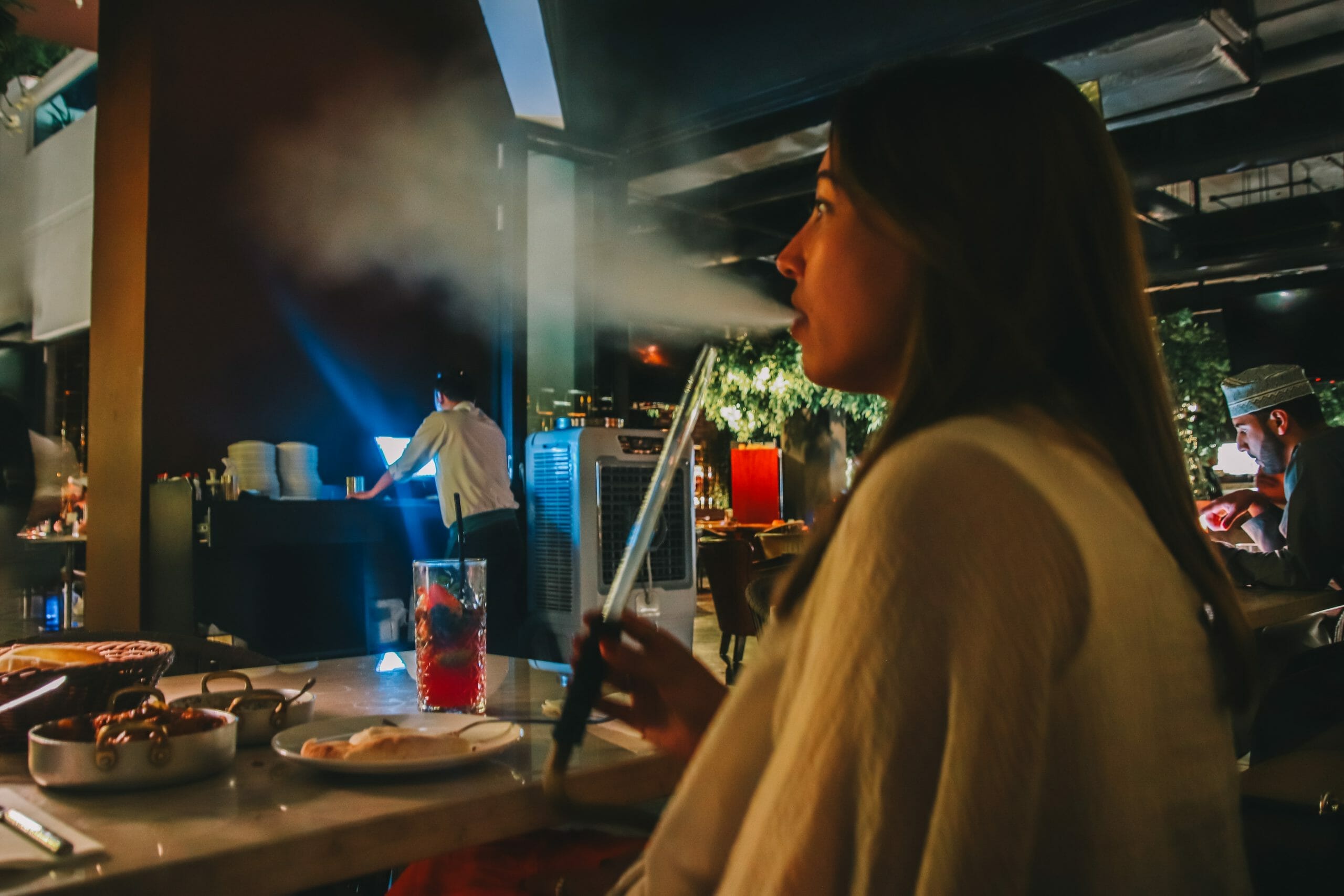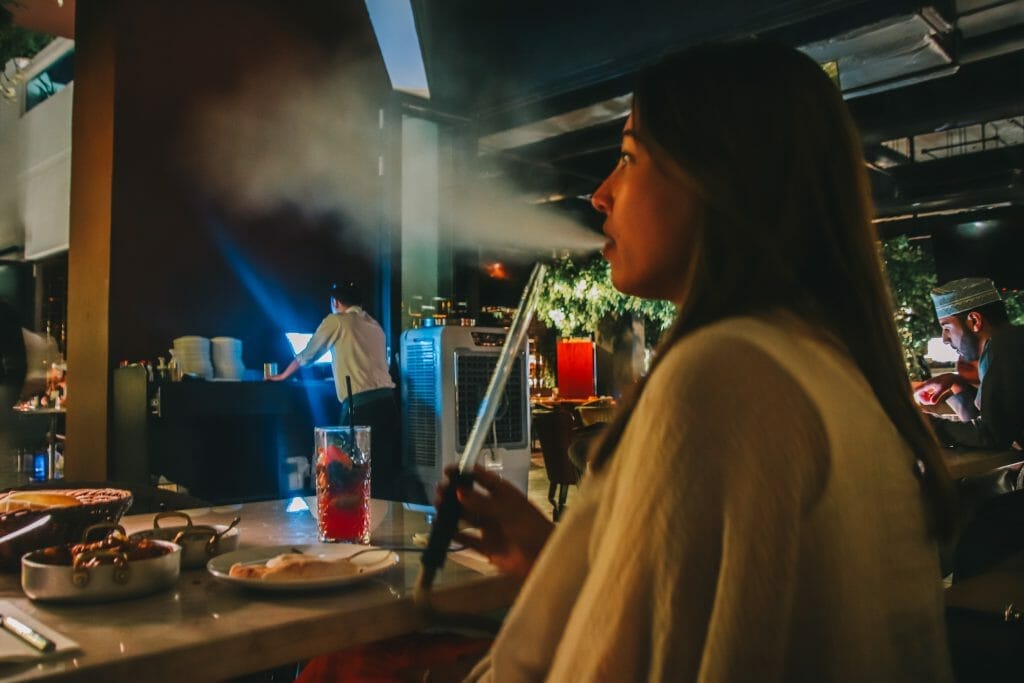 Visit Al Mouj district
Al Mouj is an luxurious community located near Muscat Airport. The purpose of this community is to bring together people and businesses of different cultures. You will find luxury apartments, a marina, diving schools and a golf course, among other things. It is also home to a variety of restaurants and cafes, where you can go for a bite to eat, drink or smoke shisha. Because all the buildings are very modern, Al Mouj has a very different vibe than the rest of the city.
Market in Al Mouj: Souq es sabt
Every Saturday there is a farmers' market held in Al Mouj. You will find several stalls where they sell fresh fruits, healthy dishes, as well as handicrafts.
The market is held from 08:30 am – 15:00 pm.
Things to do around Muscat
Do you have a little more time? Then you can also visit the below attractions near Muscat.
Bimmmah Sinkhole
About 1.5 hours drive from Muscat, you will find Bimmah Sinkhole, a crater filled with clear, blue water. You can visit Bimmah Sinkhole from Muscat or as a stopover on your route to Sur. More information about the ultimate itinerary for Oman in 9 days can be found here.
According to local legend, a meteorite struck this spot, creating the Bimmah Sinkhole. However, in reality, it was formed by a collapse of the surface layer due to dissolution of the underlying limestone.
Bring your swimwear, because if you want, you can take a lovely, refreshing dip here!
Wadi Shab
You can also visit Wadi Shab from Muscat, which is about a 1.5-hour drive from Muscat.
Wadi Shab is a beautiful canyon with a clear, turquoise river and a number of natural pools. You will also find a large cave with a waterfall flowing into it. Very cool!
A visit to Wadi Shab takes about 4 hours, since the hike to the natural pools is about 1.5 hours. Bring good shoes for the hike and water shoes for the water in the wadi. If you want to bring camera gear, make sure you have a waterproof bag. In some parts of the water it is very deep and you cannot stand.
Food & drinks in Muscat
In Muscat you can find numerous nice restaurants and cafes. Below are some of our favorites: