Sur is a city located in northeastern Oman, bordering the Gulf of Oman. It is an ancient port city, which was an important trade center in the 6th century. The city is not that popular among tourists yet, so chances are you won't run into any other tourists there. Still, it is a nice destination to visit with a number of historical and cultural attractions. In this article you will find information on where to stay and what activities not to miss.
Where to stay
We stayed one night at Arkan Al Barzah Hotel Apartment. A basic, but clean hotel with private parking. Because Sur is not that touristy yet, you won't actually find any fancy hotels and restaurants.
Things to do in Sur?
Visit the Dhow Factory
In the 6th century, Sur was an import trade center. From here, trade was conducted with countries in East Africa, but this soon expanded across the entire Arabian Sea. In order to trade, boats were needed. Therefore, so-called dhows were built in Sur. Dhows are traditional Arab sailing boats.
Although a lot fewer dhows are made today, the craft is still carried out in the Dhow Factory in Sur. Here, men work according to centuries-old traditional techniques to make dhows to order. Very unique to witness!
The Dhow Factory is located near the Khor Al Batah suspension bridge and is open daily from 7 AM – 5:30 PM. You can visit the factory for only 1 OMR per person.
Check out Fatah Al Khair at the Sur Maritime Museum
In Sur, they are very proud of their rich history. That's why they opened the Sur Maritime Museum in 1987. You will find dhows, pictures of sailors and shipbuilders and pottery, among other things.
Another object you can behold is the Fatah Al Khair, a wooden fishing ship built 70 years ago. It is said that the ship was made entirely by hand, without the use of nails. Instead they used hand-woven ropes.
The Maritime Museum is open from 8 AM – 2 PM and the entrance fee is OMR 3 per person.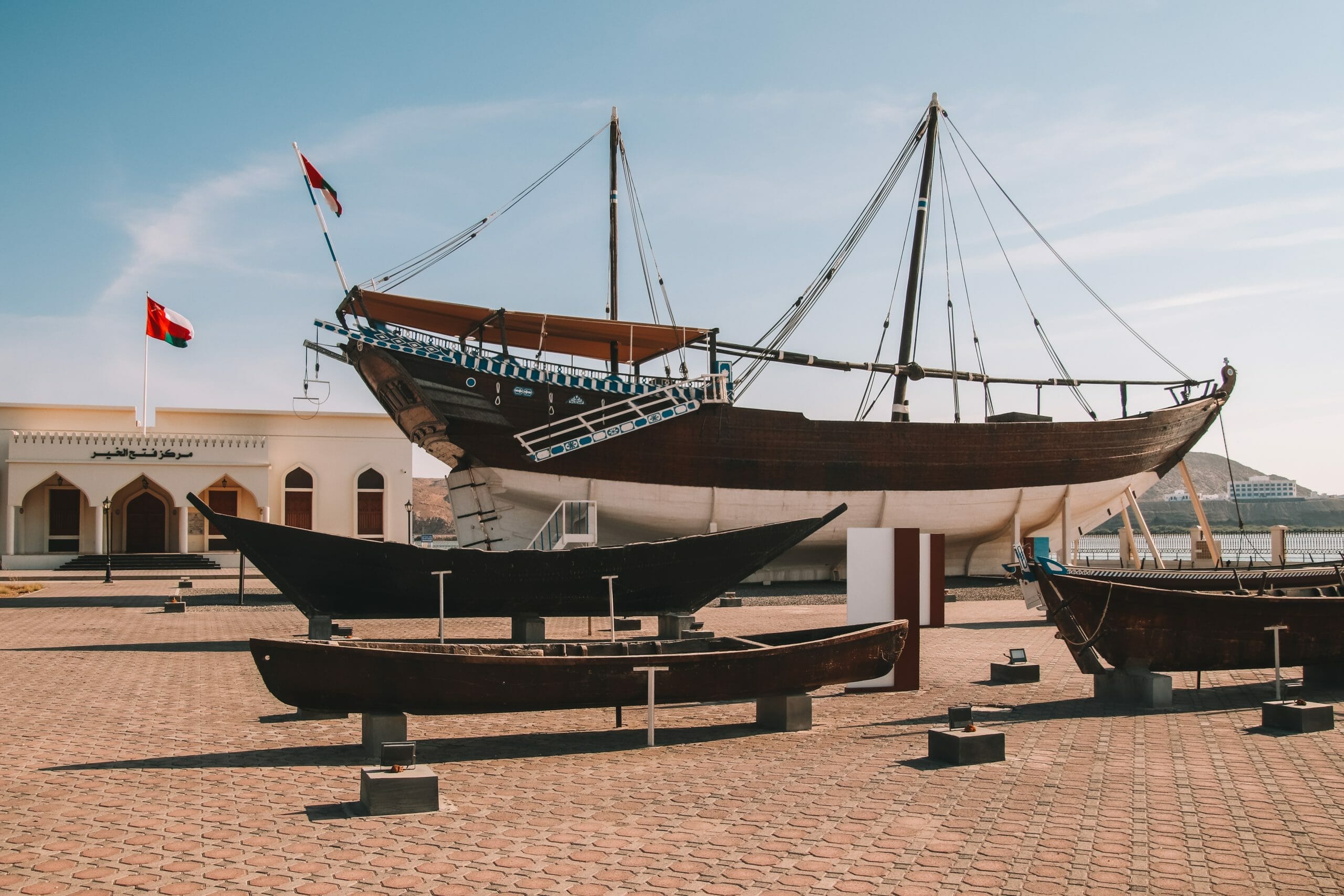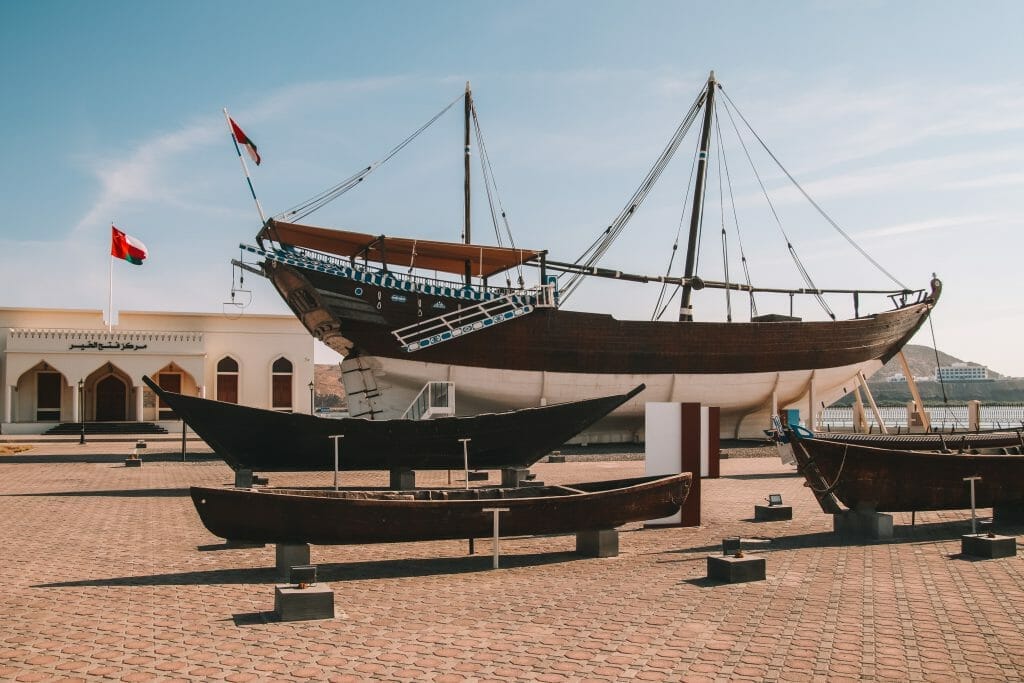 Visit Al Ayjah, the old neighborhood of Sur
Al Ayjah is the old district of Sur. Here you will find old buildings (mostly with traditional doors made by hand), Al Ayjah Fort and Al Ayjah Lighthouse, among others. Here and there you will also encounter goats roaming the streets.
Al Ayjah is a nice neighborhood to drive or walk through.
Visit Sur Lighthouse (Al Ayjah Lighthouse)
Sur Lighthouse, also called Al Ayjah Lighthouse, is located in the district of the same name, namely Al Ayjah. This picturesque lighthouse is 20 meters high and stands on Ras Ayqah, the highest point on the east side of the harbor square.
From Ayjah Lighthouse you look out over the Arabian Sea and the Gulf of Oman.
Al Ayjah Fort
As we strolled through the Al Ayjah neighborhood, we ended up at Al Ayjah Fort. You can visit this ancient fort through an old, brown, small door on the side of the building. Al Ayjah fort is a smaller and quieter version of Nizwa Fort in Nizwa. Very nice to look around and take some pictures.
The entrance fee for this fort is 0.5 OMR per person.

Stroll along Sur Corniche and Sur Beach
Sur Corninche is a promenade of nearly 6.5 kilometers that runs along the Gulf of Oman. From the promenade, you have a great view of the Al Ayjah skyline, the dhows located there, watchtowers and Sur lighthouse.
The Corninche runs along Sur Beach, which is a popular spot for locals especially on weekends (on Fridays and Saturdays).
Food & drinks in Sur
Shisha at Sahari Restaurant
Sur is not that touristy yet and therefore has not any trendy restaurants. Despite that, we had a nice evening at Sahari Restaurant. They serve delicious food there – especially the mix of apetizers is highly recommended – and you can enjoy a shisha. The restaurant has a nice terrace overlooking the water.