Nizwa is one of Oman's oldest cities and used to be the center for trade, religion, education and art. This was mainly due to the town's strategic location, near date palms and at the intersection of a number of roads between the inland and coastal cities of Muscat and Dhofar. Nizwa is one of the most popular destinations in Oman, thanks to its rich history, cultural heritage and its traditional goat market at the Nizwa Souq. In this article you will find information about how to get there, where to stay and on the sights and activities in and around Nizwa that you should not miss!
How to get to Nizwa?
Nizwa is about a 2-hour drive from Muscat. Since there is limited public transportation in Oman, it is recommended to travel by car. If you have a rental car, then it's quiet easy to drive there yourself as the road from Muscat to Nizwa is in excellent condition. Don't you have a rental car? Then you can consider taking a taxi or joining an organized tour from Muscat.
Where to stay?
We stayed two nights at Bait Alharah, a stunning accommodation located in the heart of Nizwa's old center. From their roof terrace you look out over Nizwa fort, which is incredibly beautiful!
Other popular accommodations in the old town are Nizwa Heritage Inn and Antique Inn.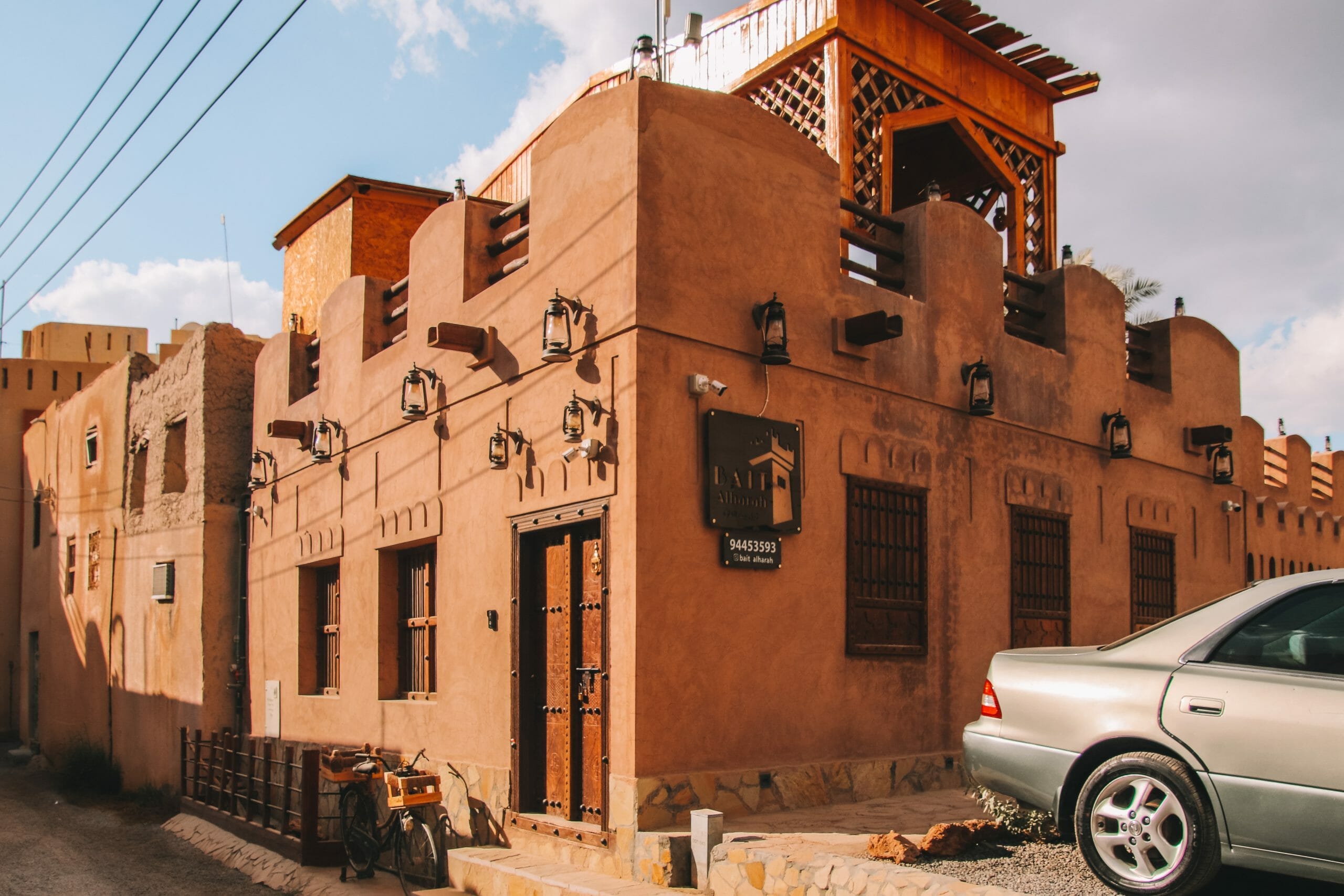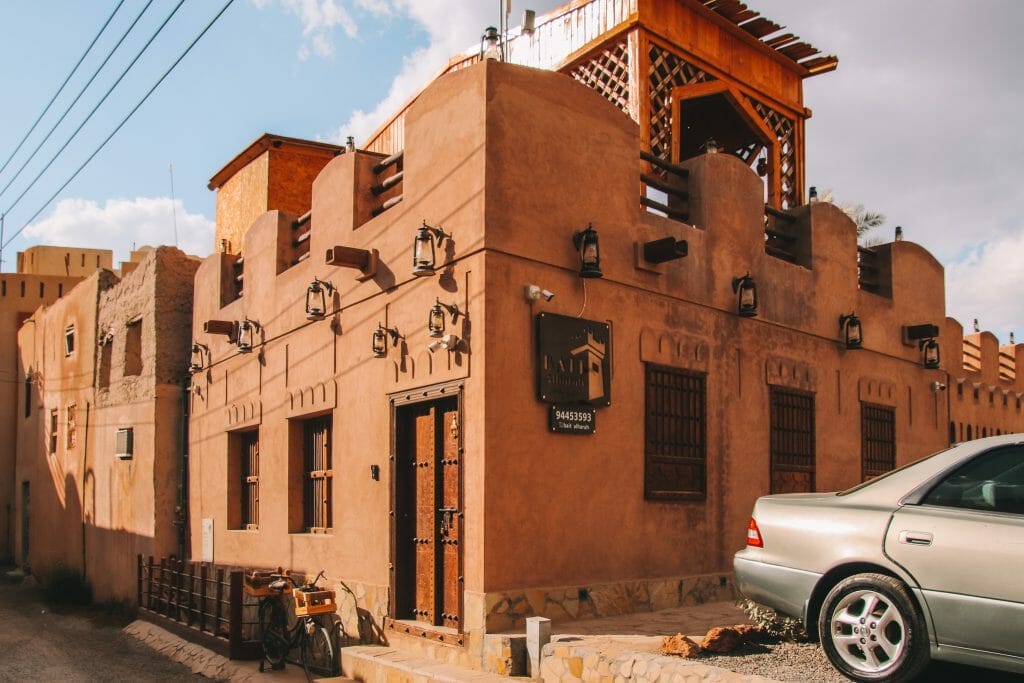 Things to do in Nizwa?
Nizwa Fort & Nizwa Castle
One of the main attractions of Nizwa are Nizwa Fort and Nizwa Castle, both situated within the same premises.
Nizwa Fort, dating back to the 17th century, has a height of 34 meters and spans 45 meters in width.  The construction of this fort took approximately 12 years. Primarily built as a defensive structure, it showcases various traps and cannon holes.
Nizwa Castle is a beautiful structure that was constructed on the instructions of Imam Salt bin Malik Al Kharusi. You can visit all kinds of rooms, including living quarters, rooms for guests of the Imam, a library, a military room and coffee making rooms.
During our visit to Nizwa Fort and Nizwa Castle the entrance fee was 5 OMR per person. This fee covers the option to join a group tour led by a guide, who provides detailed information about both structures and all the rooms within the castle. However, if you prefer to explore the grounds independently, you are free to do so as well!
The opening hours of Nizwa Fort and Nizwa Castle can be found on this website.
Nizwa Souq
The Nizwa Souq is renowned for its traditional products. There are several markets. These include the fruit and vegetable market, the fish market, and the popular goat market.
Nizwa Souq operates daily from 8:00 am to 1:00 pm and from 4:00 pm to 10:00 pm. If you plan to visit the fresh markets, such as the fish, fruit, and vegetable markets, it's advisable to arrive before sunrise. During this time, the streets and markets are bustling with Omanis dressed in traditional white robes, engaging in lively haggling over a diverse range of products.
In addition to the fresh markets, the Nizwa Souq offers a variety of other treasures, including spices, silverware, and pottery. It serves as an ideal destination to acquire unique souvenirs while immersing yourself in the local culture.
Goat market of Nizwa
If you're interested  in visiting the world-famous goat market, be sure that you are in Nizwa on a Friday, as this is the only day it takes place.
The doors of the goat market open at 6 am, welcoming a wide range of livestock, especially goats and cattle. The market officially starts at 7 am, signaling the start of enthusiastic bargaining between buyers and sellers.
A very special experience!
Jibreen Castle and Bahla Castle
A half-hour drive from Nizwa you will find Jibreen Castle and Bahla Fort, two massive 'castles'.
Jibreen Castle, constructed in 1675, not only functioned as a residence, but also served as a significant center for learning astrology, medicine, and Islamic law.
Bahla Fort, a formidable defensive structure, holds the distinction of being the largest fort in the country. It has been recognized as a UNESCO World Heritage site since 1987.
The entrance fee for both Jibreen Castle and Bahla Fort is 0.5 OMR per person.
Birkat Al Mouz ruins and the Tanuf ruins
From Nizwa, you have the oppurtunity to visit the Birkat Al Mouz ruins and the Tanuf ruins, both remnants of villages abandoned during the Jabal Akhdar wars in the 1950s.
In Birkat Al Mouz is built on a hill. You can stroll all the way up the hill, explore the houses inside and enjoy the beautiful view. At the entrance you will find the charming boutique hotel Bait AlSabah Heritage Inn & Cafe, where you can indulge in a delightful iced coffee or juice while enjoying the view from their rooftop terrace.
The Tanuf ruins are smaller, more weathered and located on flatter terrain. It is less crowded here, though. Chances are you'll be walking around here all by yourself.
Both Birkat Al Mouz and the Tanuf ruins are free to visit and are about a 20-minute drive from Nizwa.
Camel Race Track Mayden Al Bashair
If you have additional time, you can embark on a short 30-minute drive from Nizwa to reach the Camel Race Track, known as Maydan Al Bashair. While our visit coincided with a period when camel races were not taking place, we were fortunate to witness training sessions. It was a captivating experience to observe the camels in action, completely free of charge!