Oman is a sultanate located in the southeastern part of the Arabian Peninsula. The country borders the United Arab Emirates, Saudi Arabia and Yemen. Oman is a diverse country and has a rich history. Its people are super friendly and you will find ancient forts, deserts, mountains, wadis and so much more. In this article you will find the ultimate itinerary for Oman in 9 days and information about the sights you should definitely not miss.
We visited the following cities, areas and sights:
Short stop at: Bimmah Sinkhole en Wadi Shab
Short stop at: Wadi Bani Khalid
Ras al Jinz
Wahiba Sands woestijn
Short stop at:  Birkat Al Mouz en Tanuf Ruïnes
Jebel Shams
Short stop at: Jibreen Castle en Bahla Castle
Nizwa
Tip: Do you have more than 9 days? Then you could add the southern coastal city of Salalah, Rustaq, the Musandam Peninsula and mountain Jebel Akhdar to your itinerary!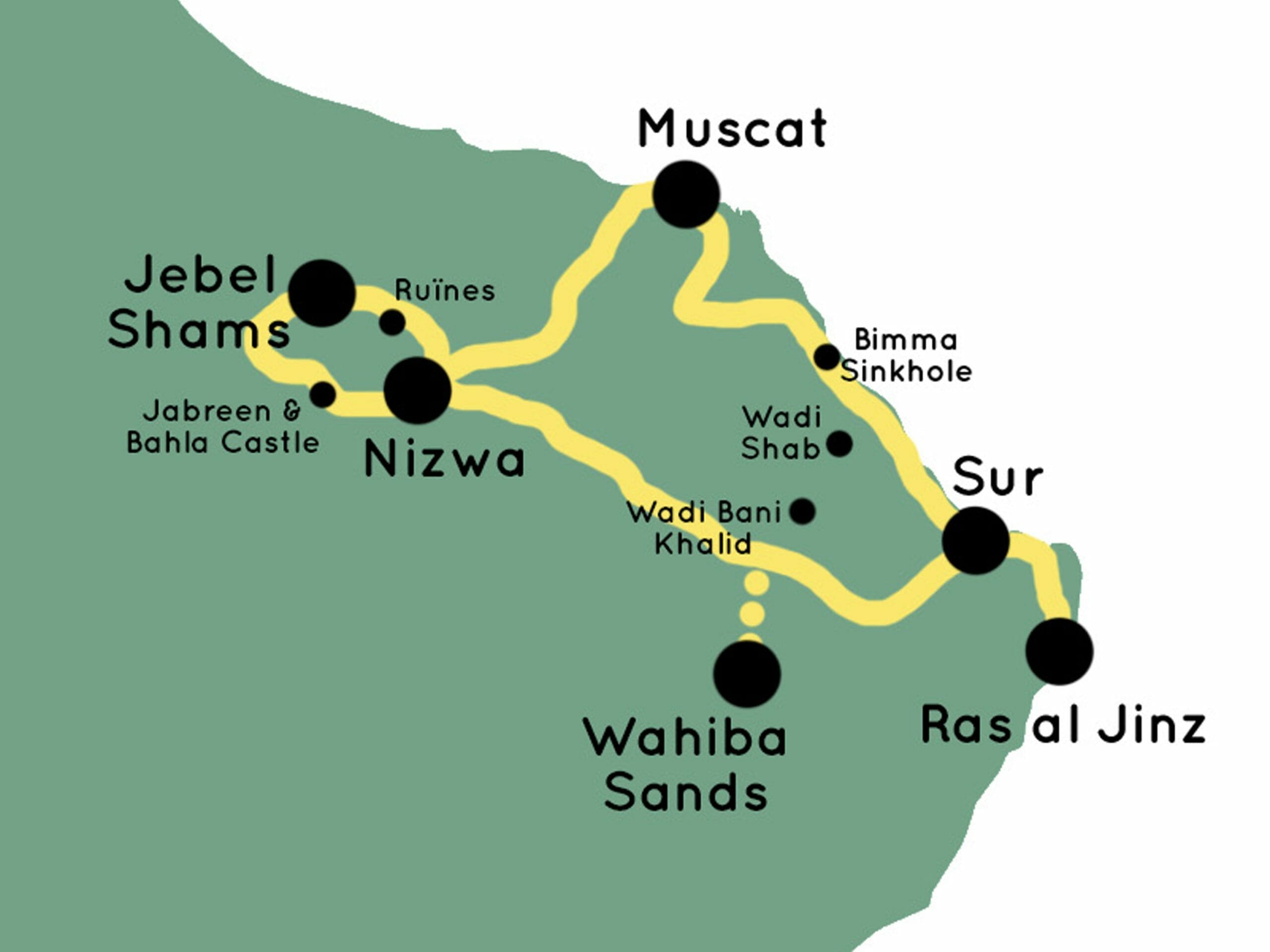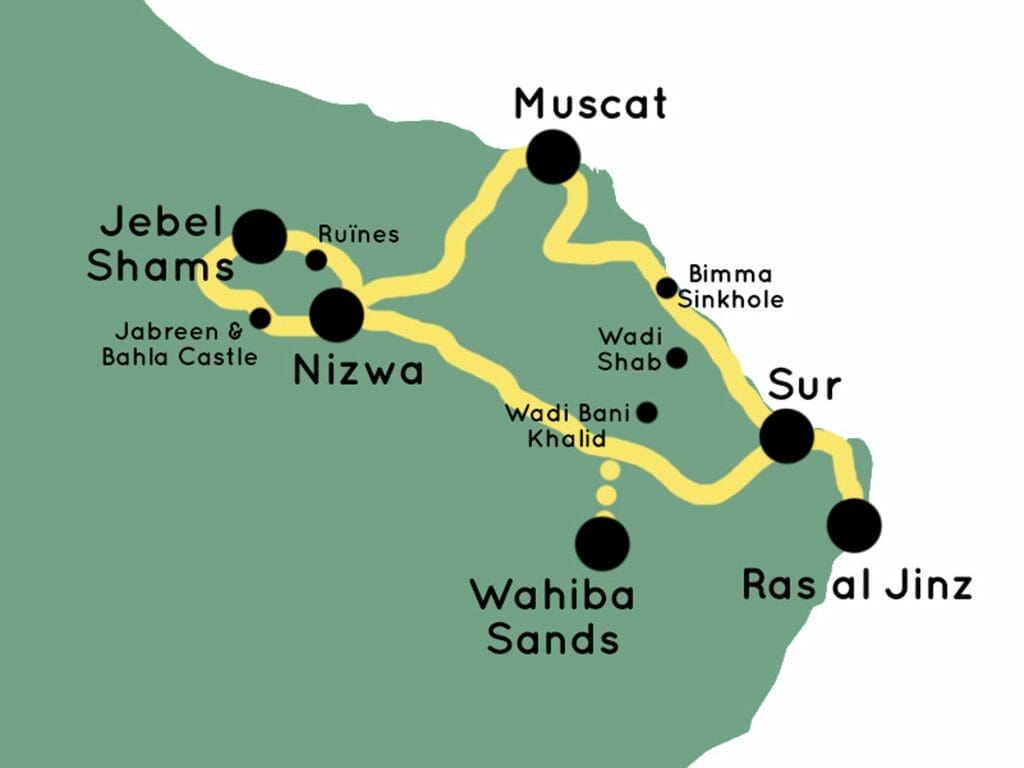 Visa for Oman
As Dutch citizens, we did not have to apply for a visa in advance, because we stayed in Oman less than 14 days. Do you want to know if you need to apply for a visa? Then take a look at the official website.
Rent a car in Oman
Oman is known as a very safe country with good roads. This makes it the perfect destination for a road trip with a rental car. If you want to explore Oman, I recommend renting a car and drive around, instead of just staying in Muscat.
4×4 or a 'regular' car?
We ourselves rented a 'regular' car, so no 4×4. We paid about 350 euros for a rental car, including all-risk insurance, for 9 days.
In general, you can get around Oman fine with a 'regular' car. However, if you want to visit Jebel Akhdar (in the mountains) or drive yourself to a camp in the desert, you will need a 4×4. For both, you can also arrange a pick-up, which is cheaper than renting a 4×4 for the whole trip.
Gasoline prices
Gasoline in Oman – especially compared to gasoline in Western countries – is ridiculously cheap. We paid about 60 euro cents for 1 liter of Euro 95. In total we drove about 1,500 kilometers and that cost us less than 100 euros.
Parking
You can park easily and almost anywhere in Oman. Also, parking – even in Muscat – is free almost everywhere.

Muscat (2 or 3 days)
Muscat, also known as Masqat, is the capital and largest city of Oman. Here you will find the country's international airport. We flew from Amsterdam to Muscat, with a stopover in Istanbul, for about 420 euros per person. Unlike Dubai and Abu Dhabi, in Muscat you will find mostly low-rise buildings and all the buildings have a white or cream color. This, combined with the mountains surrounding the city, makes for fantastic views.
Things to do in Muscat
Muscat was the starting and ending point of our trip. There are plenty of things to see and to do here. The most popular attraction in Muscat is without doubt the Sultan Qaboos Grand Mosque, the largest mosque in Oman. In addition, visit the Al Alam Palace, one of the six royal residences of the Sultan, walk along the Mutrah Corniche to the Mutrah Souk and the Mutrah Fish Market, behold the Royal Opera House, watch the sunset from one of the many viewpoints and enjoy a high-tea in the Atrium Lounge of Al Bustan Palace, A Ritz-Carlton Hotel.
Diving or snorkeling at the Daymaniyat Islands
Do you enjoy diving and/or snorkeling? The perfect spot for this is the Daymaniyat Islands. We did two dives ourselves and spotted one leopard shark, many turtles and huge tuna, among others. The islands also lend themselves perfectly for a snorkeling trip or dolphin spotting.
Between July and September it is Whale Shark Season, so if you are very lucky you may even spot a whale shark here!
Where to stay
We stayed for three nights at the Ramada Encore by Wyndham Muscat Al-Ghubra hotel. A fine hotel, with great beds and private parking.
Stopover: Bimmah Sinkhole and Wadi Shab
From Muscat, you will drive to the next destination Sur in about 2 hours and 15 minutes. Along the way, you can stop at Bimmah Sinkhole, a crater filled with clear, blue water, take a beach walk on Fins or Tiwi Beach, beautiful beaches located on the Arabian Gulf, and cool off at Wadi Shab, a beautiful canyon with a clear, turquoise river. Visiting the wadi requires about 4 hours.
Sur (2 days)
Sur is an ancient, coastal town that was an important trading center for Oman in the 6th century. Sur is not that popular among tourists (yet), so chances are you won't meet any other travelers.
Things to do in Sur?
A fun place to visit is the Dhow Factory. Here, traditional Arab sailing boats (so-called dhows) are made by hand according to ancient techniques. Very impressive to see! In addition, a visit to the Sur Lighthouse and Al Ayjah Castle should not be missed. On weekends (Friday and Saturday), Sur Beach is a popular spot for locals. Want to enjoy a beautiful sunset? Then climb the hill into one of the observation towers in the old city.
Where to stay
We stayed one night at Arkan Al Barzah Hotel Apartment. A basic but clean hotel with private parking. Because Sur is not that touristy yet, there are not many fancy hotels and restaurants.
Ras Al Jinz (1 day)
From Sur you'll drive about 45 minutes to Ras al Jinz, an important nesting site for green sea turtles. Every year thousands of turtles come from the Red Sea and the Arabian Gulf to the beach at Ras Al Jinz to lay their eggs. At the Ras Al Jinz Turtle Reserve, you can witness this unique phenomenon, in the evening and/or morning accompanied by a guide, for a fee.
Disclaimer: although it is a tourist spectacle – about which opinions vary widely – our experience is that the guides try very hard to protect the turtles and keep people at bay. If they were not there, the turtles would probably have been greatly disturbed by all the tourists.

Note: The high season in Ras al Jinz runs from May to September. During this period, thousands of turtles come to the beach. Do you, like us, travel in the low season? Then keep in mind that you won't always spot them. Ask in advance when the chance is greatest, in the morning or in the evening. Fortunately, we did see some turtles!
Where to stay
We stayed one night at Turtle Guest House, an affordable but good accommodation one kilometer from the Ras Al Jinz Turtle Reserve. If you have a slightly bigger budget, you can also choose to stay at the Ras Al Jinz Turtle Reserve's associated hotel.
Stopover: Wadi Bani Khalid and Muqal Cave
Just over an hour's drive from Sur, you'll find Wadi Bani Khalid. This is, next to Wadi Shab, one of the most popular wadis in Oman. It is also a popular hot spot for locals. You can cool off in the clear water, which is surrounded by beautiful rock formations. You can reach the first swimming water after only a 10-minute walk from the parking lot.
Please note that because Wadi Bani Khalid is also a popular spot for locals and many families come here, you should wear covered swimwear. Also while swimming. For example, wear a surf shirt and shorts over your bikini.
Muqal Cave
Another attraction on the grounds of Wadi Bani Khalid is the Muqal Cave. From the parking lot, it is approximately a 30 minute walk to the cave.
You can enter Muqal Cave, but keep in mind that it is pitch black! Bring a flashlight or a phone with flashlight. Also, there are narrow and low sections, so you really have to crawl in certain parts.
Personally, I did not find the cave itself very special. It was dark andhumid and inside there was not much to see, except for a few bats. It was a thrilling experience though!
Sharqiya Sands (Wahiba Sands) desert (1 day)
The next destination is the Sharqiya Sands desert, formerly known as the Wahiba Sands desert. It has an area of 12,500 square kilometers and you will find beautiful, orange sand dunes here.
Have you always wanted to spend the night in the desert? Then this is your chance! There are multiple desert camps where you can spend the night in a tent in the middle of nowhere. This really is a fantastic experience. Various activities are offered by the camps, such as dune bashing, camel riding and sandboarding. In the evening, you can enjoy a beautiful sunset in the dunes followed by a delicious dinner.
We ourselves stayed one night at the Sands Dream Tourism Camp, a small camp about a 20-minute drive from Al Wasil, the village on the edge of the desert. We parked our car at a gas station in Al Wasil, after which Sands Dream staff picked us up in a 4×4 and took us to the camp.
Please note: The camps located in the desert are usually only accessible by a 4×4. However, it is also possible to be picked up for a fee. We paid about 70 euros for a return pickup in combination with dune bashing.
Stopover: Birkat Al Mouz ruins and Tanuf ruins
After spending the night in the desert, you will drive to your next destination: Jebel Shams. On the way, you can make a short stop at the Birkat Al Mouz ruins and the Tanuf ruins. These are both remnants of villages abandoned during the Jabal Akhdar wars in the 1950s.
In Birkat Al Mouz, the houses are build on a mountain. You can walk all the way up, see the ruins from the inside and enjoy the beautiful view. The Tanuf ruins are smaller and located on a flatter area, but chances are you'll be walking around here all by yourself.
Do you have a little more time? Then you can visit Bat Necropolis and Ibri Castle in and around Ibri. Do you like caves? Then you can visit the Al-Hootah Cave. This two-million-year-old cave, with a length of 4.5 kilometers and in which even an electric train runs, can be called huge. However, because we heard less positive stories, we ourself did not visit the cave.

Jebel Shams
Jebel Shams is, with a height of 3,000 meters, the highest mountain of the Hadji Mountains in northwestern Oman. Here you will also find Wadi Ghul, which is also called the Grand Canyon of Oman, a 500-meter-deep canyon.
When driving from Nizwa to Jebel Shams, you can choose to make a stopover in Misfat Al Abryeen, a more than 400 years old town built against a mountainside, and to stop at the viewpoint over Valley Necrosis.
Balcony Walk
Do you enjoy hiking? Then hiking the Balcony Walk is a must-do. This is a hike of about 4 kilometers that leads you, along the edge of Wadi Ghul, to an abandoned village at the end of the trail. From the end you walk the same way back to the beginning. The hike takes about 3 to 4 hours. This is including time to take some pictures en to relax a bit at the end of the trail.
It is written on some blogs that a waterfall and a pool can also be found at the end of the trail. Unfortunately, when we hiked the Balcony Walk, it had been dry for a long time and there were none.
Tip: Leave during sunrise. You can then not only enjoy a beautiful sunrise, but literally walk with your head in the clouds. On the way back, you can enjoy the beautiful views of the canyon. It is also less hot around this time of day.
Where to stay
The accommodations near the Balcony Walk are not particularly fantastic and relatively expensive by Omani standards. We stayed one night at Jabel Shams Stars House, a small accommodation with basic rooms. The location is very good though, since it's only a few minutes drive to the start of the Balcony Walk. Do you have a bigger budget? Then you could opt for the much more luxurious Sama Heights Resort.
Stopover: Jibreen Castle and Bahla Castle
From Jebel Shams you will drive to Nizwa. On the way you can make a stop at Jibreen Castle and Bahla Fort. These are two "castles" located about a half-hour drive from Nizwa.
Jibreen Castle dates back to 1675 and served as a residence, but was also an important learning center for astrology, medicine and Islamic law. Bahla Fort was a defensive structure and is still the largest fort in the country. It has also been on the UNESCO World Heritage List since 1987.
The entrance fee for both Jibreen Castle and Bahla Fort is 0.5 OMR per person.
Nizwa
Nizwa is one of Oman's oldest cities and used to be the center for trade, religion, education and art. This was mainly due to the town's strategic location, near date palms and at the intersection of a number of roads between the inland and the coastal cities of Muscat and Dhofar.
Things to do in Nizwa
Sights in Nizwa that should not be missed are Nizwa Fort and Nizwa Souk. In the souk you will find several markets, such as the fruit and vegetable market, the fish market and the popular goat market. The latter takes place every Friday. From 6:00 in the morning everyone starts gathering on the square in the goat souq and around 7:00 the market starts.
Do you have a little more time? Then you can also drive to the Camel Race Track Maydan Al Bashair. We really wanted to visit a camel race, but unfortunately they were not held when we were there. Fortunately, there was a lot of training going on and we could watch it for free!
Where to stay?
We stayed two nights in Bait Alharah, a beautiful accommodation in the old center of Nizwa. From the rooftop terrace you overlook Nizwa fortress. Other popular accommodations include Nizwa Heritage Inn and Antique Inn.