Andalucia is dotted with a number of beautiful villages and towns. Seville is the ideal base for a road trip in this area. Would you like to visit other places in Andalucia in addition to your visit to Seville? Rent a car and visit the cities nearby! The cities of Ronda, Córdoba, Cadiz, Granada, Juarez de la Frontera, Malaga, Marbella and Gibraltar are just a three-hour drive from Seville.
In this article you will find the ultimate Andalucia road trip for four days. Do you have more time? You can also visit the other cities mentioned above!
From Seville Airport to Córdoba
We rented a car at the airport of Seville and decided to drive directly to Córdoba. This is a 133 km journey that takes about 1.5 hours. The roads are fine and at the time of driving, it was very quiet! That's why we were able to get a head's start. We spent about 1,5 day in Córdoba, which is sufficient to see the main attractions.
We stayed one night in Córdoba in the Laprin Apartment. This apartment is about 15 minutes' walk from the Mezquita.
Córdoba has some nice attractions, like the Mezquita, Alcázar de los Reyes Cristianos, Palacio de Viana, the Puente Romano and the Torre Calahorra. In 1984, the historic center of Córdoba was declared a World Heritage Site by UNESCO. This colorful town is definitely worth a visit! As Córdoba doesn't have its own airport, it is a lot less crowded compared to Seville. Something I personally really liked!
Parking in Córdoba
Parking in Córdoba can be a challenge. You can park at the street side (often for free), but finding a spot can sometimes be difficult. You can't do much else but drive around in circles and hope that a spot (near your accommodation) becomes available!
From Córdoba via Ronda to Seville
From Córdoba we drove on to the second stop of this road trip through Andalucia, Ronda. This drive takes about 2 hours and 15 minutes. The main reason we wanted to visit this city, is because of the beautiful Puente Nuevo bridge! Ronda is split in two by the river Guadalevín, which has cut a deep gorge. This gorge is also called Tajo de Ronda. The Puente Nuevo has a height of almost 100 meter and is one of the three bridges connecting the city.
Ronda also has a bullring that you can visit, a viewpoint and a cozy city center with shops and restaurants! An afternoon (or a few hours) in Ronda is enough to see all the highlights.
Parking in Ronda
Parking in Ronda can be a hassle, because you can only park for free on the outskirts of town. We chose to park our car in a parking garage underneath the city center, in Parking Plaza Del Socorro. This is a covered and secured parking, less than two minutes' walk from the bullfighting arena and five minutes' walk from the Puente Nuevo.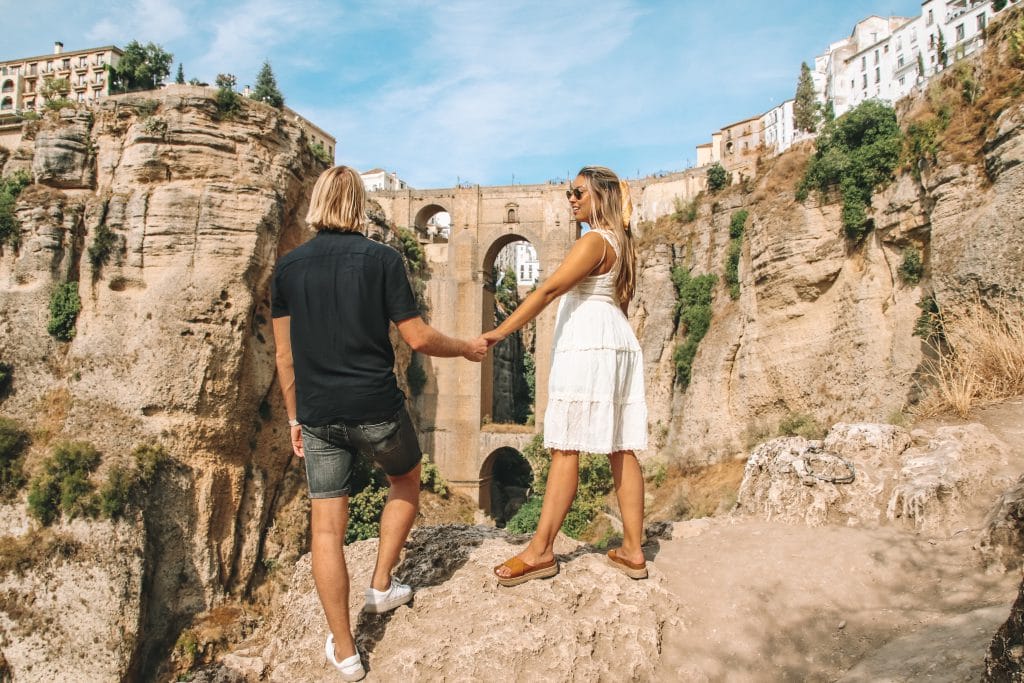 From Ronda to Seville
From Ronda we drove in 1 hour and 50 minutes to the last stop of this road trip through Andalucia, Seville. We stayed here for two nights and had about 2.5 days to visit this city. I would advise to add another day if you want to see the city in a more relaxed pace. Seville is very beautiful and there is a lot to see. As the city is also a lot busier than Córdoba, you sometimes have to deal with queues.
We stayed two nights in the Hostal Seville Santa Justa in Seville. An accommodation about 15 minutes' walk from the cathedral of Seville.
Some places of interest in Seville are the Real Alcázar, Plaza de Toros, the Cathedral of Seville, Metropol Parasol, Casa de Pilatos, Plaza de España, Torre del Oro, the districts Santa Cruz and Triana and the Guadalquivir River. Seville is the perfect destination for extensive shopping and enjoying traditional tapas and sangria!
Tip: Would you like more information about the sights and activities you can do in Seville? Discover more!
Parking in Seville
Just like in Córdoba, you can park for free on the street in Seville, provided there's a spot available. The further away you are from the center, the easier it is to find a parking space!