Are you going on a trip to Jordan soon? You must have lots of questions! How much budget do I need, do I need vaccinations, do I have to apply for a visa, can I drive safely and much more. In this article you will find travel information for Jordan, which will help you prepare for your holiday to this enchanting country.
Tip: Check out our Israël and Jordan aftermovie
Travel budget – Prices and costs in Jordan
For a trip through Jordan you have to expect a budget of € 80,- to € 100,- per person per day, depending on the desired luxury of the accommodations and restaurants. These amounts do not include the cost of plane tickets but they include the cost of a rental car. With this budget you don't have to save on food and drinks, activities, attractions and accommodations. The most expensive is probably your visit to Petra or the purchase of a Jordan Pass. We have paid € 62,50 (50 JOD) or € 90,- (70 JOD) per person. The other activities, but also food, drinks and accommodation, are very affordable. Do you mainly travel by public transport, sleep in hostels, eat locally and don't go out to eat several times a day? Then maybe you can make ends meet with € 60,- per person per day.
Jordanian dinar
The currency of Jordan is the Jordanian dinar (JOD) and 1 dinar is 1000 fils (cents). There are banknotes of 1, 5, 10, 20 and 50 dinars. The coins used for payment are 5 fil (½ piaster), 10 fil (1 piaster), 25 fil (2½ piaster), 50 fil (5 piaster), 100 fil (10 piaster) and ¼, ½ and 1 dinar.
At the time of writing, you will get about 0.84 JOD for 1 euro. Reverse that means that 1 JOD is about € 1.20.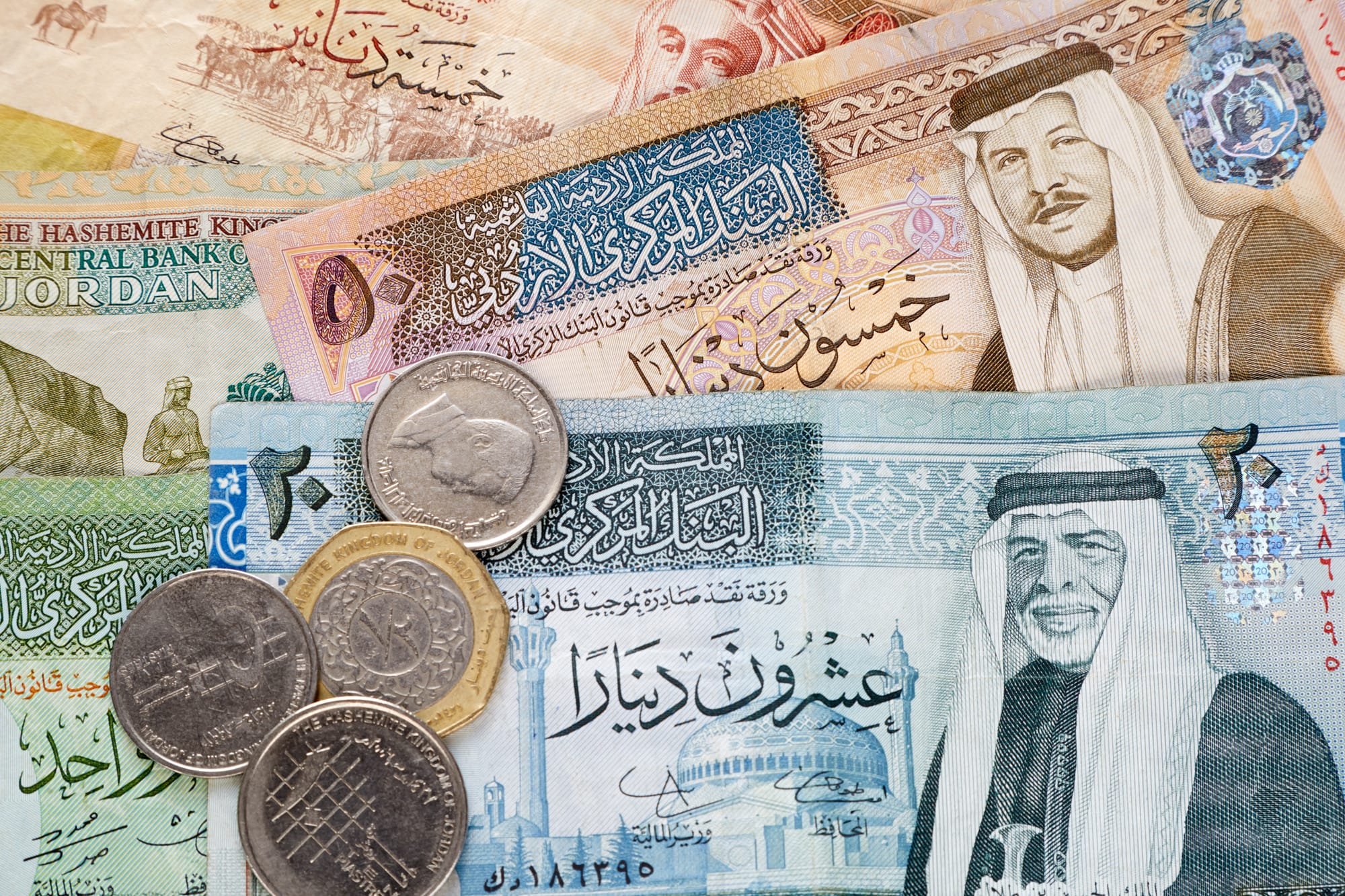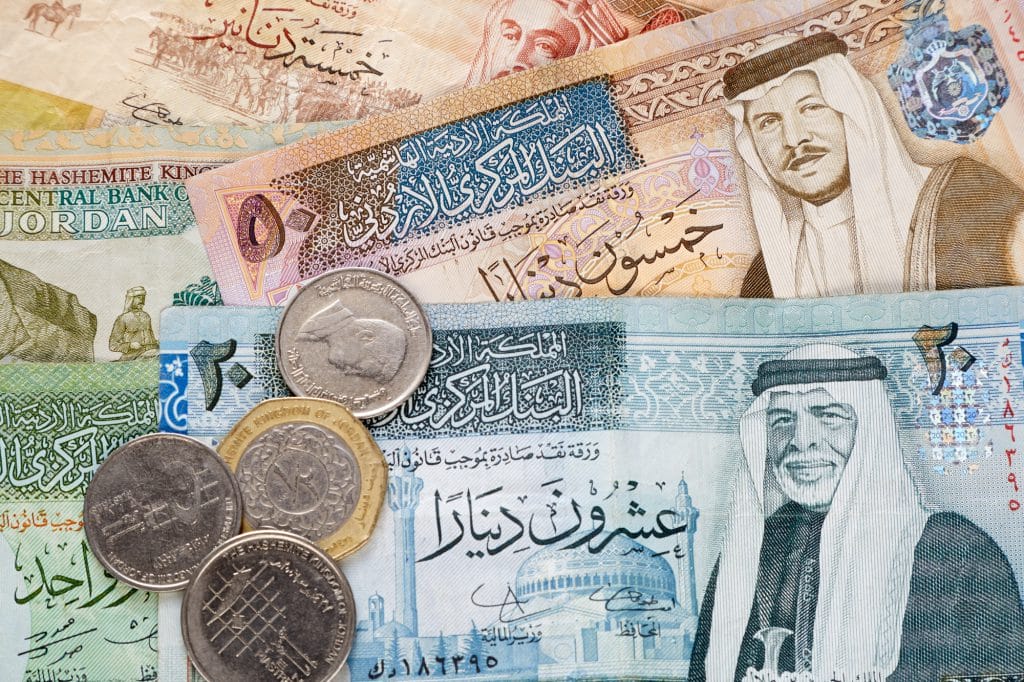 Passport and visa
You need a passport to travel to Jordan. On arrival, your passport must be valid for at least six months and must have at least two empty visa pages facing each other for customs to stamp.
The validity of the visa depends on the number of times you want to enter the country. The Single-Entry Tourist Visa is valid for 2 months, the Double Entry Visa is valid for 3 months and the Multiple Entry Visa is valid for 6 months. A tourist visa is available upon arrival and costs about € 50,- (40 JOD). Do you cross the border from Israel? Then you don't have to pay any costs for the visa.
It is also possible to purchase a Jordan Pass. Will you stay in Jordan for at least three days? Then the visa is included in the price of the Jordan Pass. Here you will find more information about the Jordan Pass.
Jordan vaccinations
Currently, vaccinations are not mandatory. However, vaccinations are recommended, namely DTP (Diphtheria, Tetanus and Polio) and Hepatitis A (Infectious jaundice).
Note: Keep up to date with the latest developments and always check your Government Department of Health before you travel to Jordan.
Renting a car and driving in Jordan
Driving by car is the perfect way to explore Jordan. Would you like to rent a car? You will need an international driver's license. We bought our international driver's license (IRB) at an ANWB shop (a Dutch Tourist Association).
We rented our car from Europcar. To be able to rent a car, you need to have a driving license which is valid for at least one year. You can rent a car at city offices if you are 19 years old, at airport offices you have to be at least 21 years old and for a certain large car rental category you have to be at least 25 years old.
Our rental car cost € 276,- for 6 days. This is about € 45,- per day. The costs were a bit higher for us, because we picked up the car in Aqaba and dropped it off at the airport in Amman. We had to paid a "one-way fee".
Always take a good look at the conditions before booking a car. Usually you can find the conditions on the website of the car rental company.
Mobile internet and a SIM card in Jordan
They have a 3G network and a limited 4G network in Jordan. Most hotels and restaurants have Wi-Fi which you can use (for free). However, this connection is not always good. Don't want to depend on this? You can buy a SIM card at a telecom shop.
The largest provider in Jordan is Zain, a provider from Kuwait. Zain has the best and fastest coverage in the whole country and offers different data packages. We paid 13,5 JOD for 25 GB. We used both of these (by switching on the personal hotspot) and this was sufficient data for 6 days.
Note: In the Wadi Rum desert we had no reception at all!

Jordan Power plugs & Travel adapter
In Jordan both the European round two and three pin plugs are used as well as the British square three pin plugs. What kind of socket you find where, is always a surprise. So just to be on the safe side, bring a world plug or an adapter plug of type D, G or J with you.
Best time to visit Jordan
The best period to visit Jordan is spring and autumn (March to May or October to November). If you travel to this country during one of these periods, you will avoid the hot summers, but the cold winters as well. Temperatures in spring and autumn are between 20°C and 30°C. Believe me, 6 hours of walking in the full sun with 38°C is no fun at all! More information about the best travel time for Jordan? Read more here!
Dress code Jordan
The majority of Jordan's population is Muslim. Although Amman is a modern city, you can see that almost everyone (especially women) is wearing covering clothes. This is not only in Amman, but in fact throughout Jordan. Places like Petra and Wadi Rum, touristic hotspots, are more tolerant. However, I advise you to take into account the norms and values of the country and to put on as much opaque, loose clothing as possible. This means:
No translucent clothing;
No (whole) shorts or skirts for women, men can wear shorts;
No tops. T-shirts are accepted if the shoulders are covered;
Not (too) tight clothing;
Tip: During our jeep tour through Wadi Rum I bought a keffiyeh, which I had with me every day after that. It protects your head against the sun and if necessary, it also covers your shoulders.